Dublin. The name alone is enough to conjure up many evocative images: Georgian townhouses, dimly lit whisky dens, the splendour of Trinity College, knees-ups in Temple Bar, the statue of Molly Malone and her wheelbarrow, crying cockles and mussels, alive, alive, oh…
The city has always punched above its weight on the international stage. A population of half a million spawned Oscar Wilde, Francis Bacon, Conor McGregor, U2. James Joyce wove Ulysses into the fabric of its very stones and streets.
But from a Londoner's perspective, the best thing about Dublin is its proximity: a short, cheap flight across the Irish Sea. Fancy a weekend away? Leave the office at 5.30pm and you'll be sipping a Guinness at O'Donoghue's Pub shortly after 9pm. There are London commutes that take longer.
Now obviously, once you arrive, you're going to need accommodation – and if it's only a flying visit, we recommend you treat yourself. (If it's not a flying visit, we recommend you treat yourself as well. We're nice like that.)
Whether you want cool and quirky, five-star opulence or historic grandeur, Dublin can provide. And so can we: you will find a hotel that perfectly embodies each of those three categories in the columns ahead. Read on and choose which takes your fancy; better yet, take a long weekend and stay a night in all three.
Number 31
One of the most stylish guesthouses in Dublin (and that's saying something), Number 31 describes itself as a bolthole – more of a second home than a hotel, or to quote the Cambridge Dictionary definition: "a place that you can go to when you want to get away from your usual life and escape from other people."
An ideal that will appeal to everyone from time to time, especially if that time is 9am on a Monday morning. Although quite honestly your usual life could entail partying with supermodels on a private yacht, and it would still be worth paying a visit to Leeson Close. (You could sail up the Liffey. Only you probably couldn't.)
Number 31 is actually two different buildings: a Georgian townhouse and a modernist mews, connected by a garden. The latter was a disused stable when it was bought by architect Sam Stephenson in 1957. Today it houses a sunken entrance lounge, a beautiful area flooded with light and housing an honesty bar – a lovely touch of Irish hospitality. Once you have helped yourself to a dram, retire to one of the 22 rooms, which vary in design depending on what half of Number 31 you are staying in, the 'Old' or the 'New'.
For the full experience, book into the main townhouse that stands on Fitzwilliam Place: not only are the rooms here nice and spacious, the whole building has beautiful classical decor throughout – you half expect to pass by James Joyce on the stairwell.
Number 31 doesn't offer evening meals but there is ample compensation in the magnificent breakfast, which won the 2017 Georgina Campbell Guesthouse Breakfast of the Year.
Chow down on kippers, Eggs Benedict, mushroom frittata, and of course chef Delia's cranberry and orange nut loaf. Well it is the most important meal of the day.
31 Leeson Cl, Dublin 2, D02 CP70; number31.ie
The Merrion
A truly beautiful hotel in the centre of the triangle made by three of Dublin's five Georgian squares: Fitzwilliam Square, St Stephen's Green, and Merrion Square.
The last of that triumvirate has been called home by some of Ireland's most celebrated names: WB Yeats resided at number 82, and a young Oscar Wilde grew up at number one. (His house is open for group tours.) The British Embassy was based at number 39 but was burned to the ground following the Bloody Sunday shootings of 1972.
Although the Merrion Hotel didn't open until 1997, you can imagine that famous bon vivant Wilde would have appreciated the luxury on offer just up the road from his childhood home. The 142-bedroom and suite hotel was created from four Georgian townhouses, and includes an 18m swimming pool, as well as a spa and gym.
Oscar was never big on exercise; this is the man who once attested, "I can't stand people who do not take food seriously." The Merrion contains Restaurant Patrick Guilbaud, the only restaurant in Ireland to hold two Michelin stars, and the newly opened Garden Room: an airy dining area on the east side of the Merrion's courtyard garden.
Fancy a drink, Mr W? (Careful: you don't want to die destitute in Paris.) Then check out the spacious Cellar Bar – formerly an 18th-century wine vault – or the more intimate Bar No.23, offering a fine selection of cocktails and whisky. Alternatively, if you're feeling the need for a 30-second stroll, pop outside to the ample assortment of drinking dens located along Baggot Street Lower and Merrion Row. Well, there's a limit to how much luxury you need in life. (Only there really isn't.)
The Garden Room at the Merrion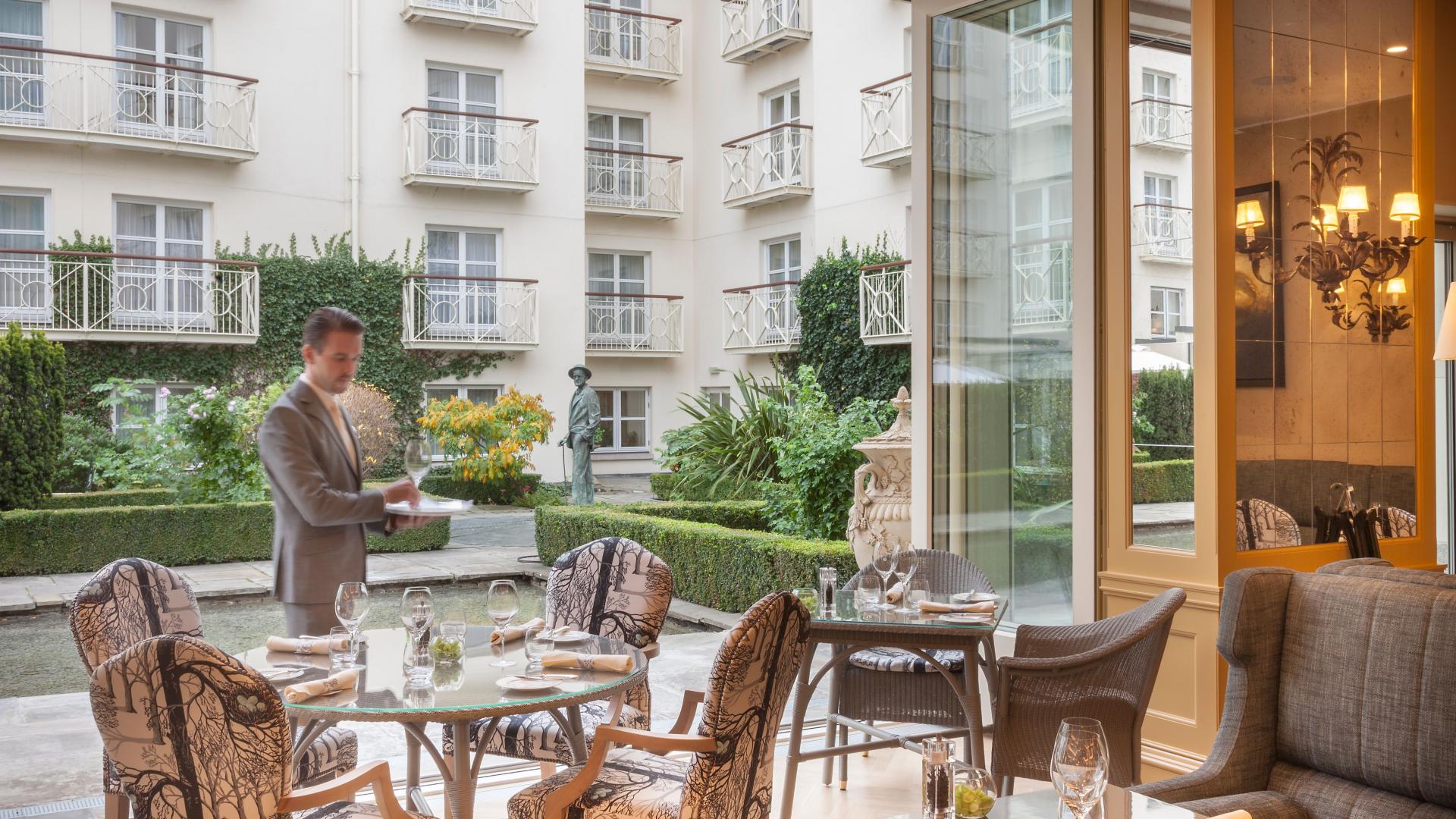 In a city famous for its Greens, it feels appropriate that one of Dublin's finest new restaurants is located on the edge of a garden. The Garden Room is merely the latest reason to book a stay at the Merrion, but it is certainly one of the most compelling. This elegant and airy space on the east side of the hotel's courtyard garden is the most idyllic of spots to while away an afternoon with friends, food, and a bottle of house white. Chef Ed Cooney has created a menu of the freshest ingredients – order at least one fish dish – that speaks with a distinctly Irish accent. On clement days the vast glass doors open up for a true al fresco experience. Bliss.
Merrion Street Upper, Dublin 2; merrionhotel.com
Shelbourne Hotel
The Shelbourne is not only the most famous hotel in Dublin but one of the most famous hotels in the world. Anywhere with a museum to itself in the lobby is clearly A Big Deal.
The Shelbourne Hotel was opened in 1824 by entrepreneur Martin Burke. Its mission was to 'woo genteel custom who want solid, comfortable and serviceable accommodation at a fashionable address'. Nearly two centuries later and Burke's ambition still holds.
History stretches back through its corridors. The 1922 Constitution of the Irish Free State was drafted under the supervision of Michael Collins in room 112, now known as – wait for it – The Constitution Room. In the 1916 Easter Rising, 40 British troops occupied the hotel. The elder half-brother of Adolf Hitler – Alois Jr – waited its tables in the early 1900s, and eloped to London with an Irish girl. In 1842, Vanity Fair author William Thackeray stayed here for six and eight pence a night. (Prices have risen a little since then.)
The modern Shelbourne remains the largest five-star hotel in Dublin, and an unmistakable component of St Stephen's Green. The facilities have been upgraded over the years. Today you are able to relax in the spa and salon, take a dip in the indoor pool or drag yourself to the health club, which includes a gym, dance studio, steam room and sauna.
Feeling decadent? The traditional afternoon tea is a Shelbourne staple – recline in the newly renovated Lord Mayor's Lounge before an assortment of sandwiches, scones and sweet treats. Then grab a bite to eat at the Saddle Room or a drink at the Horseshoe Bar. (We'll give you one guess what it's shaped like.)
History has never felt so delightful.
27 St Stephen's Green, Dublin 2; shelbournedining.ie