Casinos' reputation for lavish spending and luxury design rarely falls short.
Given that casinos can only compete so much on the gaming front, there tends to be a fight for pushing the boundaries of a high-end environment.
Sheer size, number of Michelin-star restaurants, glamorous shopping malls, and expansive hotel rooms have become common fighting grounds for land-based casinos.
In these times of national lockdowns, online casinos have been growing rapidly, such as JackPotCity online casino. Luxury is something that's hard to translate over the internet, but casinos like JackpotCity do a great job of immersion via live dealers and a vast selection of themed games.
It's difficult to quantify luxury, so we have taken the most expensive casino, the most architecturally recognised, and the most historically significant.
CityCenter - Las Vegas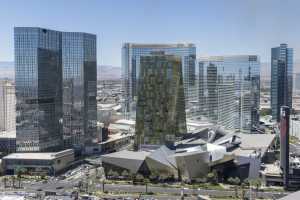 CityCenter, which lies in the heart of Las Vegas, is a part of MGM Resorts. Being one of the largest hospitality companies in America, and certainly Vegas, MGM focused a lot of its efforts on the CityCenter casino building - along with their Dubai World partner.
CityCenter ended up being the largest private development in the US, totalling an estimated cost of $8.9m - which isn't far off MGM's market capitalisation of $15.5bn.
It becomes easier to comprehend when you see the sheer size of the CityCenter, which stands at 5,900 hotel rooms and 2,400 lavish condos stretched across their 67 acres of land. It goes without saying that this is the most expensive casino resort in the world.
Construction began in 2006, after a celebratory ceremony and took almost five years to complete. The construction was so large that six deaths occurred, a workers' protest arose, and various construction companies were hired.
However, given its sheer size, it's difficult to be pound-for-pound the most lavish casino in the world. There's a lot of space to fill, and so many turn to slightly smaller casinos which offer a more intimate luxury.
Marina Bay Sands - Singapore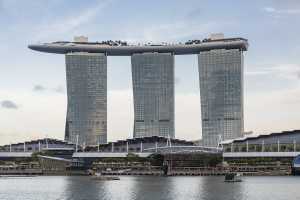 Marina Bay is a casino that most people will recognise for its incredible architectural design and a staggering seaside presence.
The casino itself has more than 700 gaming tables and over 2,500 slots, making it by far the largest casino in Singapore.
There are 7 Michelin-starred restaurants at Marina Bay and it's estimated to be the second most expensive casino building in the world, coming in at $5.36 billion.
Las Vegas Sands funded most of it ($3.85bn), and the resort was designed by Israeli-Canadian architect Moshe Safdie, who claims card decks to be his key inspiration.
A lot of the luxury at Marina derives from its modern architectural brilliance, with large open-plan areas and waved walls.
The rooftop that joins the three 55-storey buildings together is in the shape of a cruise ship and has an infinity pool stretching almost its entire length.
Casino de Monte Carlo - Monaco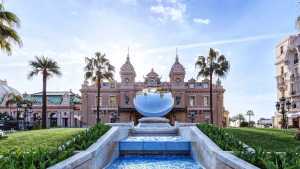 This world-renowned casino is owned by Société des Bains de Mer de Monaco, with a market cap of $1.5bn.
While new casinos are getting larger, Monte Carlo recognises its own exclusivity and location carry much of the weight for it - something that cannot be replicated.
Parisian architect Gobineau de la Bretonnerie was behind the project in the mid 19th century, with it taking five years to build.
It's the first casino on the lips of many but falls short in valuation because it lacks a large commercial resort infrastructure.
It just doesn't feel like any other current casino, or even a casino at all, with its Renaissance, Capriccio, and Belle Époque architecture.