We have been chatting for about 45 minutes when Connor Swindells' dog, Moose, wanders into frame. Immediately, the actor's face lights up. Casting aside any lingering doubt that I'm not my most charming self during a Zoom call, it's illuminating – and rare – to see such a personal side to someone in what can often be a stilted environment.
Some people don't want to talk about themselves, others can be shy, and sometimes your questions simply don't land the way you intended them to. Happily, my conversation with Swindells elicited none of these mishaps, but seeing him with his dog confirmed for me what I had already figured was true: Connor Swindells is a really decent guy.
You may have already gathered that from watching him play the complicated yet entirely endearing Adam Groff in Netflix's Sex Education. Perhaps you watched him give CPR to a mannequin of his likeness in a video on his Instagram to help promote first aid courses, embodying a tongue-in-cheek character not dissimilar to Adam. It might have made you wonder where Connor Swindells ends and the on-screen persona starts. But isn't that what a good actor is meant to achieve?
The real Connor Swindells, or at least the one I interview on a blustery day in early autumn, is decidedly more mellow than his screen alter-ego. (The shoot, incidentally, takes place in Mayfair's White Horse Pub, a venue almost as cool as Conor.) His most recent project, SAS Rogue Heroes, is the reason for our conversation. His character there, David Stirling, is at face value a far more traditionally masculine entity, and yet even then you get glimpses of the undercurrent of humour that viewers will know well from his other work. Filming the show was a brutal endeavour, with much of it taking place in the high summer in the Moroccan desert. It was a bonding experience like no other, but, according to Swindells, it also helped the cast better understand the real-life heroes they were portraying.
"We shot for two and a half months in the UK, which was the deceptively easy and straightforward part," says Swindells. "And then we moved production to Morocco for another two and a half months in the summer. As you can imagine, it was outrageous. It was ridiculously hot in the Sahara."
The way he describes the experience of staying and shooting in the desert – "a group of guys, smoking, drinking and gambling every day" – is exactly how you can imagine it was for the soldiers, something Swindells acknowledges helped them all get into character a little better. "It was really helpful for getting into the mindset of what a bored soldier looks like," he laughs. "It ultimately spurred these men on to do something, because they were just sat around doing fuck all most the time."
He admits that despite "the heat, the sandstorms and the dysentery", he misses the experience of being parked up in the middle of the endless sand and endless heat. Perhaps there's a little more David Stirling in him than he would like to admit.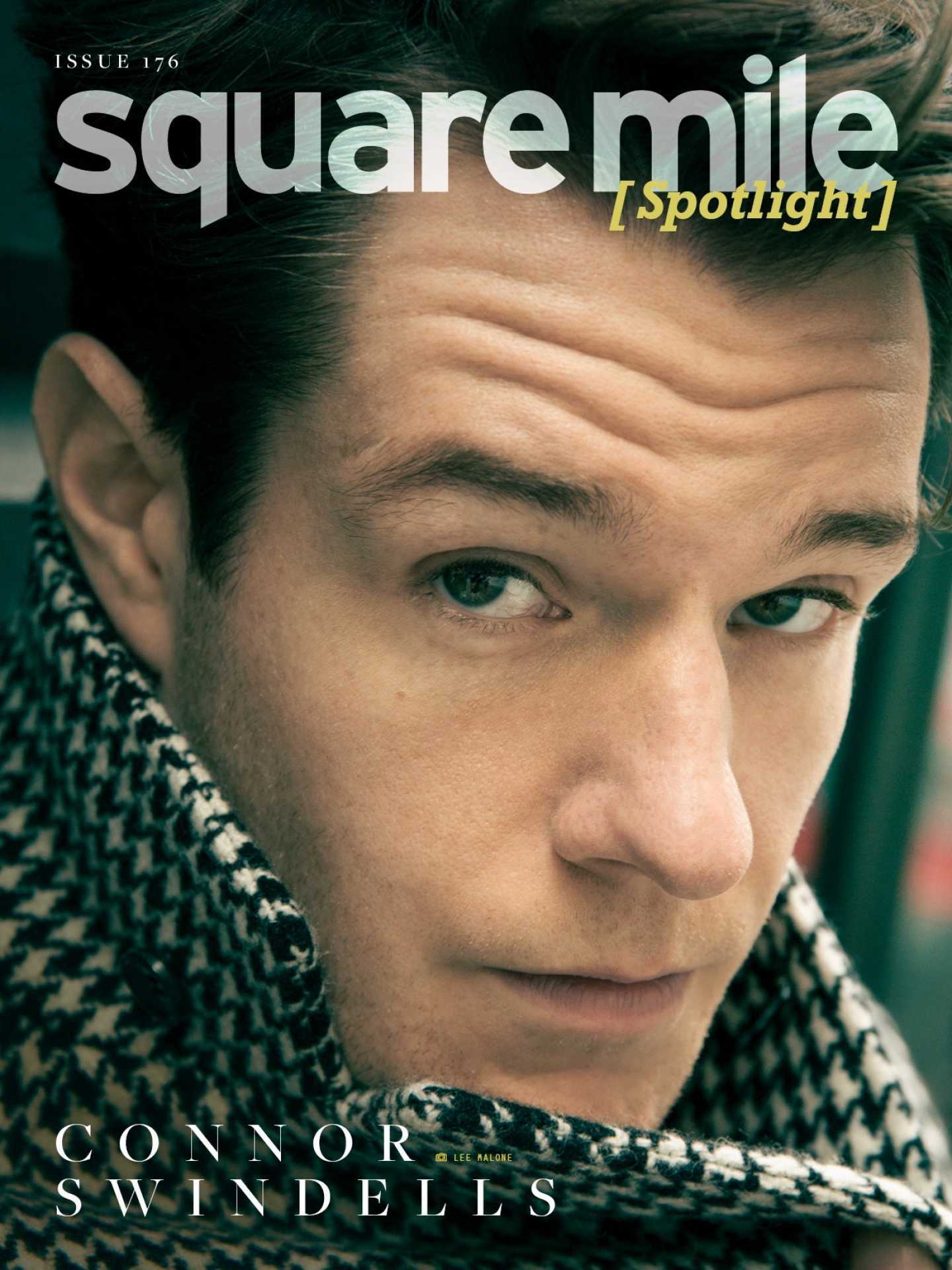 On that topic, it's hardly a natural character to embody. Stirling was a pedal-to-the-metal, all-guns-blazing hard-ass who seemed fearless in the face of unspeakable horror. It can't have been easy taking on such a big personality, let alone one with such a significant impact on humanity as we know it. Swindells cites the book by Ben Macintyre that the TV show was adapted from as a major source of reference for his character, but also Stirling's biography – perhaps an obvious first port of call.
"Playing David, there was more of a 'search outside of myself', which was an interesting task and a fun challenge to get sunk into," says Swindells. "Because on paper he's very different from me. He's from an aristocratic background, military family, lots of money and an adventurous type spirit. And I'm such a homebody, a working class homebody. It was difficult. And I think within that I found the spirit of ambition that we probably both shared to a degree, albeit mine is far less reckless and dangerous."
There is no doubt that the next-level method acting came in handy. Nothing quite helps you to embody a character like putting yourself in their shoes. Swindells agrees when I make the comment, saying, "As for all the complaining that we were all doing, on day four we did say, you know, we'd be kicking ourselves if we were in front of a green screen in Pinewood."
It reflects in the show, too. Those gritty conditions, with sand so detailed it almost seems to burrow itself into the viewer's eyes, aren't manufactured in some studio somewhere. They are real, and it only serves to boost the intensity of the historic events being depicted – some of which were actually dumbed down for the show because, as Swindells says, "the reality was so hard to believe." Take, for example, when Stirling pulls the pin out of a grenade and throws it onto a pool table to clear out a room he wants to take a meeting in. In the TV show, he admits to his companion it's a dummy grenade. In reality, it was fully live.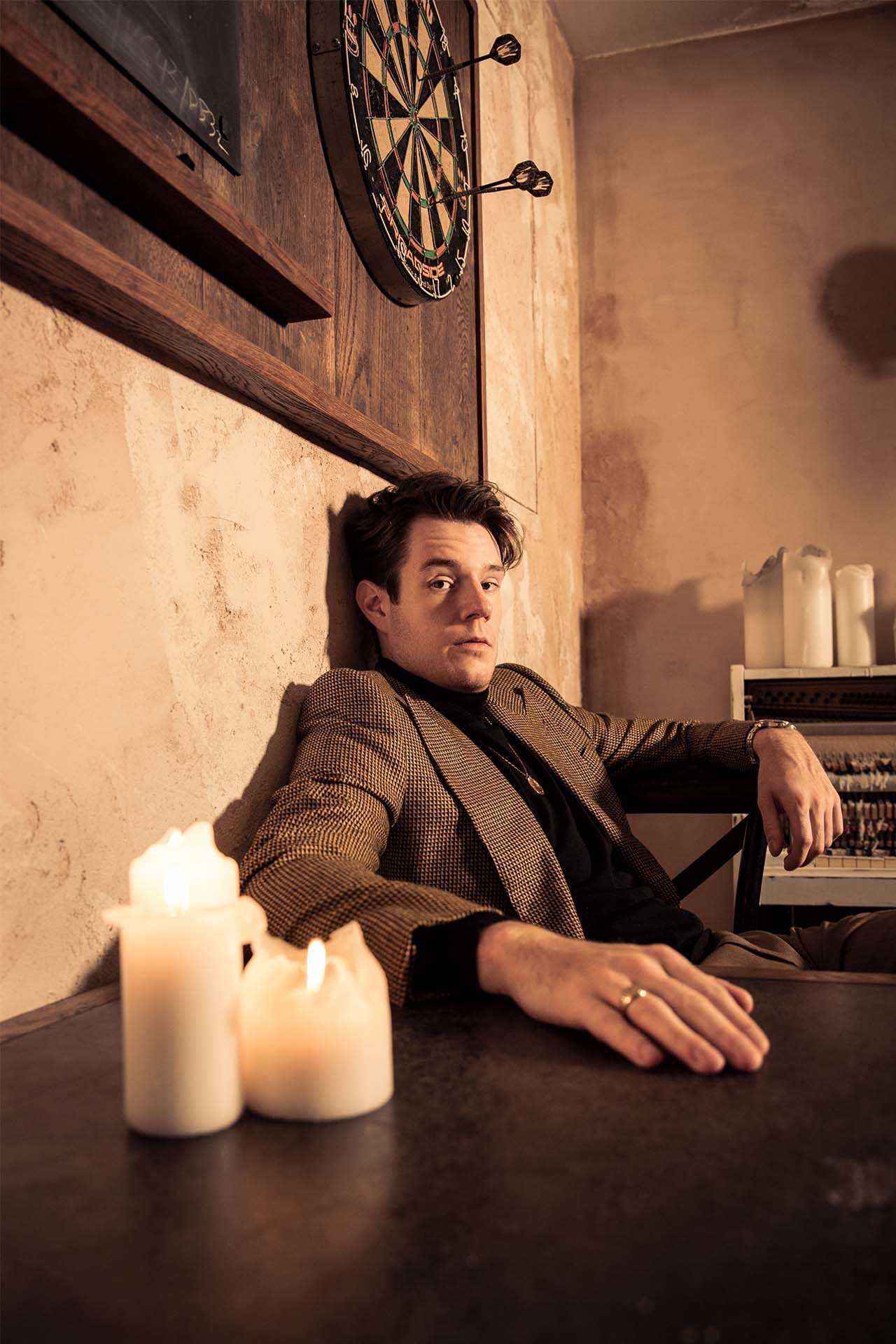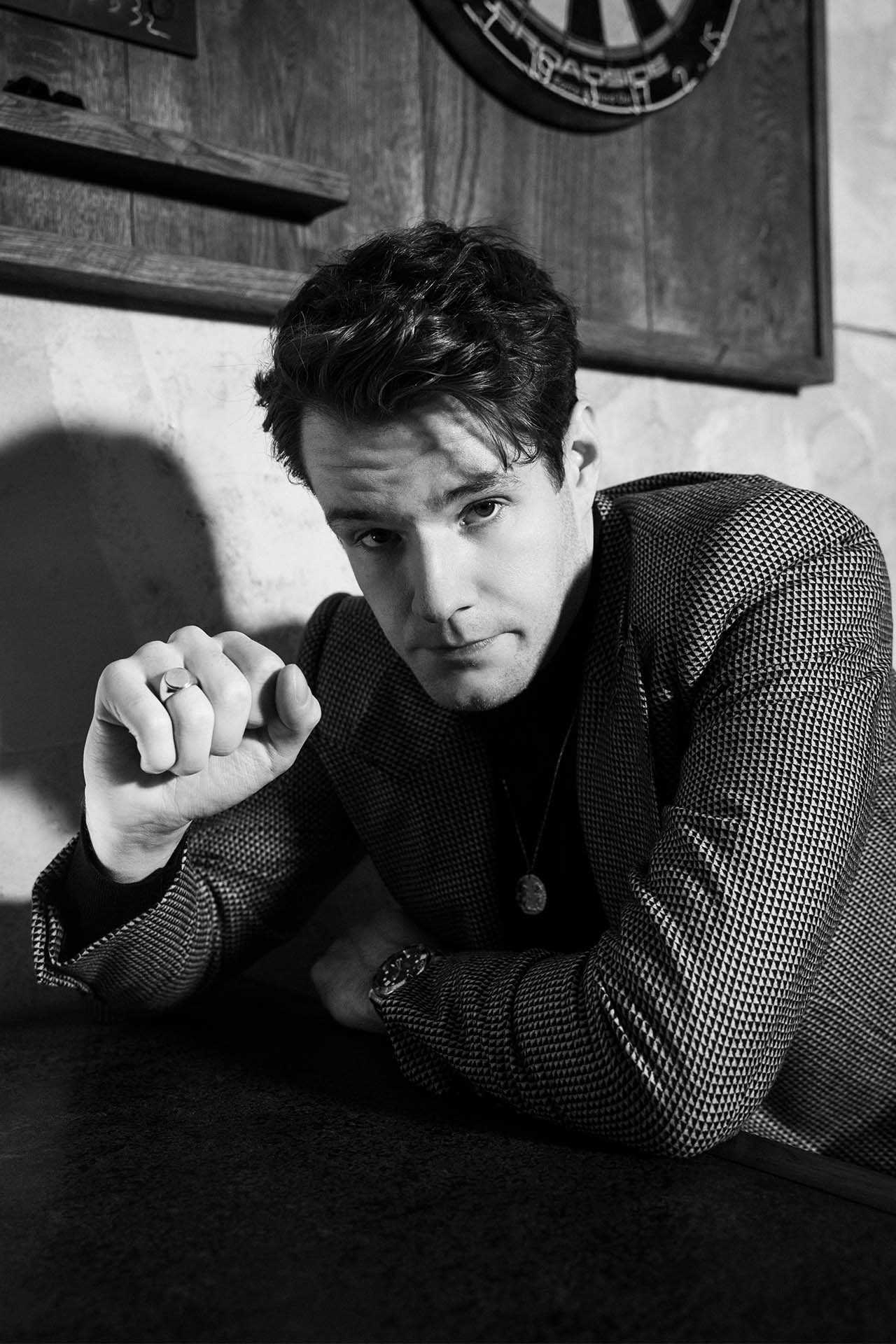 That is just one example of the man you're dealing with – and the man Swindells had to somehow bring to life on screen. And while it may seem like a striking departure from the nuanced and complex Adam, it is actually in many ways a continuation of his early days on Sex Education. For those who haven't seen the show, he begins the series as a bully – the hulking son of the principal, a kid who is hardly the sharpest tool in the box and throws constant jibes to the very camp Eric. As the show goes on, however, and particularly into seasons two and three, the true Adam begins to be exposed – a complicated character for whom things are far more complex than they might have seemed on the surface.
"He did start off in quite a bullheaded, in a bullish, knucklebrain kind of place," Swindells says of Adam. "But as the show's gone on, we've peeled away the layers of his onion and I've been surprised myself at times by his attitudes and his behaviours or the sort of facets of his personality that need attention. That's the main thing I focus on: those bits he doesn't want the world to see. And what are those things? Because this show is such a collaborative experience, I've really been allowed to explore that within him."
Part of the success Swindells has with the character is his unique ability to tap into Adam's softer side through comedy. He may be pig-headed and aggressive for much of the first season, but Swindells is able to find the softness in that, and endear him to the viewer regardless. "I think my enjoyment with comedic acting comes from perhaps a clown-school way of thought, which is mostly physical. I really enjoy telling a story with my physicality, and especially comedy," he says.
"Adam was a perfect conduit for me to stretch those muscles and to enjoy. And he's kind of a gift to play in many respects because he's quite goofy and as an audience member, I think you kind of believe anything about him. You can really get away with doing anything as an actor when you play Adam Groff, because you think, at least the audience are on board with him. He could be incredible at violin – and the audience would go, 'Yeah, sure.' It's a gift to be able to play because it means that I get total creative freedom on set to just mess around and have fun."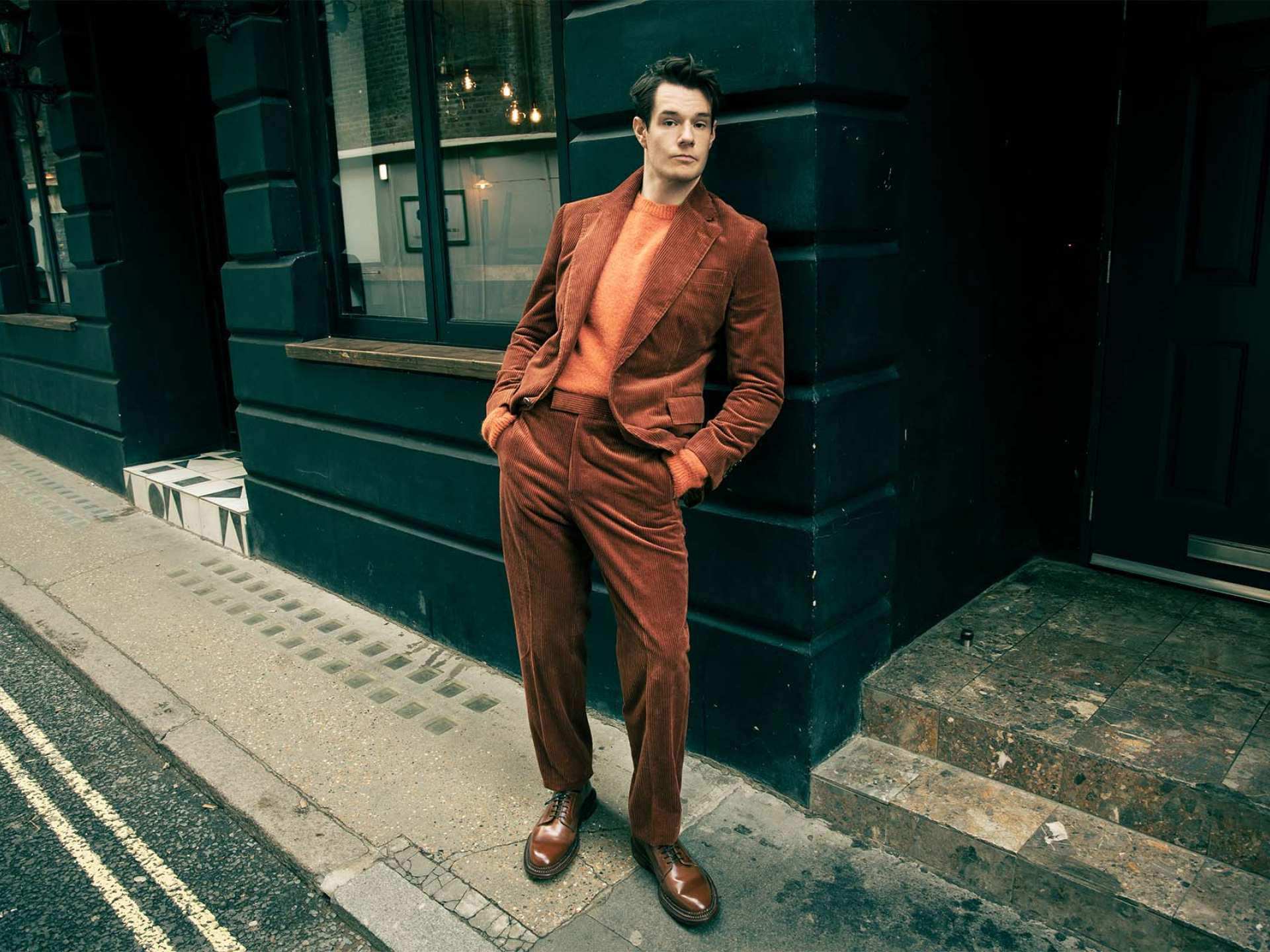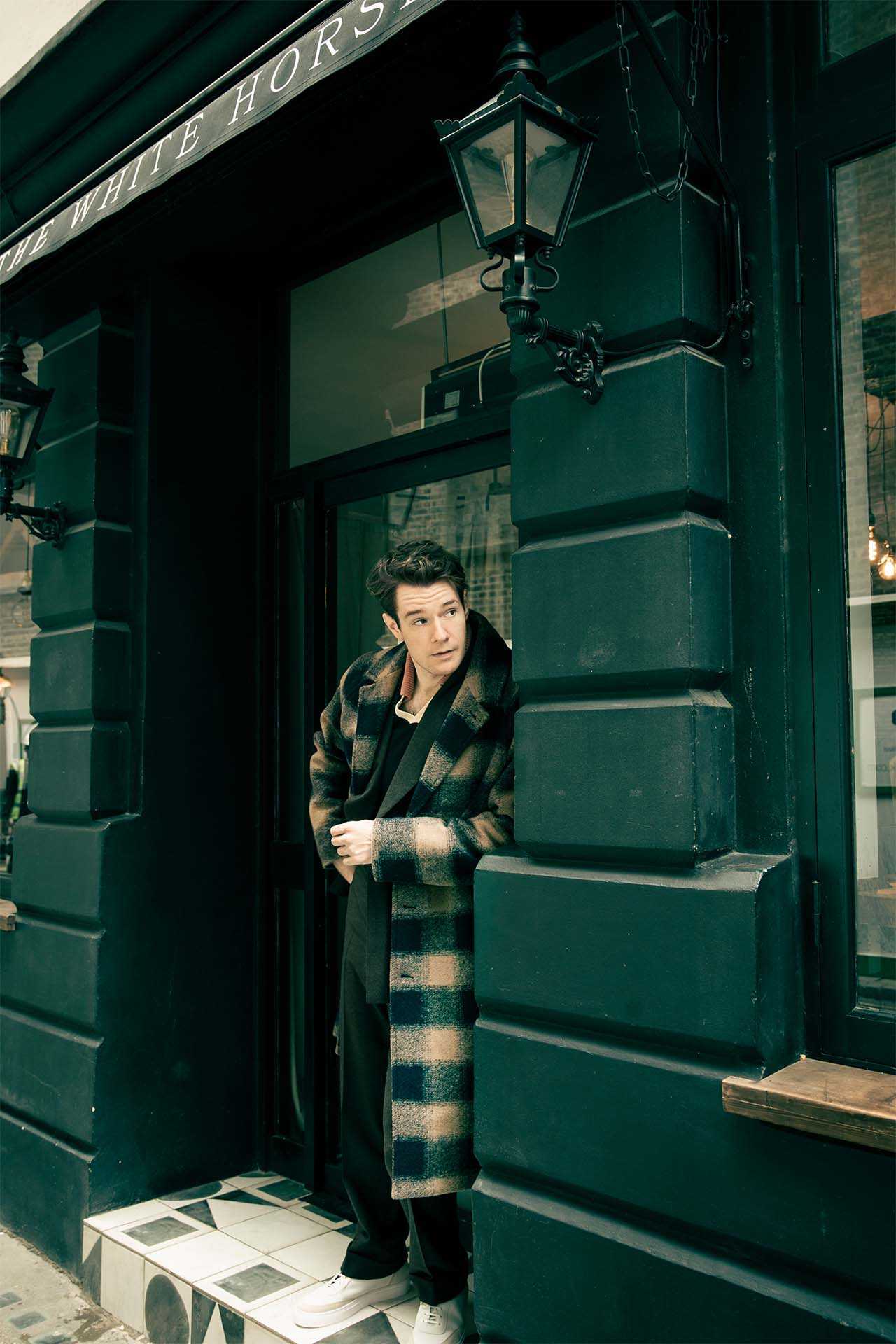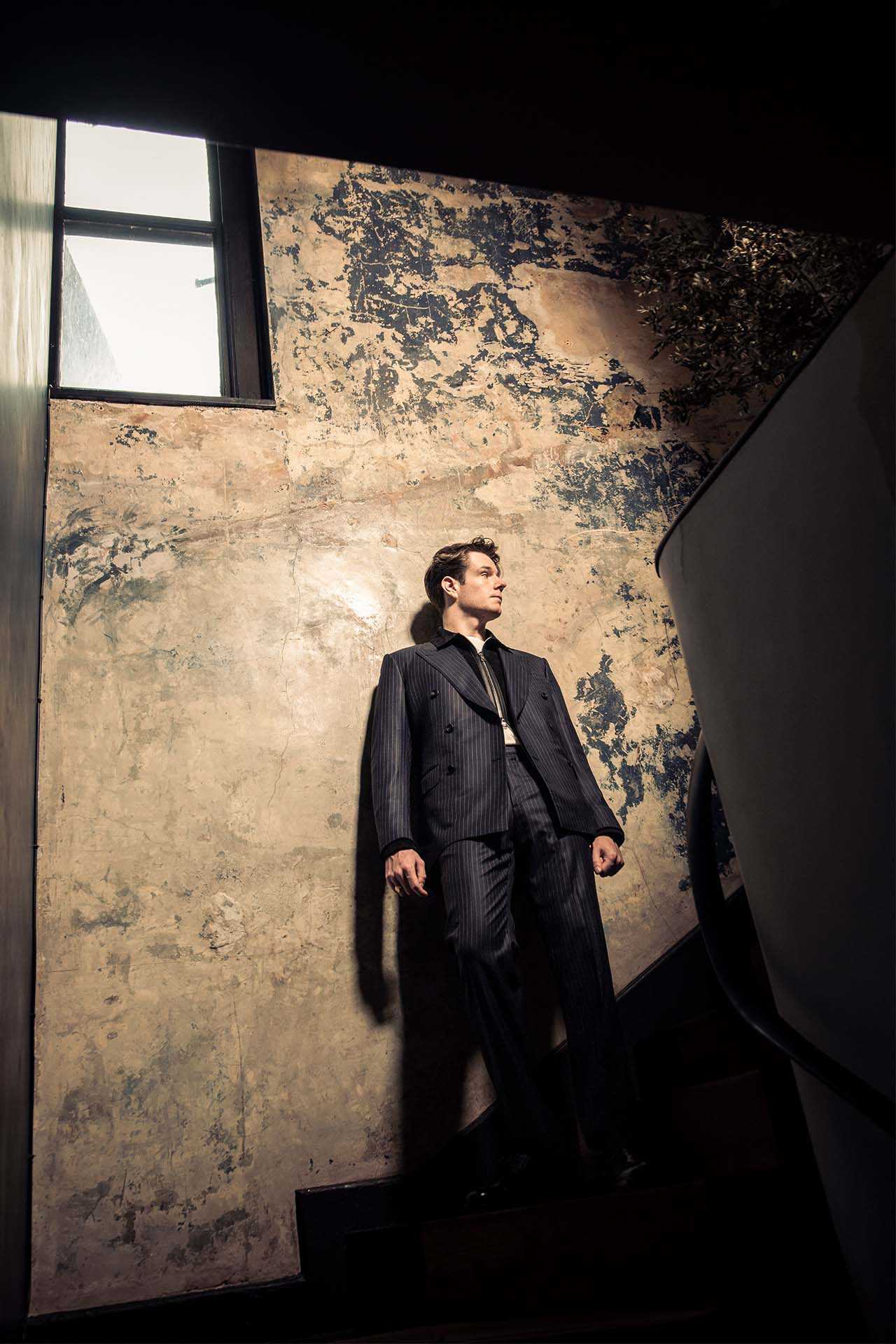 The show catapulted Swindells to another tier of fame, almost overnight, as these Netflix shows often do. While he had seen moderate success on other projects, the kind of global viewership that comes with a streaming TV show is unmatched, and Sex Education in particular was a breakout success.
It is a testament to the man, however, that Swindells seems unfazed when I ask what this experience was like, his answer being predictably grounded: "I did a good job of sort of retreating from it and becoming more of a recluse and kind of ignoring it and not falling into the manicness of it all," he tells me. "But I think we were just all in it together, which helped a lot."
So how does the star of one of Netflix's most popular TV shows 'retreat' from the mayhem of life in the spotlight? Unsurprisingly it involves Moose. "I've been very fortunate where I live where I've sort of made my nest in quite a quiet area. But I have my dog, and that's been a great way of grounding me in the world and making me feel like a human being. I get to talk to strangers in a really interesting and sweet way. People are always really kind when you have a dog."
He might not be taking the fame too seriously, but he is using it to further causes close to his heart. When Swindells was young, his mum passed away from bowel cancer. It's something he addresses through his public profile, raising awareness for both fundraising and to ensure people keep an eye out for potential symptoms.
"With the bowel cancer stuff, it was always an anxiety of mine because not only had my mum passed away from bowel cancer, but her father had as well as my grandfather. So there was always this thing of like, 'Oh, maybe it runs in the family.' My way of conquering that was to try and spread awareness. And I think also it was just about trying to make my mum proud.
"Of course, having a successful career is something that I hold onto dearly, but I think spreading awareness of bowel cancer, it's such a simple thing. It's four bullet points of what to look out for. But it's hard because bowel cancer is one of those things where it's kind of taboo to talk about because it's literally like, 'Let's sit down and talk about our shit.' But I'm a big guy for talking about shit. Like I love talking about shit."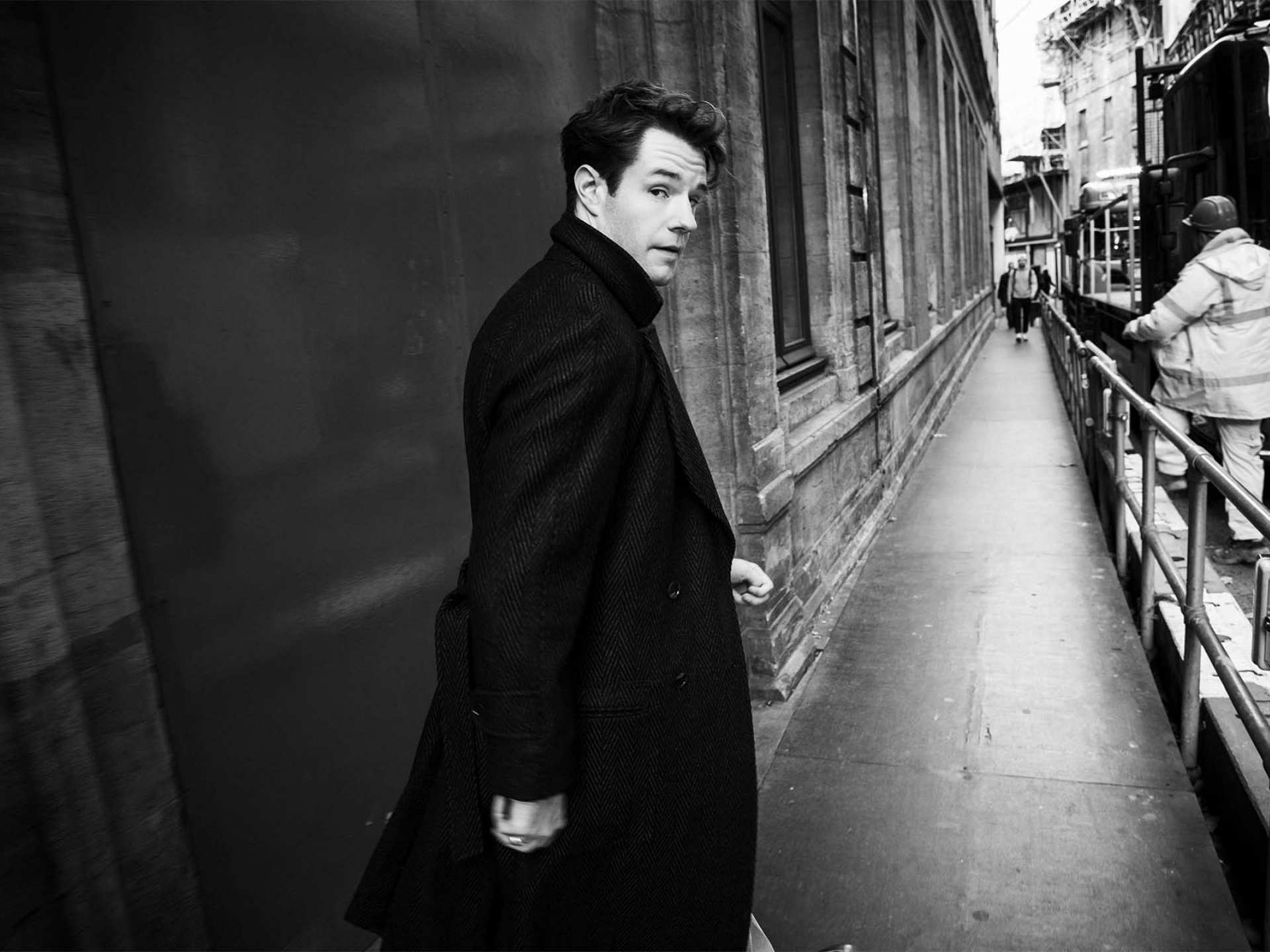 We both pause to laugh because, really, if you don't laugh you'll cry. I'm not sure if it's the sincerity and simplicity with which he discusses it, or the fact that my sister has recently been through quite late-stage cancer, but I found myself tearing up. "I feel like it kind of connects me back to my mum," he adds. "Because I never really was able to form a connection with her, because she passed away when I was very young."
Her passing changed the course of Swindells' life forever. He moved from a "reasonably poor estate, where there were very little prospects for young boys" to his grandparents' house which was relatively middle class – a big switch for any kid, let alone one who has just lost a parent.
"Suddenly, I was given a chance," he says. "I've often said to myself, I think my mum died so that I could live. Whether there's truth in that or not, I don't know, but it's quite a nice thing that has helped get me to where I am now. I think I struggled a lot when I was growing up that I needed to do something with my life. Because if I didn't, her sacrifice was sort of for nothing."
He got into boxing, something he "very much enjoyed" when he was a teenager, but around 17 he understood that that pathway might not be for him. "I suddenly saw what kind of life that was, and what life was going to look like, and realised that I wasn't really cut out for the brutality and the harshness needed to be a boxer."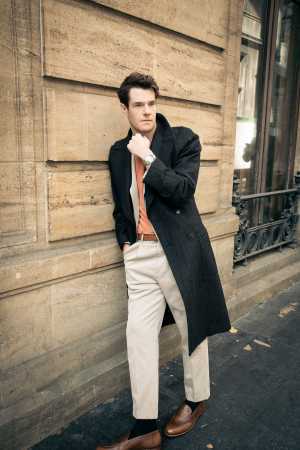 Having put his all into the sport, he didn't have any qualifications. "I'm all or nothing, much to my detriment," he explains. "And it kind of came back and bit me in the ass when I finally put the boxing gloves down. And then I thought, well, what's something I don't need any qualifications for? That I can sort of bullshit my way into? And I don't know, I probably had some overbearing confidence from being a boxer that allowed me to have the audacity to even consider acting as a profession. But thank God I did."
Thank God, indeed. In a world where the industry is increasingly more competitive, it's rare to encounter a man so unbothered by the pomp and circumstance of the job. In front of the camera, Swindells comes to life, bringing charisma to every character he portrays. In person, he's simply himself. For the most part he just wants to do his job, walk his dog, and enjoy his life. It's a hard sentiment to disagree with.
Watch SAS Rogue Heroes on Sunday 9pm, BBC1 or catch up on BBC iPlayer