There's an old neon-signed metal box factory tucked away in a quiet corner of Bankside. It's a two-minute walk from the Globe and the Tate Modern but feels a world away in an aura of underground speakeasy mystique. It feels like a place you stumble upon- an oasis in a desert of Prets and Costas and Prezzos. 
As we come in through the distressed industrial doors our host (a courteous and reassuringly handsome man) shows us to a round table in the middle of the dining area. The music is clubbish and plays on the edge of our attention. The dimmed lights turn the trendy South London post-work crowd into something more- a relic from a bygone London of washed-up writers and struggling musicians. 
Brix is the third project from restaurateur duo Michael Lythgoe and Cidalia Rodrigues, after the Brixton Village Grill (they playfully describe it as "the one with the long queues") and the Chip Shop BXTN that has hosted the likes of DJ Yella and Rag n Bone Man. Alongside Chef Radek Nitkowski (formerly of Soho House Group) they are bringing Brooklyn's all-day dining to the South Bank.
We start with the signature cocktails. A wonderfully potent Brix Fashioned for me- strong enough to need sipping but by no means harsh, quite an achievement when there are two whiskeys in play.
Our server came over to talk starters and recommended the asparagus and the oxtail. We agreed to the oxtail but were drawn to the chicken butter (butter made with chicken stock and sprinkled with crispy chicken skin). The waiter smiled knowingly and told us he would bring all three. 
My dining partner and I exchanged sceptical looks. We had arrived expecting theatre, spectacle. Not asparagus. This dish, however, boiled for one minute and served on a bed of coconut cream, was otherworldly. It lost all the bitterness I was fearing and all the toughness you might expect from a quickly cooked vegetable. It was sweet, tender and tangy in a way I never would have thought possible from such a simple dish. The other starters were excellent (the oxtail with sweet pepper jam and savoury donuts was a masterclass in balancing a strong meaty flavour with a sweet kicker) but the asparagus was the star.
When our server returned we offered gushing apologies for doubting his judgement and told him he was fully in charge of proceedings from then on.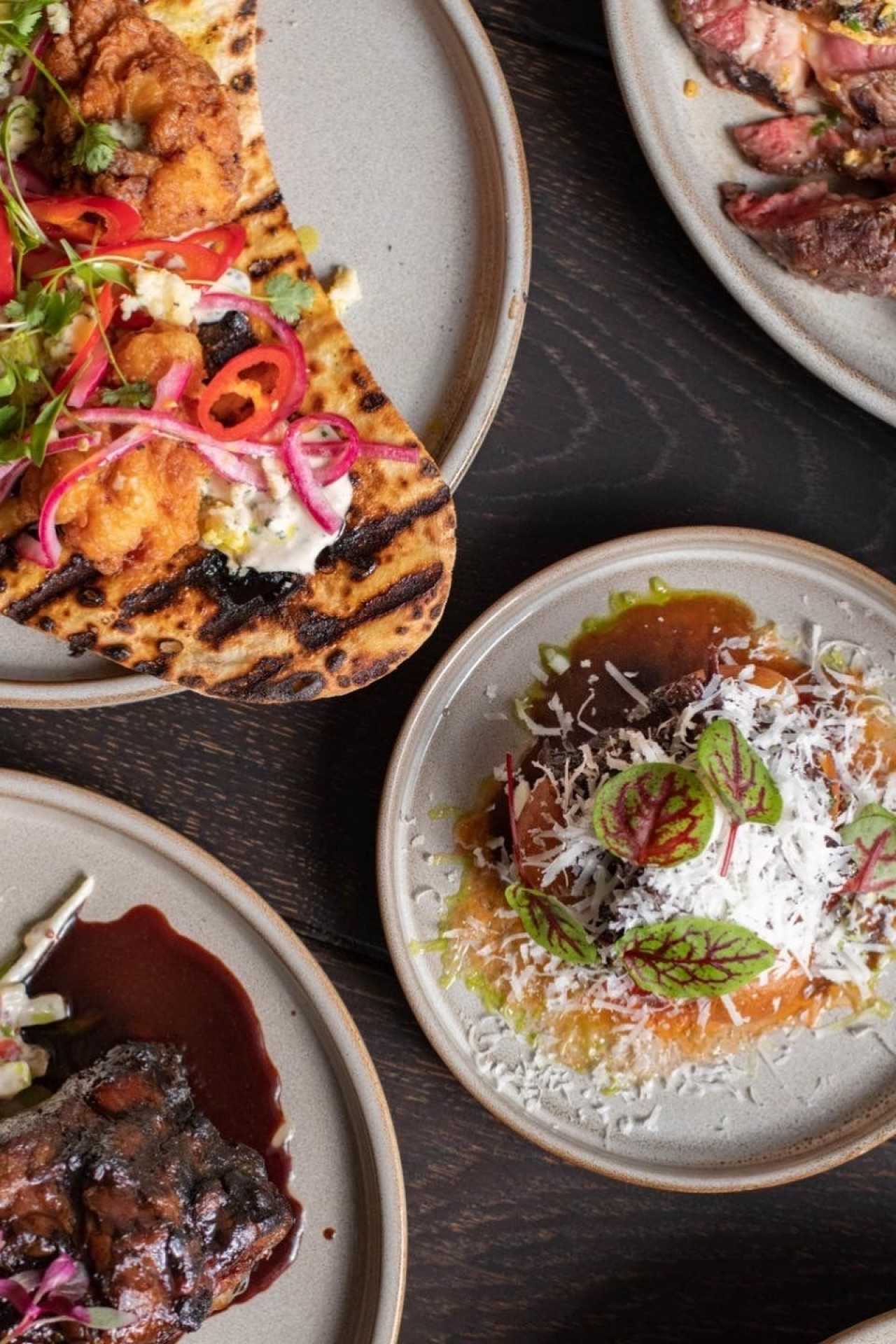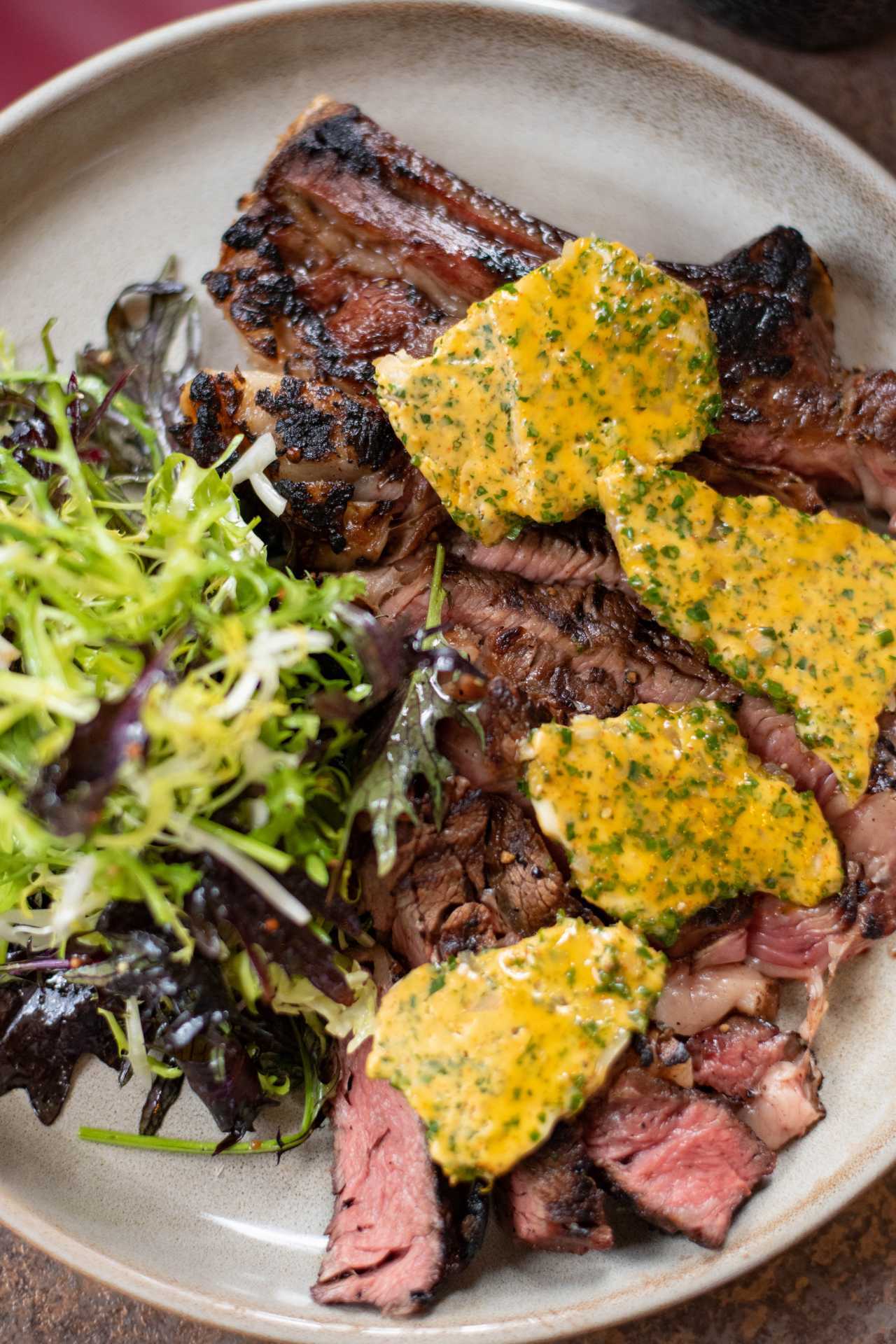 Our next course would be the spiciest of the night so we got our second round of drinks in with some urgency. I went for the Brix take on a Mai Tai, which was wonderfully creamy and made with their own orgeat syrup, as the bartender proudly told me. 
When the buttermilk chicken flatbread (served with blue cheese and hot sauce) was brought out we were glad to have heeded our server's warning. It was spicy, but not pointlessly so. There was texture and vibrance to the spice that made the mouth fizz with a complex heat around the crispy chicken. As a spice-phobe and life-long Korma-man, this was a shock to the system and something I probably wouldn't have ordered, but it was an experience I am happy to say I enjoyed, and it turns out Mai Tais are excellent for coping with spice.
Having downed my cocktail (it really did go down well) I was prepared for our server to bring out the flagship mains. First came the surf and turf. This was no sad offcut and limp prawn skewer, but a tender 60-day-aged sirloin and Canadian lobster. The lobster was as you would expect, full of flavour and cooked beautifully, but the steak was something else. It melted in the mouth full of flavour. We were also served the pan-fried cod, introduced to us as the highlight of the restaurant. It evoked sunny evenings in quiet tavernas in Greece, simple, fresh fish fried with a crunchy skin and soft, flaky flesh within. 
Our beaming French bartender approached us after the cod. When my dining partner informed him the steak was "so much better" than anything we had eaten elsewhere, he replied "I love the English language! Not just better but 'so much' better!"
By this point we were merry defeated, overcome by a sensual assault from land, sea and air. Despite out flagging, the bartender insisted I try the chocolate dessert wine (made in house) and the cheesecake, which was the lightest I have ever tasted.
We finished the meal around 11pm as the post-work crowd made way for a younger throng of merry nighthawks. Our hosts let us sit for a while cautiously loosening belts and people watching. Leaving through the same distressed industrial door, we stumbled the short walk to London Bridge station and back home. 
I have never been to New York, nor have I ever found myself longing for its dining experience. But for one night in a warehouse south of the Thames I was eating Brooklyn at its finest. Brix is an excellently priced South-London gem and a must visit for all London foodies.
16 Great Guildford St, London SE1 0HS; Brix LDN