This season a team of leading Chefs in the UK will showcase uniquely designed dishes of Japanese Wagyu in a celebration called Delicacy Beyond Imagination.
Throughout the run, diners will have the opportunity to try Wagyu in a variety of new and unique guises at each of the restaurants, as Chefs showcase their limited edition Japanese Wagyu dish for one week only.
The celebration runs from the 13th November - 24th December at the following restaurants: 
Kitchen Table, 13th - November 19th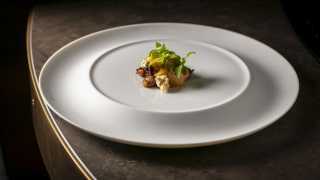 James Knappett's dishes include A5 Wagyu ribeye, Porthilly oyster, shiso sorrel oyster leaf salad, Attica pickled kohlrabi and fresh jalapeño / A5 Wagyu Ribcap, shrimp head hollandaise, wet walnuts, black walnut ketchup, beefsteak mushroom and chickweed
Le Petit Beef Bar, 20th - November 26th

Thierry Paludetto's dish is a "New Style Carpaccio" ft. Toro Tuna and A5 Wagyu
Taka Marylebone, 27th November - 3rd December

Taiji Maruyama's dish is an A5 Wagyu Katsu Sando 
CUT at 45 Park Lane, 4th - December 10th

Elliot Grover's dish is A5 Wagyu tenderloin tataki with white truffle, crispy garlic chips and ponzu
MiMi Mei Fair, 11th - 17th December

Chefs from MiMi Mei Fair will serve Chargrilled Wagyu beef ribs with black garlic sauce and  pickled red onion
Ynyshir Hall, 18th - December 24th

Gareth Ward's dish is Wagyu ribeye, tare, shabu salt, duck liver and white miso hollandaise with sesame
Famed for its marbling, smoothness, and depth of flavour, Japanese Wagyu (literally translates to wa - Japanese, and gyu - beef) is one of the most highly regarded ingredients in the world. Wagyu originates from the Japanese Black, Brown, Shorthorn and Polled breeds, and their crossbreeds only. The famous Japanese Black makes up more than 90% of all Wagyu cattle. 
Ahead of the festival, James Knappett (chef-patron and co-founder of Kitchen Table) says: "Japanese Wagyu is created by a meticulous commitment to perfection, and that makes it such a privilege to work with. I can't wait to showcase my dish at Kitchen Table this November, and am equally excited to try out the other dishes that have been designed by some of my favourite Chefs in the country".