Looking after a heritage luxury brand is a little like renovating a grand old manor house. On the one hand you must carefully preserve its original features, shining a spotlight on the irreplaceable qualities that the craftsmen of yesterday created, and on the other you have to modernise the home to fit the needs of the day. It's a delicate balance – one that can so easily end in failure.
The newly installed architect of famed cognac house Louis XIII is Leonardo Ferracina. The global executive director has the daunting task of taking a brand that was first created by the founding father of cognac, Paul-Emile Rémy Martin, in 1874 and dragging it kicking and screaming into the modern era. "It's like steering a car that's going 150mph: when you change direction, you just need to move the steering wheel a couple of degrees, because you know what's going to happen otherwise!" Ferracina tells me during our hour-long conversation. It's an evocative analogy – not least for the prospect of crashing in a ball of flames should he overcorrect the path – but the new head is exactly the man you'd want behind the wheel.
Ferracina joins the esteemed cognac maker after almost two decades in the cosmetics arm of the LVMH group, specifically Parfums Christian Dior, where he was travel retail director first for the Americas and latterly South East Asia. His wealth of experience in such a fast-paced reactive environment, he believes, gives him a unique view on how Louis XIII can stay true to its core beliefs while connecting with its audience in new ways.
Under the watchful eye of the Hériard Dubreuil family, who have overseen the Rémy-Cointreau brands for more than 90 years, Ferracina's first contribution is a marketing campaign called 'Believe In Time', kicking off in February, which sees artist Solange Knowles and haute couture fashion designer Guo Pei join forces to tell a meaningful story about the power of time to create something beautiful.
As Ferracina dons his hardhat and gets to work on his careful modernisation of the great Louis XIII, he'll be hoping he too can create a lasting impression.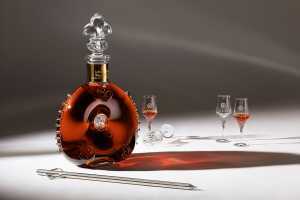 Square Mile //: Tell us how you found yourself at Louis XIII?
Leonardo Ferracina //: I met the talent development director for Remy Cointreau six or seven years ago and I really liked what he was saying about the company. At that time, I was still in a moment of excitement about my role at Parfums Christian Dior, I was living in Miami, and I felt like I still had so much more to give at the company. However, in September 2020 I spoke to him again, he told me about the project, and wow.
I knew Louis XIII, as someone who had a little bit of knowledge about cognac, and I found it extremely interesting, and that only increased as I went through the interview process. I met the top management first and then I met members of the Heriard Dubreuil family. I like things that have a long-term view, I like things that have values – true values that are embodied by the people you are speaking with, and the project was even more defined than I first realised.
It's not very easy to leave a group like LVMH because you have multiple categories and beautiful amazing brands, but I fell in love with Louis XIII. I think, really, you know when the time is right. A big part of the brand's ethos is the value of time and how important time is as a raw material – and it's true. You need time to mature, to think, to be ready to be at your best. Now, every day I speak with people at all different levels, when you go to the vineyards, when you go to the distillery, when you speak with people in Cognac, when you speak with the team in Paris, you feel that everybody knows they are working for something that is bigger than them. It's an amazing feeling.
It's like steering a car AT 150mph: you only need to turn the wheel a couple of degrees
SM // Was it a seamless transition from your role in cosmetics at LVMH to a high-end spirits brand like Louis XIII?
LF //: It was a bit of a culture shock. The spirits business is really traditional, it's very old-school in the way that the product is distributed. In fashion and cosmetics, they want to own the full pathway to the consumer, while in spirits – except a few countries like the UK – we produce a beautiful product, then we give it to someone else to distribute, and you eventually lose track of what is happening to your product. It's how cosmetics used to work maybe 20 years ago, so in a way it was a little surprising for me to return to this way of thinking, and I would say one of my missions is to address this point for Louis XIII in a smart way to own as many of the steps that bring your product to the final consumer. For me, that means knowing your consumer better.
I think the luxury world had a huge shift a number of years ago where instead of creating institutional luxury that was good for everybody now brands tend to be more client centric where they want to serve the needs of the customer, so I'd say this is one area where cosmetics and spirits are quite similar. We really want to understand the client, we want to surprise them, we want to give them the added value that we think is in each bottle. True luxury is about giving the customer what they want, not what we think they should want.
SM // What are the challenges of balancing a heritage brand like Louis XIII with the modern demands of the consumer?
LF //: When you have a product that has almost 150 years of history, you need to preserve this heritage, the DNA of the brand, and the legacy of the people that came before you, and try to build something on the same pathway – not to disrupt what has been done. But you must also go forward, and the only way to do that is to innovate and surprise. It's like steering a car that's going 150mph: when you change direction, you just need to move the steering wheel a couple of degrees, because you know what's going to happen otherwise!
Louis XIII has always been a pioneering brand. If you look back in its history, it was one of the first cognacs that decided to ship its product in bottles rather than barrels. It was also the first cognac to open its own retail space fully controlled by the brand. This is one of the things I really like about Louis XIII because on the one side I am quite traditional in my way of thinking, but on the other I like innovation and I like to do things that are out-of-the-box, so I find myself perfectly aligned with the brand's aspirations.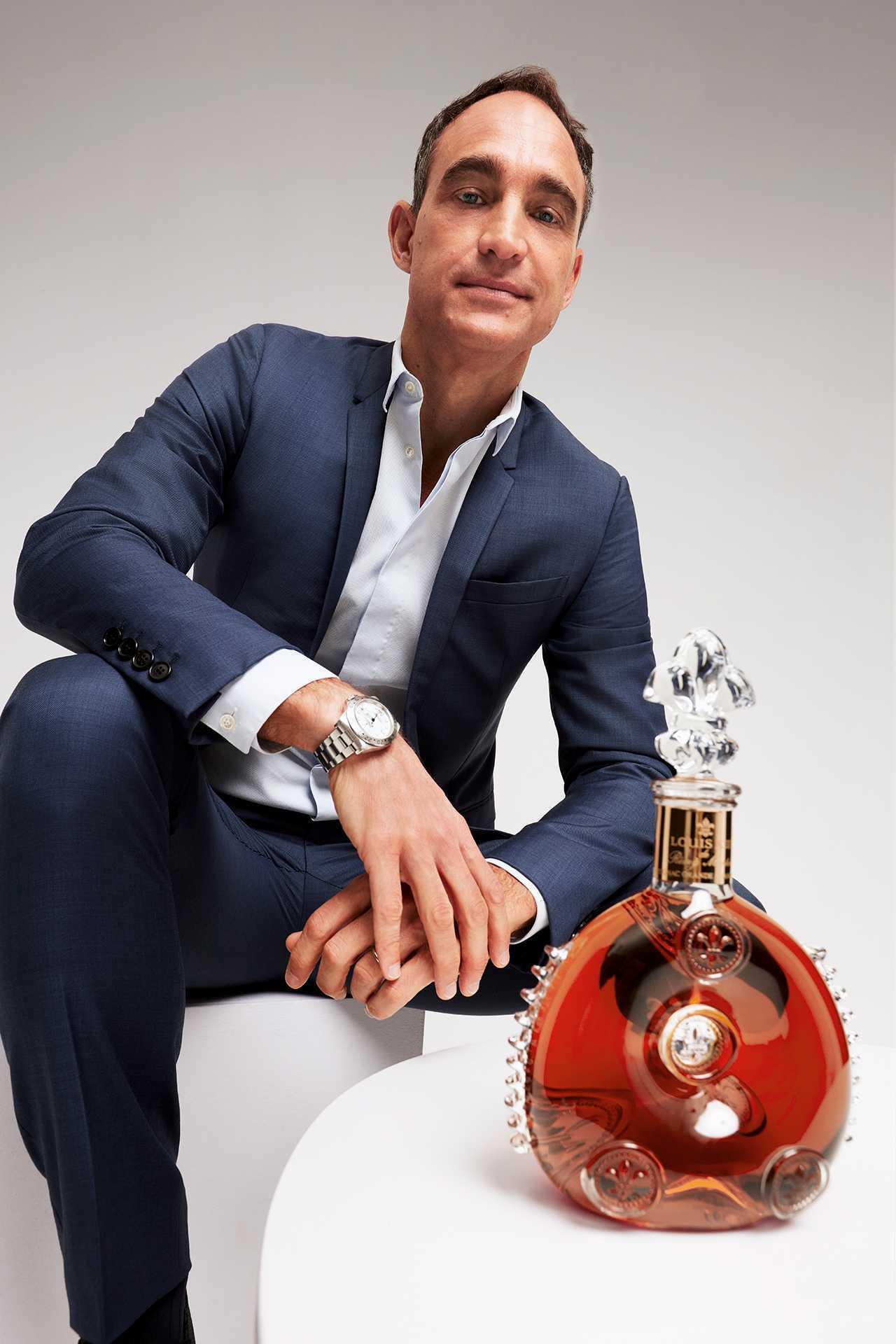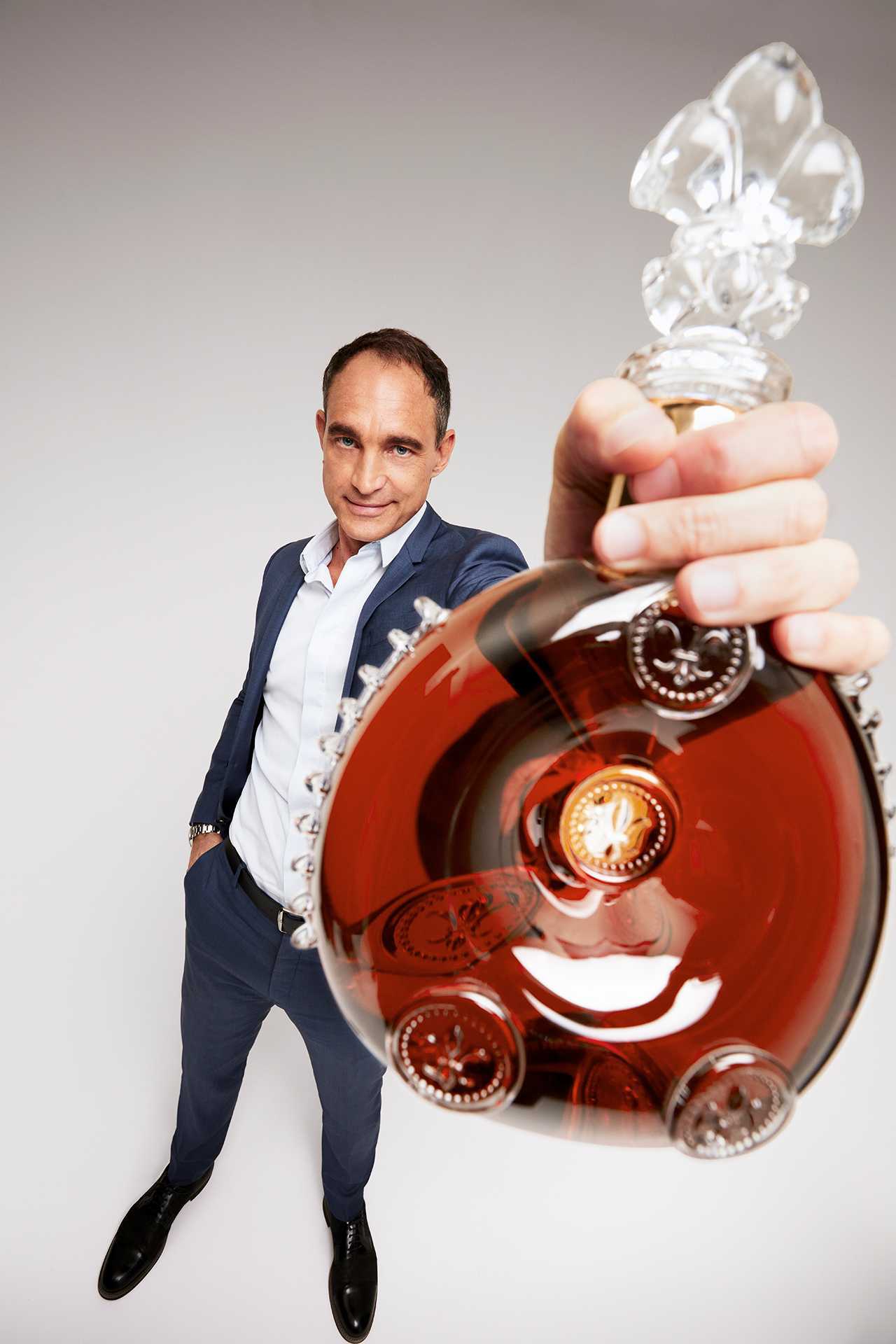 SM // I wonder if, coming from your background, you wouldn't have considered moving to another high-end spirits brand?
LF //: The cosmetics industry is nice because it's very fast, you need to be alert to launches and brands taking away your market share.
Wine and spirits is something that was always interesting to me as a consumer, but professionally I also like the luxury environment. I love the attention to detail, the craftsmanship, and the knowledgeable clientele who understand the value of the product beyond the price tag. I don't know what other brands in the market better encompass these qualities than Louis XIII.
I was discussing this with a colleague and he asked me, "What is the difference between a cosmetic fashion brand and a spirit brand in its approach to luxury?" My personal opinion is that in fashion and cosmetics, you can be a beautiful brand and create beautiful products, but times and tastes evolve so quickly that you can find yourself out of date in a short period of time. What's really striking for me in Louis XIII is that across the 150 years of history, there's one thing that's not changing: when you taste Louis XIII, you cannot express how unbelievable this liquid is, it's just the best thing you've ever had in your mouth. It's soft, but strong, it's rich and complex, it's overwhelming. The success of Louis XIII is exactly this. It falls outside of the trends of the day.
When you taste Louis XIII, you cannot express how unbelievable this liquid is
SM // Do you remember the first time you tasted Louis XIII?
LF //: I was very lucky at the beginning of my tenure to spend a month in Cognac learning everything about the brand. One day in the first week I was invited into the tasting room of Baptiste Loiseau [Louis XIII's Cellar Master] and I experienced Louis XIII for the first time; I was shaking, it was such a big moment!
We had many glasses of different ages of eaux de vie in front of us and, of course, I was expecting to taste them, but no these were just to understand how each bottle of Louis XIII is a blend of many different eaux de vie. Baptiste trained my nose through the different eaux de vie. It's unbelievable to consider that a cognac that's been aged between 40 and 100 years can still smell fresh. You have flowers and fruit, and then spiciness, how can you put all of these opposites in the same glass?
I was with Baptiste and he was smelling and carefully considering the aromas and the tasting notes – "Ah that's honeysuckle. Oh, there's some jasmine." When you do a tasting with an expert they open your mind to these notes and suddenly they're there in the glass.
And then you taste Louis XIII. It's this balance, this long persistence, and this complexity that brings something new to your palate on each taste. It's overwhelming. I've done many tastings since my first but, it's funny, because of that complexity and because you perceive a different facet in a different environment or a different context, every time I taste it, it's a different experience. I wouldn't quite say every time is like your first time, but I think it's always an exciting moment.
SM // Your job is an easy one, right? Customers need only taste the product and they'll get it.
LF //: You are in a way the consequence of your own success and I think sometimes through that success you forget how beautiful the product you're making truly is. I think one of the things that really struck me at the beginning and I think it remains one of my biggest motivations today, is that we still have something to do in order to keep the same level of expectation on the route to market. If you are too inward looking, you'll wake up one day and you won't be exactly up to date, you won't be the brand people are looking for, and it won't matter how unbelievable the product is inside. That's my job and I feel very honoured to be part of this brand.
I have to say, one thing I really appreciate is the support of the Hériard Dubreuil family. Whenever you speak to them about the brand, they're telling you, "We're not the owner of the brand, we're just the custodians passing it on to the next generation." They're supporting you, they're not telling you what to do, but they are the guardians of this transmission to the future. They know the brand much better than anyone else, they group with this brand in their blood, and Louis XIII is very much the jewel in the crown of the Rémy Cointreau group. I have a very open line of communication with them and I always ask them what they think, I listen to what they have to say, and I use that as the framework that I should work within.
They understand more than anyone that Louis XIII needs a certain level of rejuvenation, a certain level of audacity, but they understand this because that has always been part of the DNA of Louis XIII.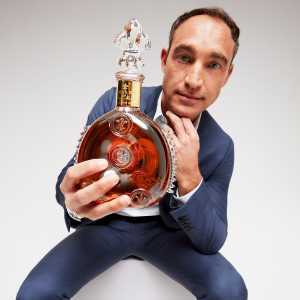 SM // Where does sustainability factor in your plans for the future of Louis XIII?
LF //: For the moment, we have a vision until 2025-26 on all the different projects. I think, firstly, it's important to say that we are living in a world that is changing and we are duty-bound to look after the environment better than our forebears.
I have a friend in Singapore, he's a professor, he said to me the other day, "You know, we are in a huge ship that's going against the world, and people don't understand. We cannot stop the ship so we need to change direction." I completely agree.
One thing that Louis XIII needs to do is really continue to push the brand, the group, and the maison to go in an eco-friendly direction. Cognac is a region with vineyards that are part of the ecosystem. If the ecosystem changes, we won't have cognac anymore, we won't have Louis XIII anymore. This is something that the group is taking incredibly seriously.
Every decision we make is informed by the impact it has on the environment and even compromising the bottom line for a short-term period if it might have a positive effect in the long term. We're already extremely sustainable in the vineyard and in the cognac-making process itself – and, truthfully, we didn't communicate this enough. I think it's time that we tell that side of our story more. On the other hand, when you say you want to be sustainable, you need to be sustainable across the board. If you look at our product, our packaging, the way we communicate, I think we can accelerate the 360-approach to sustainability around our product.
If you're too inward looking, you'll wake up one day and clients won't desire the product
SM // What can we expect to see from Louis XIII in 2022?
LF //: There's one campaign in particular I am very excited about at the moment. It's a very beautiful story because it's creating a link between several different universes that are very distant to each other. The centre of the story is the conception of time, which is something that as you know has a symbiotic relationship with Louis XIII because of the ageing of the eaux de vie and the experience of our team of artisans. The campaign is called 'Believe In Time', which is all about ascribing this positive value to the conception of time.
There are two very extreme worlds that are contributing to this story in artist Solange Knowles and haute couture fashion designer Guo Pei: on the one side you have a US artist who is very well known in the African-American community that is going to be the embodiment of Mother Earth, and on the other side you have a Chinese fashion creator that is designing and creating the dress for Mother Earth. The story is all about how time is so exceptional that it is able to produce, over the years, beautiful things like Louis XIII.
The producer is a rising star of French cinema, which adds another element to the campaign. These three women from different parts of the world coming together to create something exciting. We like to think that Louis XIII has the ability to act as the bridge to bring different people together from different cultures, so it's very appropriate. The second project we're working on is something that's going to come later in September. I can't say too much now, but it's really something very exciting. It's going to revolutionise the way we consume cognac. The consumption of cognac is going to change. It's a wow project.
SM // Whiskey has experienced exponential growth as an alternative investment in recent years. The same is true for Rare Cask and limited-edition bottles of Louis XIII. Are you mindful of that investment angle?
LF //: I think, for us, we're never going to do a lot of limited-edition bottles because the base product itself is already very scarce, and we don't want to detract from that. It's interesting considering the product as solely an investment because Louis XIII is all about celebration. We have large decanters available for purchase so that people can share in this very special moment. It brings people together. So, in a way, I feel frustrated for the people who are not going to experience Louis XIII this way.
On the other hand, it's very rewarding that people are buying bottles because they consider Louis XIII to be an appreciating asset. We have huge collectors across the world – people who contact us the moment a new product is released asking if they can buy a bottle – but I wish they would enjoy the product in a way that will give them 100% appreciation for what a wonderful product Louis XIII is. It's not designed for collecting, it's designed for drinking.
SM // What are your ambitions for Louis XIII?
LF //: I think what I need to do is to bring Louis XIII closer to the consumers, to a place where they want Louis XIII to be positioned and where they share in the values of the brand. I can't do it alone, it has to be with the help of the family, the top management and the rest of the team, but it's about listening to the market a little more. At the end of the day, the product isn't going to change – the liquid is as close to perfection as you can get. It's about marketing powerfully and presenting Louis XIII in a way that is inviting to the kind of consumer that we want to attract.
The values of the company are terroir, people and time, so what does that mean for my role at Louis XIII? Well, I want to focus on people management and finding the balance between understanding their needs and also challenging them to strive for the next step of excellence. On the terroir, I think continuing to find new ways to make our product sustainable is exactly what we need to do in order to preserve the richness we have in the soil. In terms of time, I'd really like to keep the brand focussing on the long-term perspective, continuing to tell this wonderful story, and like all the beautiful brands that exist I want us to tap into a new kind of consumer to ensure we continue to stay relevant.
Today, if you go into a bar, you'd probably be one of the only ones drinking cognac. That's something I'd like to change. I'd like to see cognac become cool again – and that's what we need to work on as a brand and as a category. 
For more information, louisxiii-cognac.com