Screw Christmas. Oh come on, stop your wincing, it's what we're all thinking after what seems like 124 months of advertising. If not, it's how you will be feeling come 27 December when you suddenly realise you got so wrapped up in Love Actually that you forgot to plan what you were doing on New Year's Eve. 
It's the annual toss-up between having dinner with some friends, getting out of London altogether, spending it face down outside your favourite pub or making the dreaded trip into town to find a bar or club that's not full to the brim of people.
It seems the organisers of some of this year's biggest City NYE events have had the same frustrations because there is more than ever on offer to ring in 2020, and a good variety too.
Whether you want to slip on a tux, sip on some bolly and watch the fireworks pop off or enjoy an immersive show celebrating 100 years of cabaret – we've got you covered. Well, the venues do, but you know what we mean. Auld lang syne and all that...
NYE at The Shard
The Shard really does want to be the biggest and the best at everything, doesn't it? Well, for anyone who's tired of it always succeeding - look away now, because its New Year's offering is no different. As per, multiple venues within the 95-storey tower will be hosting their own parties, including the already-legendary #ShardLights display at The View: dubbed Europe's highest light show. The Shangri-La's TING is hosting a 1950's First Class Flight event, which promises to take guests back to yesteryear (aka the 1950's). You can gorge on a six-course menu and enjoy 1950s-style revelry, hosted by drag queen Michael Twaits and a lineup of live acts including queen of cabaret Dolly Trolley and acrobatic duo Soul Illusion. While GONG's Studio 52 is throwing a party with RuPaul Drag Race's Vinegar Strokes set to appear.
32 London Bridge St SE1 9SG,  the-shard.com
Rollplay, South Place Hotel
Not that kind of roleplay, you filthy animal. No, this more events-based Rollplay has been curating nights out all over London for years, with each one said to be an electric buzz filled with up and coming DJs and artists from around the world. This year the line-up, as always, has a secret special guest that won't be announced until the day, alongside the likes of already-poised Brawther, Tony Loi, Ollie Drury, Matt Drury, Sean Fitzgerald. South Place has earned its reputation as the City hotel – appealing to younger and older customers, with its edgy yet sophisticated vibe. If you're more into good music than fancy schoder, this one's for you. Tickets start at £30, but go down to £27.50 if you buy in groups of 4.
3 South Pl, Finsbury EC2M 2AF, southplacehotel.com
Moët & Chandon's New Year's Eve Party, The Lanesborough
To hear The Lanesborough describe its NYE offering as the 'most exclusive of house parties' is both exciting and daunting – only daunting because, let's be honest, it'll be the kind of house party that will make any other attempt at one seem laughable for the rest of your life. Yep, we want to go too. Badly. Luckily, the Clos19 team are giving all of us the goods (for a small fortune, of course). Following the success of 2018, the iconic hotel is set to be transformed for the evening. Guests can expect live music and DJs along with delicious canapés by Michelin-starred Chef Steeven Gilles being served throughout the evening. Tickets are £275, but boy will it be worth it. 
Hyde Park Corner SW1X 7TA, clos19.com/moet-nye
NYE Fireworks Party, B&H Garden Room
When the invite offers sophisticated cocktails and canapés with unmatched views, it's hard not to sit up and listen. B&H Garden Room, a new City offering which sits in Alhambra House on Charing Cross Road, is offering guests an intimate evening where they can explore a new venue and watch London's infamous fireworks display from its very own rooftop bar. Cocktails, canapés, fireworks – it really is as simple as do, re, mi. Doors open at 8pm and close at 2am.
10th floor, above Assembly Hotel, 31 Charing Cross Rd WC2H 0LS, bandhgardenroom.com
Rooftop Extravaganza, Boundary London
Boundary has long been famed for its understated yet tastefully OTT rooftop that feels homely and decadent all at once. In summer, there's often a queue to bag your place on it to enjoy a post-work or weekend cocktail. Anyone up for New Year's Eve sky-high views in the heart of Shoreditch will need to pay £150 for a premium tasting menu from the venue's famed restaurant Wilder, before ringing in the New Year atop Boundary's all-weather roof for an hour of unlimited fizz. Lights out at 1am.
2-4 Boundary St E2 7DD, boundary.london
Iris Bar, The Gherkin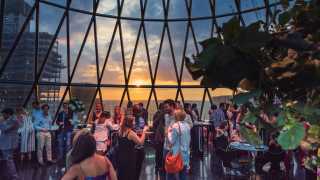 If you haven't seen an Instagram that someone has taken from the top of The Gherkin (where London's skyline is seen through a shield of the tower's iconic black-line cladding), have you really been on Instagram? So popular is the Iris Bar, for both its aesthetic and excellent cocktails, that Virgin Experience Days now offers a Gherkin cocktail making session to anyone buying birthday, Christmas or anniversary presents for other halves, friends or colleagues. For NYE, all the stops have been pulled out: a glass of vintage Dom Perignon 2009 on arrival, canapés and live music. However, the venue does warn goers that it can't guarantee firework views. Tickets are £150 and arrival times are flexible.
30 St Mary Axe EC3A 8BF, searcysatthegherkin.co.uk
The Rooftop, St James Hotel
It's a bit of a seafood, meat, cheese and champagne bonanza planned at Rooftop St James on 31 December. Tickets prices start at £499, and the dress code is a very formal black-tie affair, but this does mean you're privy to a whole host of inclusive features: from the five-star buffet to a dessert trolley of dreams through to free-flowing Veuve Clicquot champagne, Sipsmith gin, Remy Martin cognac and a range of cocktails, beers and wines. There's also a firework viewing platform, where guests are served champagne as the fireworks begin at midnight. Pretty dreamy. Sure, it's not cheap but if you want to see in the year to come with a big ol' bang – this is your best bet.
2 Spring Gardens Trafalgar Square SW1A 2TS, trafalgarstjames.com
NYE at The Standard
It's a double-whammy of offerings from The Standard, to ring in its first-ever New Year's. And it ain't holding back. First up on the cards is the knees up over at Decimo, the hotel's hotspot restaurant, which will see in the new year with a live band and singer, a fully-open 360-degree rooftop terrace with views of the City's midnight firework display, and a set menu of 2020 dreams from head chef Peter Sanchez-Iglesias. Tickets are £165 and include all of the above, plus a glass of fizz at midnight. Second up is the suitest package around – a private party and stay for you and a group of friends in one of the hotel's swanky suites for a cool starting price of £1,300, which includes up to £500 for food and drink). Who said being the new kid on the scene meant no one would show up to your party? Not The Standard, that's for sure.
10 Argyle St, Kings Cross WC1H 8EG. For Decimo tickets, see eventbrite.co.uk and for the suitest sleepover of your life, head to standardhotels.com
Gourmet Dinner NYE, The Jugged Hare
From grouse to game, The Jugged Hare is using New Year's Eve to look back over its past year of speciality food and exclusive wine evenings to choose the very best dishes, and bring joyous guests an epic five-course New Year's feast – perfectly paired with fine wines. They're calling it the very best of 2019, and it's easy to see why. We reviewed The Jugged Hare earlier this year, and can say with full confidence that this classy bar deftly skirts the fine line between contemporary boozer and the misty-eyed pub we all see in our fantasies – so cancel whatever you thought you had planned, and ring in 2020 with your family and friends at this proper classy pub. You won't regret it.
49 Chiswell St EC1Y 4SA, thejuggedhare.com
Carpe Diem NYE, The Curtain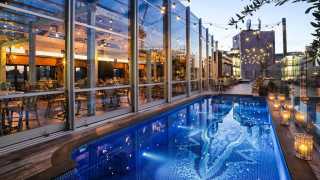 The Curtain is cool. Just, really cool. And this NYE, they're letting non-members get a glimpse of the good life as doors are open to literally everyone for the Carpe Diem party. The team are promising an unforgettable evening, with a DJ lineup that spans three rooms – with tunes coming from the decks of Faded, Supa Dupa Fly, Issa Vibe, Livin' Proof, Rinse FM and BBC 1Xtra. If you're one of those people (which there's nothing wrong with, by the way), there'll also be confetti blasts, balloon and flower walls and photobooths. Tickets are £22.50 for general admission and go up to £150 for VIP tables of up to 6.
45 Curtain Rd EC2A 3PT, thecurtain.com
Tropical Themed Cabaret, Tropicana Beach Club
The cabaret and the beach. Two spectacles in their own right – the latter in particular at this time of year – but rarely two spectacles you'd associate with one another. Let alone merge together. Well, that was until the team over at Tropicana Beach Club got involved and designed a New Year's Eve bash to contend with. The club will welcome guests for an unforgettable dining experience, with exotic hosts including drag star Velma Celli and renowned cabaret compere Chastity Belt to guide guests through the action-packed evening. Expect acts from around the world, including contortionists, hand balancers and fire performers alongside a dinner to remember. Not one to be missed, really. 
New London Theatre, Parker St WC2B 5PW, tropicanabeachclub/new-years-eve