Watching Sideways is a rite of passage for any self-respecting wine buff. You can't call yourself an oenophile unless you've seen this cult classic, and are able to quote Miles – played by the brilliant Paul Giamatti – on request. ("I am not drinking any fucking merlot!")
Perhaps I'm guilty of inflating this film's significance slightly, as it was released at the exact moment I started to really get into wine – my final year at university and first year in gainful employment.
If you haven't seen it, then all you really need to know for the purposes of this column is that the main character worships at the altar of pinot noir.
Watch it and I challenge you not to go out and buy a bottle of it within minutes. Even better, buy a bottle beforehand and then play the Sideways Drinking Game – every time they drink, you drink. Good luck with that.
But what to buy? Many of the labels Miles quaffs are either impossible to find in the UK or grail wines that should be cellared not slurped.
Our selection is ready to drink now. We've eschewed the obvious (sorry, Burgundy) for a quartet of pinots that Miles would certainly approve of. And don't worry – there's not a dash of merlot in sight.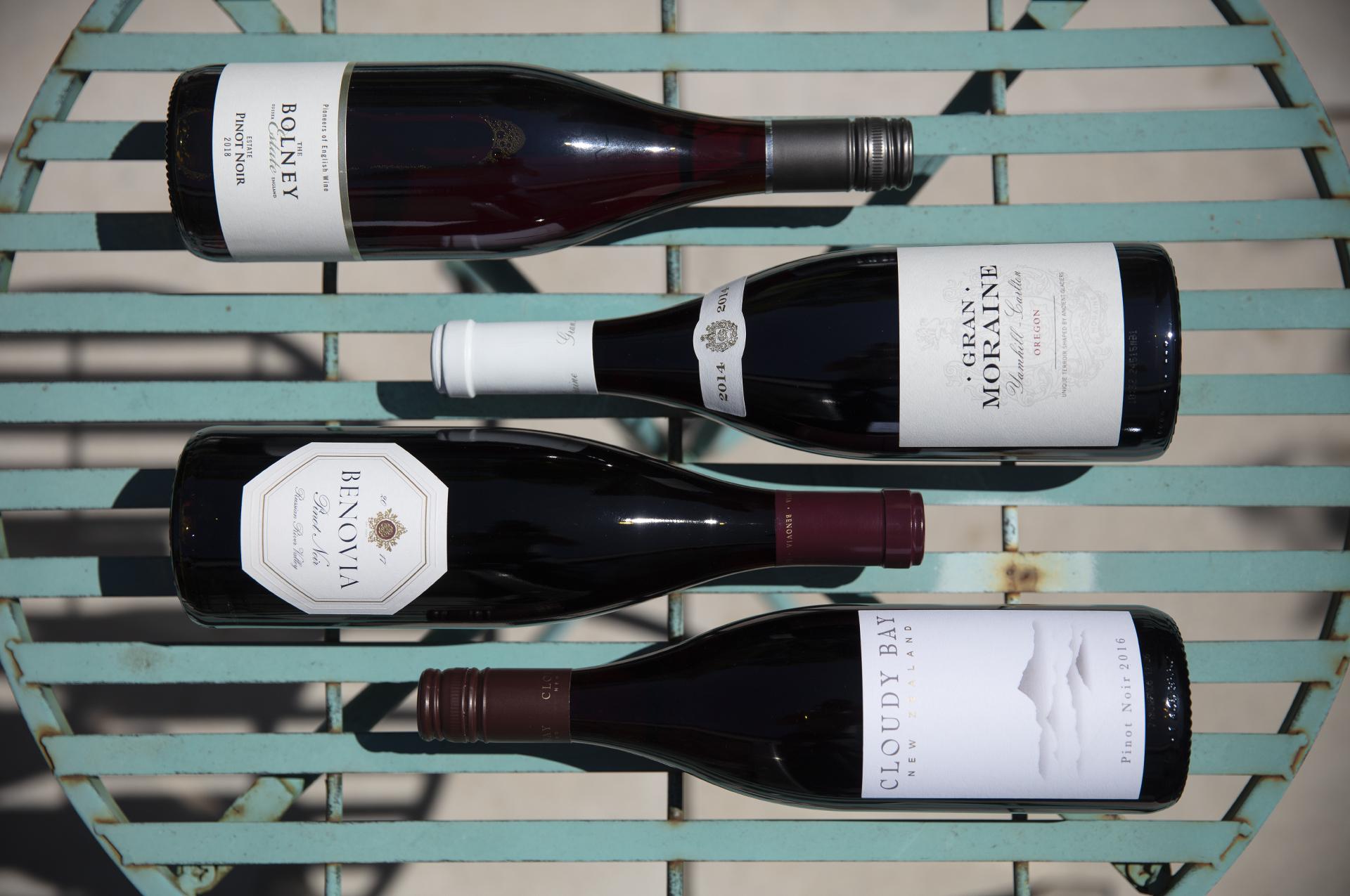 Bolney Estate Pinot Noir 2018
No, your eyes don't deceive you: this is a bottle of RED wine from England. But as I've mentioned before in this column, global warming does have the occasional benefit, especially when it comes to grape growing on British soil.
Warmer summers here have meant that we can produce a more-than-passable pinot these days.
The Bolney Estate in Sussex may be better known for its sparkling wine, but its pinot is certainly worth note, too. It is a delicate number – soft tannins and juicy strawberries – but there's plenty of leather and earth in there, too, all complemented by a smooth, creamy finish.
Unsurprisingly the lightest of our lineup, this is a great lunchtime red. Drink with grilled asparagus and rillettes.
Bolney Estate Pinot Noir 2018, £19.99, bolneywineestate.com
Gran Moraine Yamhill-Carlton Pinot Noir 2014
Home to more than 500 wineries, the Willamette Valley is Oregon's winemaking mecca, and has become renowned for its pinot noir.
One of the finest examples is Jackson Family Wine's Gran Moraine. The name comes from the glacial sediments – moraines – that the Missoula Floods deposited here in the last ice age.
The resulting landscape and terroir is very similar to the old-world home of pinot, Burgundy.
Also, Yamhill-Carlton's hillsides range between 200 and 500 feet in elevation, which is the sweet spot for distinctive, age-worthy pinot noir.
The beauty of Oregon pinot is that you enjoy a fusion between the elegance and higher acidity of a Burgundy with the full fruit flavours of California.
Gran Moraine's 2014 vintage is an excellent example of this. There are ripe berries and candied violets, in there – maple syrup and rhubarb, cherry and chocolate. It's simply mouthwatering.
Gran Moraine Yamhill-Carlton Pinot Noir 2014, £40.99, ministryofdrinks.co.uk
Cloudy Bay Pinot Noir 2016
No country has adopted pinot as its own quite to the extent of New Zealand. And one of its pioneers is the now world-famous Cloudy Bay. Indeed, as one of the first five wineries founded in Marlborough, it was also partially responsible for the world's love affair with Kiwi sauvignon blanc.
But it's the winery's main red we're interested in today – and it's everything you'd expect from a New World pinot noir. There are silky smooth tannins, delicate berries, earthy mushrooms and plenty of addictive spice.
It's made using the classic Burgundian techniques of fermenting in open-top fermenters with regular punching down of the 'cap' to extract the colour and fruit.
This is a sophisticated and polished wine at a reasonable price. But if you can afford an upgrade, Cloudy Bay's Te Wahi from Central Otago takes NZ pinot noir to the next level.
Cloudy Bay Pinot Noir 2016, £32, clos19.com
Benovia Pinot Noir 2017
The Russian River Valley lies at the geographical heart of Sonoma County – a symbolic location, given just how highly regarded this appellation is on the West Coast pinot noir scale.
From the warmth of Dry Creek Valley to the chilly breezes of Green Valley, pinots here vary hugely in style despite the relative geographical proximity.
Benovia gets around this by blending across multiple sites – including the Cohn Estate in the north, Tilton Hill Estate in the south and Martaela Estate in the centre.
The result is a complex wine that starts with the red fruits you'd expect of a pinot noir before being followed by richer forest fruits.
Initial summer aromas develop and give over to plum, brioche and allspice.
This is a forceful pinot that contrasts hugely to the delicate nature of the British Bolney.
If the Bolney is for a light lunch; then this is for a rich roast lamb dinner.
Benovia Pinot Noir 2017, £46.99, jameshockingwine.com