You wouldn't be the first Londoner to spend an enjoyable evening in the Green Room Bar on the corner of Curtain Road and think you know what it is to party at The Curtain. You don't.
The real fun starts when you leave the ground floor of the 120-room Shoreditch hotel, pass through an understated side door on Scrutton Street, and take the lift down to Minus 3 where the heart of The Curtain Members' Club lies.
It's a place led by music, not without moments of ohmygodisthat? swag, and with a very soulful heart.
What's the story?
Opened in 2017, at a time when the Ned and Ten Trinity were also vying for East London attention, The Curtain is a club for creatives, music lovers and those who appreciate subterranean drinking dens and losing track of time. The man behind the madness is Michael Achenbaum, an impressive hotelier who opened New York's Gansevoort Hotel in 2004, the first luxury hotel in the Meatpacking District and a contributor to the area's transformation into the hotspot it became. Together with diverse partners he has co-developed over $1billion of property since the 90s. Celebrities poured out of the polished doors of The Gansevoort, from Kim K to Lindsay, but what The Curtain brings is different; a little more boutique, a little more issavibe.
What's the amenities?
So how does The Curtain differentiate itself in a crowded market? Mainly, what they do with their music programming is criminally good, often attracting big US talent to play intimate live gigs and host listening parties for members.
Additionally, they allow dogs in the club (a picture of the owner's pooch hangs proudly in Billy's Bar) which is rare in the members club world and attracts a fashionable crowd of pooch owners who would be turned away elsewhere. Once a member you have access to a number of floors, some above ground, some below.
On Minus 2 you have the screening room, which hosts member films and special previews as well as panel discussions and networking nights, from tech startup events to female-focussed events like Black Girl Book Club. There's a gym, a spa, and also some new wellness collaborations with Frame and House of High Life Yoga.
The rooftop is open all year round, morphing into an enchanted garden during the winter – complete with faux fur and fairy lights - and at its peak in summer with the pool, good for when you want to dip your toes in a little water but don't want to take on the masses at a nearby Shoreditch competitor.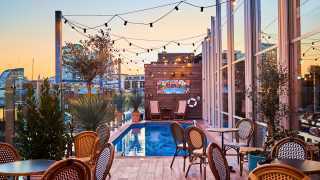 How's the food and drink?
On Minus 3 lies Imperial, a restaurant designed to look like a twisted English country garden at night, serving food throughout the day and with a huge number of plant-based options for those living their best lives. Then comes Billy's Bar, an opulent high-ceilinged pleasure palace complete with deep velvet tones and a dramatic fireplace. This is where you go for lashings of Ruinart and grazing on Oysters with Chorizo or Pecorino truffle nuts, before getting your dance on at LP.
Climb the building further and as daylight filters through the windows things get more above board, with a chic ground floor coworking space full of freelancers, plus member access to the public restaurant Red Rooster, best for their Sunday gospel brunches. Go all the way up the building and you end up at Lido, a rooftop restaurant reserved for members and hotel guests. It's light, bright, Mediterranean vibes; great for working lunches and perky coffee chats.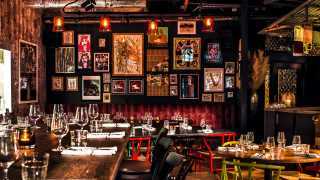 What kind of people are members?
The Curtain is a club for creatives, music lovers and those who appreciate subterranean drinking dens and losing track of time.
How do I become a member of The Curtain? 
Apply online but you'll need a reference from a team member or Curtain ambassador. You'll also be expected to provide reasons for why you want to be a member – "because it seems fun" probably won't cut it.
How much is membership to The Curtain? 
£1,000 per year, plus £250 joining fee.
How many guests can I bring? 
Members can bring three guests per day. Make sure they're cool. 
Anything else to note?
The club even has its own nightclub: LP, an equipped with a disco ball, checkered dancefloor and stage, where the live music and cabaret happens. Thanks to some savvy programming hires and a very connected owner, some major acts have played here, from Chance the Rapper to Mary J Blige, Erykah Badu, Mark Ronson, Travis Scott, Emeli Sande, Fatman Scoop, Skepta, Mike Skinner - and so many more.
Try watching Miguel try out his new material less than a metre away from you and mark my words you'll be renewing your membership.
For more info, see The Curtain