Getting off the tube at Green Park on a sleepy summer evening feels like entering a whole new London. The business people stroll rather than run for the train, the wide streets are empty but for smiling faces, red buses and black taxis. You half expect Colin Firth to stroll by in a three-piece suit.
Quaglino's restaurant is a classic slice of London. Originally opened in 1929, its first iteration was known for hosting aristocrats and royalty. According to London legend, there was a table constantly reserved for Princess Margaret, and her elder sister even visited once.
It closed in 1977 but returned 16 years later and became the glamourous haunt of 90s stardom. Lady Diana is said to have been a regular, and once escaped through the kitchen to avoid photographers.
Other visitors since the 2014 renovation by new owners D&D London have included Prince Harry, Amanda Holden, Holly Willoughby and Tinie Tempah. You can see instantly why they felt at home.
What's the vibe?
It's a dimly lit dining room echoing speakeasy mystique and Gatsby-esque glamour. A jazz quintet belts out standards from 8pm and keeps something of the 1930s in the atmosphere, despite the best effort of the art décor renovation eight years ago.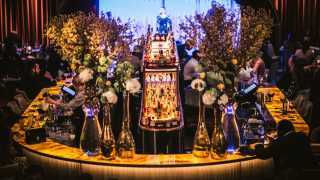 What to order?
The seasonal star is the new cocktail menu. Created in association with acclaimed leather maker Aspinal of London, the menu is headlined by the Bee Aspinal, a wonderfully rich and complex mix of Havana seven-year-old dark rum, fennel liqueur, oat milk, sherry wine and honey taken straight from the hives of West Sussex as part of a campaign to combat falling bee populations.
When our food arrived it came with a similar sense of occasion, but without the pretence and pomposity that may be feared at an icon with such a reputation. The star was the pork belly. It was succulent and combined beautifully with those classic sweet and smoky flavours you need with such a dish. It had all the rustic charm of a country pub, made more impressive for its contrast with the surrounding room.
A special mention also for the roscoff onion – words that meant nothing to me earlier that day but wowed me enough to dominate my latest culinary experiments at home. Imitation is the sincerest form of flattery.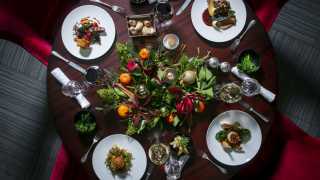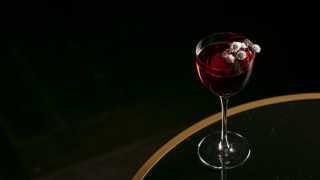 What's the damage?
Quaglino's in the old days had a reputation for excess. It was even labelled 'the Salt Bae of the 90s' by My London but prices are now very reasonable considering the quality of the food and the majesty of the setting.
The three-course set menu comes to £40, although those hankering after opulence that matches their surroundings may opt for the Beluga caviar (£240) or the famed fruits de mer platter (£98).
There is a similar range on the wine list, with prices starting around the sensible £25 mark and stretching to £360 for a bottle of 2013 Louis Roderer 'Cristal'.
Anything else to note? 
A huge picture of Boy George watches over you with a benevolent and knowing twinkle. Fashionable restaurants may come and go (they come and go) but Quaglino's is truly timeless.  
16 Bury St, St. James's, London SW1Y 6A; Quaglino's