Depending on who you ask, Loïc Pasquet is a troublemaker, a visionary, or just a well-meaning eccentric with some peculiar ideas about how to make wine.
A case of his Liber Pater can set you back more than a new Lamborghini with a price tag of up to £26,000 a bottle, but that doesn't stop collectors across the world from fighting to get their hands on the tiny quantities released each vintage.
Success like this doesn't come easy. Pasquet's maverick approach and disregard for convention has repeatedly upset the well-heeled Bordelais elite and even landed him a clutch of court cases.
Talking to Pasquet, it's easy to see why he might rub people up the wrong way. "They've sold their souls,'' he says of his fellow Bordeaux winemakers. Pasquet believes everything changed after the arrival of a devastating pest called phylloxera in the mid-19th century. Within 50 years this louse had destroyed the majority of Bordeaux's vineyards and had spread rapidly to Burgundy, Spain, Italy, and beyond.
So desperate was the situation that the French government offered a reward of 300,000 francs to anyone who came up with a solution, which remains unchanged to this day. Resourceful grape growers eventually devised a quick fix by grafting vulnerable European grape varieties onto the roots of phylloxera-resistant American vines.
Pasquet's project is recreating the original Bordeaux as it existed before the arrival of phylloxera
What followed was a massive replanting of Bordeaux's vineyards and a seismic shift in France's wine industry. Before the arrival of phylloxera some 70% of Bordeaux's vineyards were planted with the tarney-coulant variety. In the aftermath of the infestation the composition of the region's vineyards was transformed with modern-day classics like cabernet sauvignon and merlot coming to the fore.
At Liber Pater in the far south of Bordeaux close to the Sauternes region famed for its liquid gold sweet wines, the 300,000-year-old sandy soils provided Pasquet with the perfect opportunity to turn back the clock. The phylloxera louse struggles to survive in sand so he could plant without American rootstock.
Pasquet farms his seven hectares of vines organically; he uses a Spanish mule named Carbonero instead of a tractor; and – as of the 2018 vintage – he chooses to age his wines in Roman-style amphorae to show off the profound purity of his fruit. 
Pasquet has a special hatred for merlot, at least on Bordeaux's gravelly Left Bank. "If you want to get a good write-up from a critic, you have to make wines that are fat and sweet. That's why they've planted merlot on gravel, to make fat and sweet wines."
Instead, Pasquet has re-introduced historic grape varieties like castets, mancin, lauzet, camaralet and prunelard because "each variety works best on the soils where they were born". These grapes thrived in pre-phylloxera Bordeaux but have been largely forgotten today.
Pasquet's maverick approach and disregard for convention has upset the Bordelais elite
For Daniel Carnio, the Italian wine expert who co-founded fine wine investment company OenoFuture, Pasquet's project is recreating "the original Bordeaux as it existed before the arrival of phylloxera". Carnio believes that Liber Pater's use of native European vines rather than imported American rootstock gives the wine a unique character.
"You could drink it straight from the barrel for lunch" explains Carnio, who credits the softer tannins to the use of native rootstock and indigenous grape varieties. Unlike many of the Haut Medoc's great red wines, Liber Pater is extremely approachable even in youth while still able to age gracefully for decades. 


Although Pasquet is now well on his way to becoming Bordeaux's golden boy and even begrudgingly gaining the acceptance of the region's notoriously prim and proper elite, getting there hasn't been easy. In 2016 he was found guilty of breaking winemaking rules set by the French government's Institut National de l'Origine et de la Qualite (INAO).
That ruling was later overturned in a move which Pasquet described as "a victory for the cultural heritage of wine and for the diversity of taste". But this hasn't silenced his critics, with the judge concluding that the case "raised questions about the ways that Loïc Pasquet carries out his viticultural work that are not in line with usual practices".
There have also been physical attacks on Pasquet's property. At the end of 2015, vandals destroyed 500 vines planted on his 2.5-hectare plot. At the time he viewed the act as "an attack on an historical treasure of Bordeaux" since the site was planted with rare castets grapes.
Ironically, these challenges have been good for the Liber Pater brand. Pasquet has firmly established his reputation in the fine wine world as a maverick winemaker who isn't afraid to forge his own path.
The Graves appellation and the wider Bordeaux region don't currently permit the use of Pasquet's rescued historic varieties so he simply labels his wines as Vin de France which comes with far fewer rules and regulations.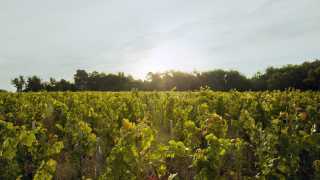 He doesn't seem too bothered by this snub, especially given that his wines now rank among the most sought-after and expensive on the planet. Right at the top of that ranking is his 2015 vintage of Liber Pater which was released earlier this year at a record-breaking price of €30,000 a bottle.
This pricing eclipses even the billionaire's favourite Domaine de la Romanée-Conti, or DRC as it's nicknamed by those with deep enough pockets.
So, why the hefty price tag? There's simply not a lot to go around. Pasquet produced just 500 bottles of this vintage and plans to sell only 240 of them.
When asked about what he plans to do with the remainder his thoughts immediately jump to the next generation; "my daughter was born in 2015, so I will keep some for her and she'll do what she wants with it."
Whether she'll inherit her father's passion for winemaking remains to be seen, but here's hoping Liber Pater keeps disrupting the fine wine scene for many years to come.
Oeno is the exclusive UK supplier for Liber Pater and specialises in sourcing the finest bottlings for private investment and trade. See oenofuture.com