Meet Dr Andreas Baenziger. Unless you happen to be a medical doctor or a supercar collector the name probably won't ring a bell. But the chances are that you're already familiar with some of his work.
Formerly an orthopaedic surgeon, he co-founded the 'R-Universe' group of luxury brands with fellow physician Dr Florian Kamelger.
The pair were instrumental in the creation of the Aston Martin Valkyrie hypercar, along with its Vanquish and Valhalla siblings. Baenziger also encouraged Canadian billionaire Lawrence Stroll to play a pivotal role in the acquisition of Aston Martin itself.
But the story actually begins with BMWs. Baenziger had invested in a dealership in his native Switzerland just as the German giant brought out its X-Drive all-wheel drive system. It proved to be a huge success and a second dealership soon followed, but after a few years the appeal started to wane.
"To be honest, I was getting bored," he says. "I was fortunate to have access to all the new cars, but it just didn't excite me anymore. At the same time, the volumes were going up and the margins were going down, so I decided to sell my stake while the value was there."
I was fortunate to have access to all the new cars, but it just didn't excite me anymore.
This was around the time that the Bond film Casino Royale had come out, showcasing the Aston Martin DBS. Baenziger found himself drawn to the car as something new, but he initially had his reservations.
"My father was a big fan of British cars," he recalls. "He had a succession of Rovers that he absolutely adored. Every summer we went on holiday to Italy. And every summer the car broke down.
"The whole family hated those cars except him, and we finally persuaded him to buy a BMW instead. But Aston Martins had always appealed because of their style."
Having found it difficult to order the specification of car he wanted through the existing dealer network, Baenziger was introduced to then-chairman of Aston Martin Dr Ulrich Bez by a mutual friend.
He was invited to Aston Martin's headquarters in Gaydon to discuss the purchase but ended up coming home with rather more than he'd bargained for.
"It turned into an eight-hour meeting in Uli's office," recalls Baenziger. "At the end of the meeting, he asked if we would be interested in setting up an Aston Martin-exclusive dealership in Switzerland.
"I went back and discussed it with Florian. Normally we are very calculating in our approach with spreadsheets and things, but this was an emotionally driven decision. We just said, 'let's do it'."
The first few years proved tough, but rather than abandon the project they decided that a new approach was needed, offering something different to a traditional dealership. Aston Martin's chief creative officer Marek Reichman – the man who had penned the DBS – was brought in to design a stunning contemporary building at Aston Martin St Gallen.
More than a showroom, it was intended as a club, nestled in the Swiss countryside with an open fireplace and its own resident chef. The basement also features storage for 90 cars in a reduced oxygen environment, which minimises the chance of fire, dust contamination and corrosion.
Well-heeled clients from all over the world began coming to the St Gallen dealership for their cars, and the business soon gained a reputation for specialising in limited edition models.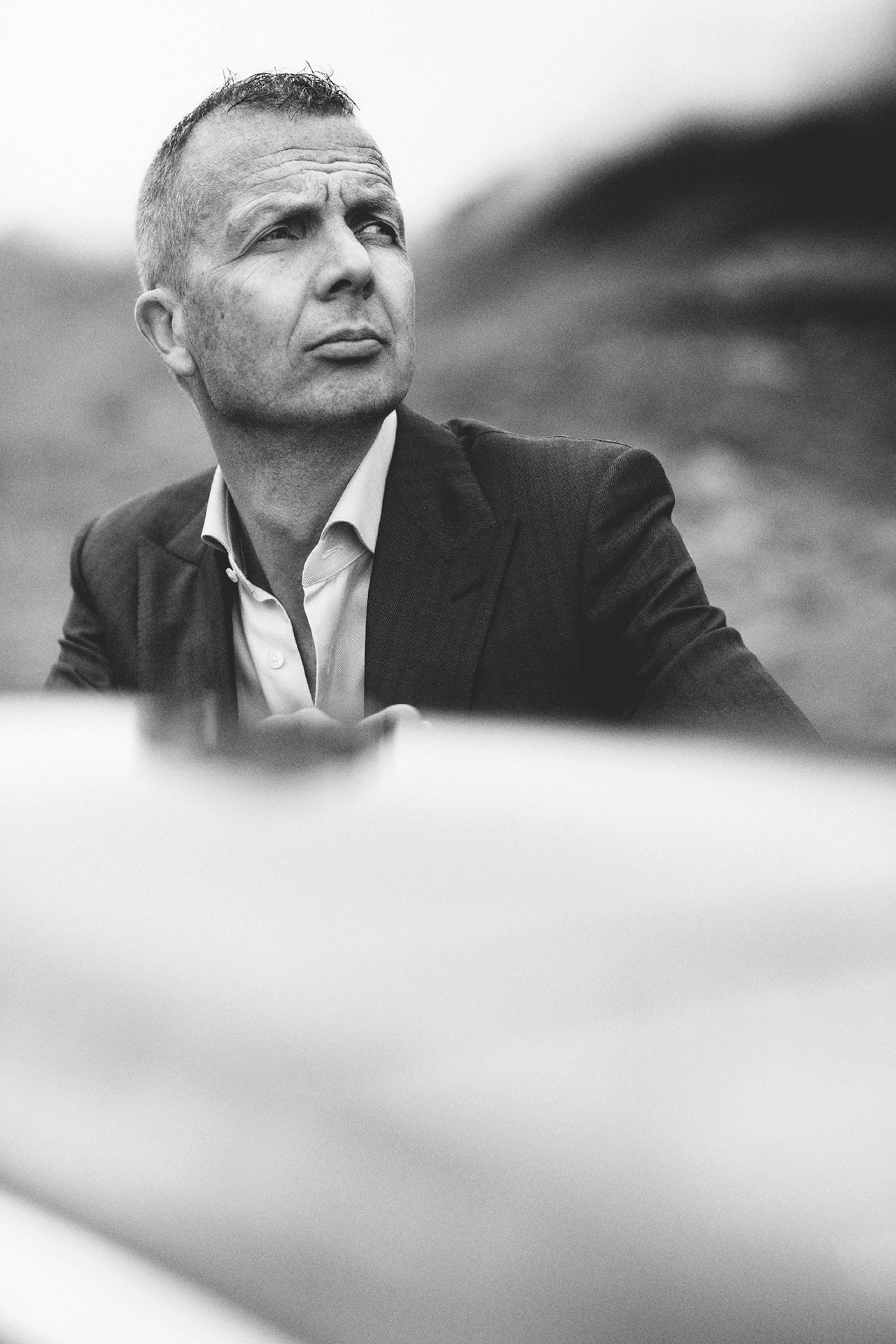 When the Aston Martin DP-100 concept appeared in the Gran Turismo video game, Baenziger and Kamelger approached the manufacturer with a request to build a small number of real-life examples.
Initially, the request was politely declined, but the pair were then invited back to join a meeting at Red Bull Advanced Technologies in the UK, where Adrian Newey presented his vision for a new hypercar.
"The proposal for the new car exactly matched what we had wanted to do," Baenziger explains. "We drew up a business plan from our side, for three exciting mid-engined products, which eventually became the Valkyrie, Valhalla and Vanquish.
"But we didn't just want to be a dealer, we wanted to be a strategic partner. We incorporated a separate company, AF Racing, to go into partnership with Red Bull and Aston Martin."
It was a promising time for Aston Martin, but things didn't remain quite so rosy. Four years later, the company found itself facing financial difficulties and it was a loyal customer of St Gallen, Lawrence Stroll, who stepped into the breach.
Racing ahead
Away from the boardroom, Baenziger and Kamelger are both accomplished amateur racing drivers. The group created R-Motorsport in 2016 to run its own cars and in 2019, it acquired the GT racing arm of Arden Motorsport – the company run by Red Bull's Christian Horner and his father.
By this point, the R-Universe had a luxury catering business (R-Experience), a servicing arm (R-Service) and its own Michelin-starred restaurant in Zurich, (1904 by Lagonda). But perhaps the best-known element is its coachbuilding arm, R-Reforged, which is tasked with creating exclusive limited-edition sports cars.
The first project to come from R-Reforged was the Aston Martin Vantage V12 Zagato Heritage TWINS in 2019. Each set of TWINS is a matching pair – one coupé and one speedster – sold for a combined price of £1.75 million (excluding tax). The idea came about after it emerged that Aston Martin had not built the original full allocation it originally planned.
"The project was planned to mark the 100th anniversary of Zagato being founded in 2019, plus the original DB4GT Zagato was built in 19 units. That led to the idea of selling the cars as 19 pairs [38 in total]," comments Baenziger.
Licenced by Aston Martin and Zagato, the TWINS feature a number of mechanical upgrades underneath their glorious Zagato-designed carbon fibre bodywork. Notably, they use the final 600hp iteration of Aston Martin's 5.9-litre naturally aspirated V12, as found in the Vantage GT12 and the V600. But what really sets them apart is the level of customisation on offer, with owners having the opportunity to spec their cars with designers and engineers behind the project.
"Owners can specify whatever they want in terms of materials and finishes," comments Baenziger. "And we also take the customer along with us on the journey. Owning the car will unlock access to exclusive and intimate events as well as receiving incredibly special gifts. For instance, when they order the car, they get a set of binoculars produced by Leica in collaboration with Zagato."
It's these added touches that set aside the TWINS experience and continue throughout the entire ownership. "It's all about giving our clients something they've never experienced before. That's not just giving them a glass of champagne, because they can drink champagne every day if they want, it's about involving them in the process."
The future of luxury
Time can be a very precious commodity for these individuals and the R-Universe prides itself on making every moment count. For example, R-Experience has organised trips to Tuscany with a three-day schedule of epic routes, fine dining and special places to stay.
This starts with the car being transported down on a truck, while a private jet is provided to whisk the owners down on Thursday evening. Having been in the office at lunchtime they can be eating in an exclusive restaurant overlooking the Mediterranean that evening and then straight out into the Tuscan hills in their car the following morning. At the end of the weekend, the car is painstakingly cleaned and transported back to the owner's garage.
Could the clock be ticking for such automotive escapades? Baenziger doesn't think so: "The COVID pandemic has shown people that a certain amount of working from home is actually good. No one wants to stay at home all week, but I would say 40 percent of the time would be easily doable for a lot of people. That would mean a lot less commuting, which would have a fairly dramatic effect on the car industry – even for the high-volume premium brands."
This could be bad news for the mainstream premium brands, but he sees the collector's market as a rather different proposition: "In the future I think we'll see a lot more people renting or ride sharing for everyday journeys. Who cares? I'm not really that worried what car drives me autonomously to work. But with a collector's item, it's a different thing. People spend tens or hundreds of thousands of pounds on watches when their iPhone is a far cheaper, more accurate way of telling the time, and I think we're seeing the same with collector's cars."
The great benefit of working at the top end of the market is that there are funds available to overcome whatever challenges the future may hold. Baenziger foresees a service with CO2-neutral synthetic fuel can be delivered to client's homes, allowing them to run petrol or hybrid cars in a sustainable manner, even if the technology is phased out from the mainstream.
"There's already an interesting project being carried out by Porsche where they produce synthetic fuels. Imagine if you could install a tank of that at your home? At this end of the market, it doesn't matter if it's £5 a litre or £20 a litre, you don't need a huge amount," he comments. "Another concept we're currently looking into is a private racetrack. If we needed to invest £100 million into that project, there are enough out there who could invest £1 million each."
The R-Universe is also looking into carbon-offsetting projects that would allow all its products and experiences to be delivered with a net-zero carbon footprint. These might sound like lofty targets, but such is the brand's following among its wealthy clientele that the investment is unlikely to be an issue.
Looking to the future
There's far more to this vision than simply providing a playground for the technologies of the past. Like most entrepreneurs, Baenziger is always looking to the future and that includes his view on cars.
Perhaps surprisingly, he's not personally a fan of classic cars, and he doesn't really see himself as a collector: "I like to drive, but I'm more into the technology. I do love the Zagato, which is not necessarily a high technology car. But when it comes to older classics, the thoughts of unreliability and oil leaks hold less appeal to me. I'm not against these cars – they are fantastic for the people who enjoy them – but I'd rather be driving something younger such as the TWINS or even an hypercar."
Ever since his days in medicine, he's been driven by the pursuit of progress, he says: "A lot of people are afraid of change; they're threatened by change and they become paralysed by it. But change is good. For instance, we started the Aston Martin dealership just as the luxury market was facing a financial crisis, but we invested anti-cyclically with a new concept. I wondered at the time why no one was copying us and now they're all saying that they should have done the same."
Right now, electric cars are one of the areas that are firing his enthusiasm. Recent years have seen a surge of interest in high-end all-electric performance cars, such as the Rimac C_Two and the Lotus Evija (both of which are expected to come with a price tag of circa £2 million).
You have torque vectoring possibilities for the handling that you couldn't even dream of in a combustion-engined car
"You're probably never going to do a three-hour endurance race non-stop in an electric car, but that's not what happens when you take amateur drivers on a track day," he notes. "They do 10 laps, then they analyse it with a coach, maybe have some food and then they go back out. You could do that already with something like the Rimac."
He's also a big fan of the EV driving experience: "You have torque that goes on forever in these cars, with torque vectoring possibilities for the handling that you couldn't even dream of in a combustion-engined car. I still love cars like the Valkyrie, but new powertrains that are being developed are equally thrilling to the engineer in me. Some people think that the car industry is over, but that's not true. It will evolve and it will be exciting."
It's this drive and ambition that has stood Dr Andreas Baenziger in such good stead right from the point he left medical school. The key, he says, is to always work on something that you're passionate about, whether it's developing hip and knee implants to improve people's quality of life or delivering once in a lifetime experience. Either way, there's always a new challenge just around the corner.