Two years and 1,108 miles apart, Enzo Ferrari and Barbara Hepworth were being born into the world. They both went on to become household names in their respective automotive and artistic fields.
Now here I am, more than a century later, a car-obsessed actor from Italian and British parents, bringing them together for the first time via two feats of engineering bearing their names. Don't get me wrong, I'm not implying that Enzo programmed the Portofino's sat-nav or that Barbara was out in the cold manning the cement mixer, but both creations sit as proud examples of their namesake's vision.
For four days, myself and photographer Michael Shelford, drove the new Ferrari Portofino through the glorious sights of Derbyshire's Peak District on our way to the award-winning Hepworth Wakefield – perched like a concrete spaceship parked beside the banks of the river Calder.
After collecting the Portofino from Ferrari's UK headquarters, I enjoyed a bit of motorway crunching on my way to collect long-time collaborator, Michael. It's a lovely place to be: you're cosseted by soft leather, surrounded by enough screens to rival GCHQ (even the passenger has one), and treated to a ride more comfortable than a cashmere onesie. After collecting a genuinely gobsmacked Michael (I picked him up in a Rolls-Royce once and he didn't even notice) we got back on the road to seek out England's green and pleasant land.
The second we broke from the M1 and found winding roads and a bit more space, I could start to get a taste of Ferrari's prodigious 591bhp 3.9-litre twin-turbocharged V8. It is additive – it leaves you craving that slightly longer corner and an even longer straight. Winter tyres and all manner of driver aides were much appreciated on the wet and leaf-covered roads that welcomed us.
To the bottom right of the steering wheel is the now famous, F1-inspired 'manettino' dial – meaning 'little lever' in Italian – where one can decide how much to put your life in your own hands. On collection I was advised the ideal was to put it in 'sport' but keep the suspension in 'comfort' – the equivalent of getting in the ring with Mike Tyson swaddled in six duvets and a crash helmet. All the thrill – zero spinal injuries. It was advice well heeded.
As far as car brands go, Ferrari is without a doubt the most famous and most recognised on the planet – and a weekend with one confirmed to me the effect it has on anyone it encounters. As with all car marques there are highs and lows of design (see Jaguar's 1960s E-Type versus its 1990s S-Type). I can safely say that the Portofino is one of Ferrari's most stunning, most effortless of recent years.
Its predecessor the California (and later the T variant) seemed a cynical push towards the country-club American market (hence the name) – and so it looked and drove slightly flabby. But with its replacement, Ferrari has returned to form. The Portofino is epic, dramatic, unnecessarily fast – straight from the classic Ferrari playbook.
There's some potent competition in this GT cabrio category with Aston Martin's DB11, Bentley's upgraded Continental GT, Porsche's latest evolution of the 911 Turbo and Mercedes' mighty S63 AMG all presenting viable alternatives. But (as a former owner of an S63 for one) none of these have the cluster-punch of brutal performance yet elegant sense of occasion as this red-blooded Italian.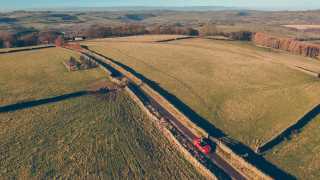 Our first pit stop was the idyllically located Losehill House Hotel, close to the impressive Derwent Dams and boasting an unexpectedly gourmet restaurant. After three delicious courses, a couple of negronis and the tail end of US Marshals (vintage Tommy Lee Jones) we hit the hay, excited to plough on to Wakefield.
The next day, Michael spent the morning getting his drone up and running and I chatted to a young lad desperate to see 'my' sportscar. Oh, to be a Ferrari owner.
I promptly performed one of the Portofino's greatest party pieces, which thankfully can be done without the engine running. Putting the visually balletic folding roof mechanism roof up and down (in a snappy 14 seconds) is a work of art and mechanical wizardry.
With the drone wrestled from an astronaut-worthy altitude and the young lad packed off with the warmth in his heart that only a petrolhead understands, we set off to get ourselves artistically educated.
On arrival in Wakefield, our punchy exhaust note seemed instantly at home in the industrial surroundings. This part of the world was the throaty, belching, beating heart of the industrial revolution, so it's not surprising to see swathes of domineering red brick warehouses lining the canal, all on the cusp of much-needed regeneration. At its centre is the impressive Hepworth Wakefield art museum, which rises above its moat-like setting like a rock carved by maths rather than man.
Designed by Sir David Chipperfield and awarded Art Museum of the Year 2017, it attracted a quarter of a million visitors last year and has firmly secured its place as a must-see in the region, if not the country.
As I pulled up alongside the gallery, its stark shape reflected in the Portofino's glossy curves felt like a meeting of two alien worlds. They couldn't be more different. I reckon there are as few straight lines on it as there are curves on the Hepworth, and yet they have more in common than you'd think.
World-renowned architect Sir David Chipperfield is known for his pared-down aesthetic, lack of pretension and creating buildings that honour their purpose, in this instance to showcase Hepworth and other contemporary artists. And this is evident as you gaze up the sheer, matte grey, concrete exterior or explore the bright and cavernous exhibition spaces. Its brutally ugly and beautiful in equal measure. Much like Hepworth would let her materials shine naturally, Chipperfield has left the concrete raw and unedited – no fancy rendering, no fussy additions. With an unashamed honesty the only thing to grace its walls are its name and where the night's rainfall has stained it.
As for Mr Ferrari, surprisingly he never intended to make pin-up supercars that were drooled over for generations by kids and adults alike. The modern cars we see parked up outside The Dorchester are a long way from the intentions he had in the 1920s and 1930s.
"I build engines and attach wheels to them" was where his thought process started, and I think Chipperfield and Hepworth would appreciate that sentiment.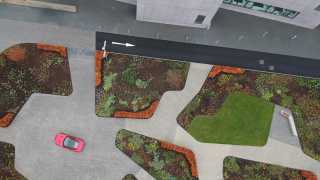 The Portofino, like a lot of Ferrari's great cars, is designed with purpose – and that purpose is performance both on the road and the track. So, although its side intakes echo Brad Pitt's jawline, the front grille flashes a crocodile smile, and its rear haunches are as much big cat as catwalk, they are all there for the air, as much as the view.
So, to our artistic education: as we sat sipping our oat milk flat whites (you can take the men out of London…) in the Hepworth's café, we learnt that Dame Barbara was a great proponent of something called 'direct carving'. It's a technique that honours the material first and foremost – it allows the piece to have its own journey, rather than being pre-designed and then forced onto the material.
Not surprisingly given the surroundings and her many years living in Cornwall, Hepworth spoke a lot about her relationship with nature and poetically the 'human figure in the landscape'. Driving through those rolling hills of the Peak District, with the roof down, I felt enveloped by the burnt-orange woodland, buffeted by the fresh country air and propelled by the very fuel that was once dug incessantly from the ground beneath my 20-inch Pirellis. Art's all about interpretation and I'd like to think I know what she meant.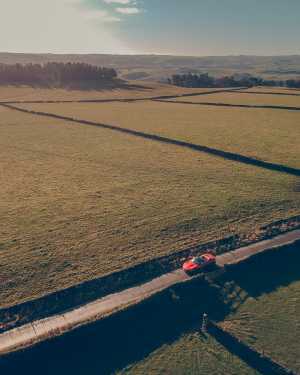 Sadly, for us (probably more Thelma and Louise than Starsky and Hutch) the road-trip had to end. To break up the journey home, we made one final pit stop at the boutique and homely Peacock Hotel (near the famous Chatsworth House) where, over a delicious meal we discussed the weekends' events.
Since I was about eight years old, I've dreamt of owning a Ferrari – and this week
I had a little window into what it would be like should that dream be realised.
There's always a worry, thanks to Qatari Princes and Premier League teenagers, that outside of Knightsbridge, shiny red sports cars may be met with disgust and derision. But a Ferrari sits in its own realm – nothing but interest and wide-eyed grins met us whether on a remote country lane or B'n'B car park.
As for Hepworth, well, she has done much more than inspire a new generation of artists or art lovers – the art museum built in her honour has transcended that and become the catalyst for an urban regeneration that will benefit thousands.
On the gentle cruise home (top down irrespective of temperature) and basking in the Portofino's reflected glory, we both agreed we should watch fewer 1990s action movies and go to more art galleries.
For more information on Lose Hill House, see losehillhouse.co.uk.
For more information on The Peacock, see thepeacockatrowsley.com.
For more information on Hepworth Wakefield, see hepworthwakefield.org.
For more information on Ferrari, see ferrari.com.