Range Rover is a master of the swan effect. It glides along with grace and gravitas, but beneath the calm exterior (and interior) it's paddling like crazy.
Of course, you wouldn't know it – driving a Range Rover is like driving a mobile spa; it's silent, serene and the seats give amazing massages. The only challenge is reminding yourself to stay awake.
The overwhelming and lasting feeling is of effortlessness. Whether that's the pull of the engine, how it laughs off any bumps in the road, or the way you communicate with and navigate around the car's infotainment.
So what's really happening beneath the surface? That would be Range Rover's Electrical Vehicle Architecture (EVA 2.0) encompassing 69 individual ECUs capable of handling 22,880 network messages.
Let us show you what that really means…
COMPUTER SAYS YES
The Pivi Pro system isn't entirely new – it's been evolving through JLR cars for a while now – but the new Range Rover presents its most complete form yet. The centrepiece is a pleasingly curved 13.1-inch touchscreen – the floating glass set-up is a vast aesthetic improvement on what you find in just about every other car. The functions you regularly need are all available within just two taps. Taps you can actually feel thanks to the haptic feedback – which somehow still feels futuristic even though it's been around in luxury cars for a few years now.
The driver display offers a mahoosive 13.7-inches of glorious high-def graphics – and there's a new upgraded head-up display that gives you all the highlights in a perfect position, a virtual six feet into the distance.
Unlike most clunky car systems – slow to start-up relative to a world of SSDs – Range Rover's Pivi is as plucky as it sounds, with a back-up battery ensuring it's ready to rock the second you enter the car.
The new Range Rover is like a mobile spa; it's silent, serene and the seats give amazing massages
IN THE AIR
Everything that can be wireless is – from Apple CarPlay and Android Auto to phone charging. You can now even badger Alexa with no need to run it through your mobile.
There's onboard wifi, naturally. And an embedded 4G system that provides data for the Connected Navigation and software updates, so no using up your data.
Land Rover's Software-Over-The-Air (SOTA) tech means the car never goes out of date: it allows owners to download and install updates for 69 individual electronic control modules – more than on any previous model – without having to visit a retailer. (Shudder.)
LET THERE BE LIGHT
OK, normally it's pretty difficult to get excited about headlamps. But Range Rover really has pulled out all the stops. Its new digital LED headlights have a range of around 1,500 feet. Employing a system called eHorizon (cool name, dude), it uses navigation data to adjust the headlights to corners and junctions. It's a sort of pre-cog luminescence, if you will.
And they don't just make driving safer for you. Each headlight houses 1.2 million controllable mirrors that can essentially conjure shadows to ensure you don't blind oncoming road users.
At the rear sit without a doubt the coolest tail lights in the game. For the first time in any production car, the actual lights are hidden beneath gloss black until they're lit.
The car also has manoeuvring lights, which provide an expansive carpet of light helping you avoid any nasty surprises at night.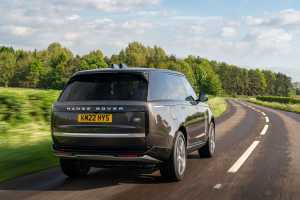 SEEING IS BELIEVING
Imagine the scenario: you're off on a road trip and the back is filled with kids, dogs, tents and enough snacks to open a Co-op. But you need to reverse park at, say, a Co-op. The rear view mirror will turn into a video display using the rear cameras to show you what's behind the car. Genius. Touch a button and the mirror reverts to being just that again (hi, beautiful!). There are basically cameras everywhere – even one which will show you what's beneath the car, handy for tough terrain or checking you haven't run anyone over. Or, hopefully more pertinently, simply avoiding curbs.
PARK AND RECREATION
The worst thing about normal park assist set-ups is sitting in the car helpless, praying it doesn't screw up. But with the Range Rover, you can hop out and let it do it for you. It's all controllable from your App. Nothing says 'I've arrived' like a self-parking car.
SAFETY FIRST
Range Rovers are naturally reassuring – they feel as safe as houses. Or tanks. Imagine the two combined. What's even more reassuring, though, is knowing that its mega-brain computers are doing millions of equations to make sure you're even more safe.
Take, for example, its Rear Collision Monitor with Occupant Protection Assist: this actively looks for dangers and will prime the cabin if a crash looks imminent by tightening the belts and moving the seats.
Of course, previously developed driver aids are also present and correct: Adaptive Cruise Control with Steering Assist; Driver Condition Response; Blind Spot Assist; and Rear Traffic Monitor. Basically, you've got to be really stupid or really unlucky to crash the thing.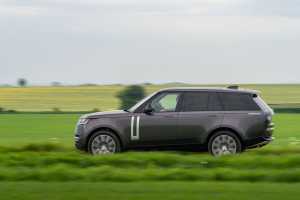 TAKE A SEAT IN THE BACK
Rear passengers can control their environment using a new eight-inch Rear Seat Touchscreen controller. You can add to the experience with twin 11.4-inch displays. Then hook them up to the onboard wifi and they'll act as smart TVs, bringing a whole new meaning to Netflix and chill.
MUSIC TO YOUR EARS
At the luxury end of the market, we're used to big wattage. And with 1,600W, Range Rover's Meridian Signature Sound System doesn't disappoint. But as with everything, it takes it up a gear with Active Noise Cancellation technology. Four accelerometers and microphones around the outside of the car monitor wheel vibrations, tyre noise and engine sounds, generating a cancelling signal played through the system's 35 speakers. The new Rangie even features the world's first noise-cancelling headrests allowing you to create individual quiet zones.
THE NTH DEGREE
When we said there was a lot going on behind the scenes, we weren't kidding. In crafting the new Range Rover, Land Rover engineers measured human brain activity using Functional Near Infrared Spectroscopy (FNIrS) to understand more about the cognitive impact of driving. The aim? To produce the most calm, tranquil and relaxing automotive experience to date. And do you know what?
I think they might have done just that.
For more information, see landrover.co.uk