Sam Heughan is a man of exceptional taste. From his Belstaff jacket to his Dolce & Gabbana jeans down to his Edward Green loafers, he knows what looks good.
He also knows what tastes good, too. Because in his hand is a crystal glass with a generous measure of Sassenach whisky.
The Sassenach 'Spirit of Home Edition' is the first offering from Heughan's Great Glen Company, which he set up to specialise in distilling unique spirits.
You may have seen Sam on the front cover of Square Mile earlier this Spring. To give you an idea of the Outlander star's pulling power, he sold more issues of Square Mile internationally than any other issue in our 16-year history, such is his global appeal.
If he can do that for our humble organ, then can you imagine what he can do for a luxury scotch blend?
We caught up with him to find out more about his love affair with whisky.
What was your first experience with whisky?
I had tried several times to enjoy whisky but never knew where to start. Probably my first taste put me off, some awful blend in a quarter bottle, hidden in my pocket at a party. I guess it did the trick though?
However, it was when I was living in London and one Xmas, feeling homesick, a Scottish friend and I went to a bar and ordered a single malt, randomly, from the top shelf.
It brought back so many memories of Scotland, I had a real emotional reaction to this drink. The colour and spice, warming me that cold night. We reminisced about memories in Edinburgh and climbing mountains in the Highlands.
I realised that every time I took a dram, it could transport me home. Hence the reason we created The Sassenach 'Spirit of Home Edition'.
And the first whisky you remember liking? I mean really liking?
To begin, Speyside whiskies. Easy to drink, sweet and warming. But then I really developed a taste for smoky whisky and loved anything from Islay. It got so extreme I sought out the strongest tasting ones.
Now, I'd say my taste has changed again but I do still love a peated dram, especially next to the fire.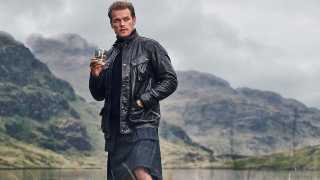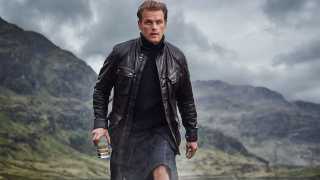 Give us the elevator pitch for Sassenach…
It was inspired by the many On-Location shoots and travels, away from home. I wanted to create something that would evoke a sense of 'Home' no matter where you were. Flavours that evoked warmth and 'a hug in the glass' to resonate with the feeling of Scotland. 'No matter where I was, Scotland was with me…'
And we wanted to share this feeling and joy with others, and this was really also the inspiration for the name as well.
The Sassenach is not an exclusive endeavour but an inclusive one. Everyone is welcome on this journey; The Sassenach is the 'Outsider' invited to join us on this journey.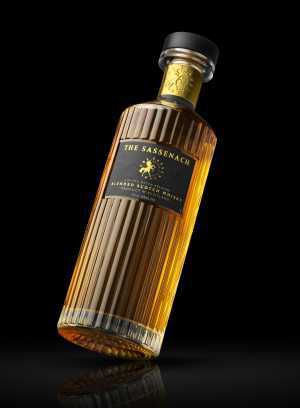 How did it come about?
I had been approached by multiple distilleries and brands to essentially become an ambassador or white label their whisky. But I saw a gap in the market, a blended scotch whisky, that could rival the new Asian blends but also be quintessentially Scottish, yet balanced and accessible.
My business partner Alex and I then went on a journey of discovery, visiting many distilleries and producers, to find the right match.
Other than Sassenach – obviously – what's your favourite whisky?
I really enjoy single grain whisky. It's cheaper than single malt and the aged stuff is so good. I've treated myself to a number of really old bottles, they're normally stronger-percentage and really delicious and a thick mouthfeel.
We have a delicious 19yr old organic single grain in our blend and I can't get enough of it!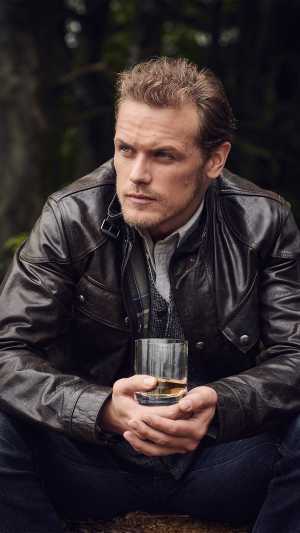 What's the best whisky and food combo you've discovered?
Whisky goes with everything. Curry. Venison. Chocolate. Sushi. Porridge! There's a dram for every pairing.
What's your favourite whisky cocktail?
Classics are my favourite, Manhattan, Old Fashioned, Rob Roy – anything strong that doesn't have too many ingredients. And maybe a wee boozy cherry to chew on at the end.
Where's your favourite bar for whisky?
The bar I first took Alex to, where we discussed starting Great Glen is the Ben Nevis bar in Glasgow. But there are so many with great whisky selections. You can't beat the top of a mountain for a wee nip, too.
Who can handle his booze better – you or your co-star Graham McTavish?
Oh me. Definitely. Graham is a fan of white wine, but after a few he's flying.
We started our first day of shooting Men in Kilts with a whisky tasting – cask-strength drama at 9am. He was complaining and drunk all day. I was delighted. 
The Sassenach's next big release is available this August, after its recent multiple double gold medal win at the San Francisco Spirit awards and International Spirits Challenge awards. For more information, see sassenachspirits.com