Brando Baccheschi Berti not only has a brilliant name, but he is also one of the happiest humans you could ever hope to meet.
His wide smile and infectious laugh might have something to do with job satisfaction. If I were head of wine for a Tuscan vineyard, I think I'd be pretty happy, too.
And for Brando, this particular job is a family affair. In 2000, his father realised a long-held aspiration to plant vines.
Now, 21 years later, Castello di Vicarello is producing more than 20,000 bottles of wine per annum, and have four different wine labels with a fifth to come soon.
Seven hectares of high-density, organically grown vineyards make up the estate, which also serves as a stunning boutique hotel with nine guest suites.
What was your first experience of wine?
As with a lot of kids in Tuscany, my father would let me have a taste by dropping some bread in wine and then coating it with sugar. It was like a sort of snack back in the old days. I would have been around nine years old.
And your first glass?
I was at my grandfather's house in Milan. It was a nice experience – everyone was at the table, everyone was enjoying the wine, and as a kid, I was 'let me try, let me try, let my try…' – and they gave in.
What was the first label or grape you tasted which really caught your attention?
I was around 20 years old, in the Four Seasons restaurant in New York. The owner of the restaurant was a friend of my father. Some clients opened a bottle of Petrus 1989, and somehow we managed to get a glass. When I tasted it, I was like 'Booom! Mind blown. What's going on?!' I knew at that moment I might not be able to taste a wine like this again in my life, so I better enjoy it now.
How did your vineyard come into being?
My father always had this dream of making wine. His grandfather produced wine back in the day in Florence. At a certain point, they had to sell the vineyard after my grandfather passed away. He always had this dream to start again – it was a part of him that had been stolen.
They bought this place in the late 1970s and began to restore it. He always knew he was going to plant a vineyard here. He started in 2000, and went from there.
I remember when we first started planting the vineyard – clearing the soil and the bushes with huge excavators; planting the vines; watering them.
In 2002, we did the first 'harvest'. It was just the five of us – me, my two brothers and my parents – and we harvested the first hectare. We pressed them by foot – old school.
We tried the wine, and it was total shit! But it was a nice experience.
In order to make good wine and get productive, a vineyard needs four years, so 2004 was our first real vintage. That was the beginning. And something had already started to build inside of me.
So when did you commit to the family business?
Well, in 2004, I was only 15, so I still had to finish school. I would often come back and help with harvest; I'd also go to the blendings and join my father with that process, tasting the wine from the barrels. I wasn't working, but it was always something I was interested in.
After school I went to work for two years in New York with our wine importer – to see the evolution of the market over there; to see the response to the product in the market; and to see how the competition was doing.
I started to taste wines here, and develop my own taste – and have ideas on how to develop wine.
Then I stopped working in the wine business to follow my dream of being a professional sailor. I did that for four and a half years, before coming back to Italy at the end of 2015.
How was your first year in the job?
I did the first year with my father. I worked in the fields, and learnt how to look after the vineyards – everything from working the tractors to what special products we need to use. I had a general all-round idea of the business.
My father and I blended 2011 and 2012 vintages together. Next, I started to make the blendings myself, alongside our consultant.
I wanted to bring my own taste to the wines, but keep the same line and same history as we had before that we had with my father.
The wines are following the same path, but they have different characters.
How have you made your mark beyond this?
The first thing I did was the introduction of a new wine. We were on the market with two wines, but we needed an 'entry' level wine. We had a 'top price' wine and a 'medium/high wine', but needed something more accessible – we were missing a product that could spread the voice of our winery, a product that could be understood by everybody, and drunk at any occasion.
I decided we should go out to market with a pure 100% sangiovese. And so Merah was born. It was a good decision – because everybody likes it! It's the kind of wine you can have a fast glass for lunch – you don't need to wait 30 minutes [for it to open up] to really enjoy the glass.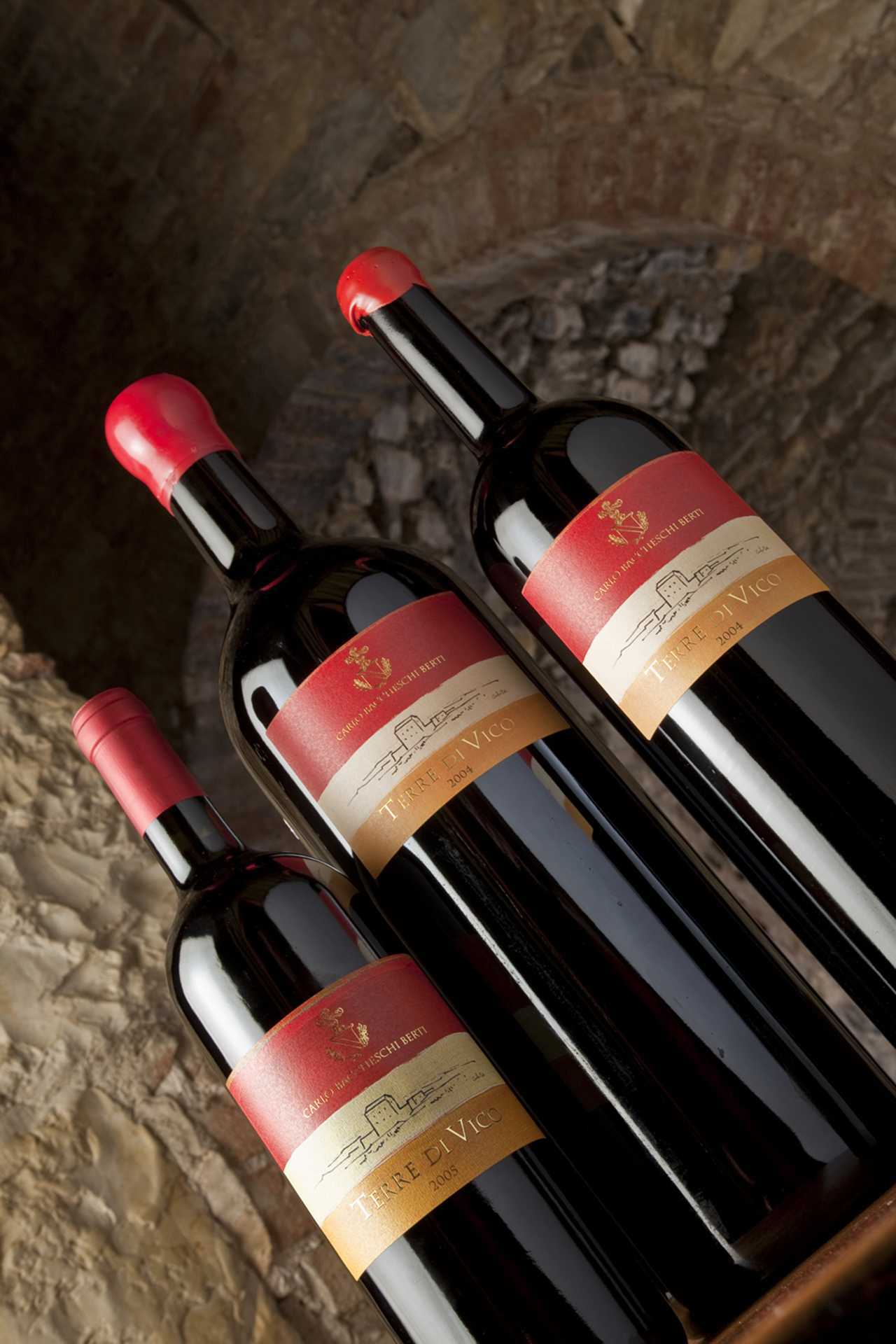 And you've since launched another wine, too?
Yes, we had this malbec in the vineyards; we were doing experiments and tests with it. And one year we decided to make a rosé out of it – a beautiful rosado from 100% malbec grapes. It's definitely not common in Italy. This is what we want – to be different from the others.
What's next?
I want our wines to be better known in our main markets – Switzerland, UK and the US. These are the three markets we're concentrating on.
At the moment we're producing around 20,000 bottles a year. We have the power to produce up to 35,000, but we don't bottle all of it; some we sell on.
We could produce more ourselves, but we wouldn't be able to keep up the same quality. In the years when the wine is not perfect, we don't go to market. For example, the grapes in 2014 weren't great – the quality did not reach our standards, so we didn't go to market. We sold it on in bulk instead. It's all about keeping standards high, rather than releasing a substandard wine and having to blame it on the weather.
How was last year's harvest?
Last year was brilliant: 2020 was a great vintage – incredible quality of grapes. From the basic wine to the top wine. This year is looking good, too. We tour the fences every two days as we have badgers and porcupines trying to sneak in to eat the grapes. It's a constant fight with Mother Nature – from the weather to the wildlife.
Next wine on the cards?
We have talked about a white – one that would need long ageing. We're thinking of an ansonica – an intense and powerful wine. But it hasn't been decided yet.
But in two years, we will be launching a new red wine – our first 100% malbec red, made in Tuscany.