Over the past 12 years, Elunda Basson has become one of South Africa's foremost experts in Méthode Cap Classique (MCC) – essentially, RSA's equivalent of champagne.
Indeed, she's so good at it that she won the 2018 Vertex award for Pongrácz Blanc de Blancs – the overall champion wine at Veritas, the longest running and biggest wine competition in South Africa.
Three years ago, she took up the role of vice-chairperson at the Cap Classique Association, and works closely with chairman Pieter Ferreira of Graham Beck fame in promoting the standing of MCC across the globe.
In this capacity she has travelled extensively to Champagne as well as Tuscany and Franciacorta regions in Italy.
With previous stints at JC Le Roux and Rickety Bridge in Franschhoek under her belt, there's no doubt that Steenberg is in good hands.
We caught up with Basson to find out how she's getting on after her first year in the job…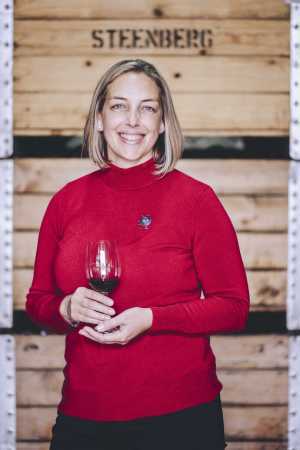 What was your first experience of wine?
I was raised in a house where teenagers were allowed to have a small sip of dessert wine on a Sunday afternoon during lunch. This was seen as a very special occasion and an opportunity for kids to act quite grown up!
What was the first label or grape you tasted which really caught your attention?
Part of the wine education and cultural introduction to studying at Stellenbosch University involves groups of students travelling across the winelands surrounding Stellenbosch town, and doing Friday afternoon wine tastings. One of the first labels I discovered was Delheim Spatzendreck (a quirky dessert wine made famous by this well-known Stellenbosch winery). It was widely enjoyed by young students.
When did you decide 'I want to learn how to make this stuff'?
During my Agricultural studies I realised if I wanted to remain in the Western Cape and practise agriculture here, I would have to specialise in wine. The wine industry is one of the biggest employers in the Western Cape and one of the biggest agricultural activities in this area.
You've worked in many wineries – where did you learn the most?
Along our journey we learn from every life experience and that adds to the basket of skills we end up with. But I think my time as a young winemaker at Nederburg was a great time of learning. I was like a sponge! Ready to take in as much as possible and put in 200% into everything just to make a good impression on your Cellar master and mentor and to learn as quickly as possible.
How has the industry changed since you started in it?
We have become more competitive on the global stage. Our viticulture and winemaking techniques have improved, and we have managed to build a stronger SA Wine Brand with stronger quality credentials. We have become more sustainable, socially responsible and earth friendly.
Steenberg Vineyards
How was last year's harvest for you? Is 2020 going to be a good vintage?
My first harvest at Steenberg Vineyards and the Covid pandemic: that is what I will always remember about 2020. Overall, it was a good vintage for Steenberg, slightly warmer than average producing beautiful mouthfeel and richness and generous aromatics.
What are you working on next – any new varietals or blends in the pipeline?
The team is working very hard on redefining our strength as a brand and our vision for the future. That vision will probably see us streamlining our offering and focussing on our terroir strengths and what we believe we can do best.
Who do you look up to in the industry – and why?
Our wine industry is spoilt for having some incredible personalities and mentors that are eager to share knowledge and promote collaboration. I am also very happy to say that we have a healthy amount of strong female winemakers as well that make me very proud and represent a new generation of strong women in the world of wine. People like Rosa Kruger, Andrea Mullineux, Charles Hopkins, Pieter Ferreira and Boela Gerber to name a few.
Which award are you most proud of – and why?
I won the Best at Show award for a Cap Classique wine a few years ago at the Veritas awards. This was a very special award for me as it was an award given to me by my peers and fellow winemakers in the industry. It's something I treasure and value deeply.
If you could only drink one grape for the rest of your life, what would you choose and why?
Don't do this to me… that's just impossible!
What's your death row bottle?
A magnum bottle of Krug Grande Cuvée Brut, please.
Learn more about Steenberg Vineyards – including planning a stay here once the world opens up again: steenbergfarm.com