Jill Russell's love of wine began in high school. Now, unlike for some of us (ahem), that didn't comprise strawpedoing litre bottles of Lambrusco behind the bus stop.
But rather, it came about from a part-time job at a winery in Livermore, California.
It was while she was working as a server here that she fell in love with the beauty of vineyards: "It was always fun watching all the behind the scenes work it took to make wine – from vineyard practices to all the work in the cellar. It felt magical."
So magical that she wanted to make a career of it. California Polytechnic had just begun offering Wine and Viticulture as its own major. The university's motto – 'learn by doing' – had surely never sounded so appetising.
Fast forward 15 years, and Jill is now one of the US wine industry's leading lights.
We caught up with her over a few glasses to find out how her journey unfolded…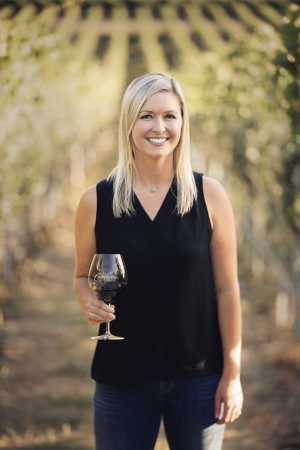 So, you went to university to make wine? That sounds like a great gig…
Yes – I went to California Polytechnic State University, San Luis Obispo to study winemaking and had the best experience learning from passionate professors.
I have also been fortunate to travel to wine regions throughout the world from studying abroad, working harvests, and exploring while on vacation. They've all inspired my love of the culture of winemaking.
What was the first bottle of wine you tasted which really caught your attention?
The first bottle of wine that really moved me and made me realize how truly lucky I am to be involved in such a magnificent career was a magnum of 1987 Duckhorn Merlot.
During a small graduation celebration with classmates, our Viticulture professor brought it out to teach us about the importance of aging a fine wine. It was the age of all of us, 21 years. It was a special experience that I will never forget.
You've worked in many wineries – which was the hardest work?
Every winery job I've had has been hard work. That's why you must have a lot of passion to be in this business. It makes you forget the mentally and physically draining tasks, such as the long hours of harvest.
My current role here at Cambria was a hard adjustment with all the increased responsibilities that being the head winemaker entails. But, I've also enjoyed every minute of it because winemaking is a team sport, so to speak, and we have an amazing vineyard and cellar team supporting our efforts.
Where did you learn the most?
I've learned so much at every winery I worked at. Steve Dooley of Stephen Ross shared with me the ins and outs of making high quality wines. Every step that goes into a fine bottle of wine from making sure your vineyard source matched the quality standards, to all the monitoring during the wine's life up until bottling day. Working for a family-run winery, I was able to work in the tasting room and see the many facets of the wine business.
Paul Lato also helped me to see the energy it takes to make some of the best wines possible, whether that be the energy in the vineyard or the energy in your cellar. I attribute a lot of my blending skills to my time at Paul Lato. We'd spend countless hours tasting barrel by barrel, making sure we perfected the blends before any bottling plans were made.
My current role at Cambria keeps me on my toes and I will continue to keep learning daily. We are always making improvements in the cellar and adding new technologies to help make our high quality single vineyard chardonnays and pinot noirs.
The vineyard team is progressive and the ongoing advances in farming have also been fun to learn. I can't wait to grow and learn from our Estate.
How was last year's harvest for you? Is 2020 going to be a good vintage?
One thing that 2020 has taught many of us is how resilient we all are. The vineyard and winemaking teams came together in the strangest harvest of all time. Everyone was safe, worked harder than ever because we had more to think about with all our safety precautions due to Covid-19.
The growing season was outstanding. During the pandemic something we could look to for positivity were the vines. Vineyard walks helped keep me calm and sane.
In the Spring and Summer months seeing the hard work the vineyard team was doing and the great weather, we were on track for a remarkable 2020 vintage. We had a couple of small heat waves that moved things along but overall, it was a smooth harvest for us for all things considered.
Fast forward to now and we can speak for how remarkable the wines are. We've been tasting through all of the 2020 wines and we have proof that we actually have something special to look forward to from the year 2020.
We have proof that we actually have something special to look forward to from the year 2020
What are you working on next – any new varietals or blends in the pipeline?
Here at Cambria, we stay true to the pinot noir and chardonnay from our estate vineyards in Santa Maria Valley.
With our new plantings I'm excited to work with a large number of new clones.
It's amazing to be able to work with vines planted in the 1970s and then have the chance to learn and explore new blending opportunities with the new clones being planted.
How has the industry changed since you started in it?
I love that the consumer and the industry are thinking about our planet. People care about how the wine is grown and made. I'm fortunate to work for a winery where sustainability is a main focus for us.
All Cambria wines are California Certified Sustainable (CCSW), which is a certification through the independent organization California Sustainable Winegrowing Alliance that determines certification on criteria from water conservation, energy efficiency, healthy soil, and pest management, to strong relationships with our employees and community.
Additionally, all of our vineyards are certified by Sustainability in Practice (SIP) , which is another independent organization that similarly certifies based on everything from social responsibility and water management to energy efficiency. Our winery is covered in solar panels; we have worked to dramatically reduce water usage. We also have a community garden.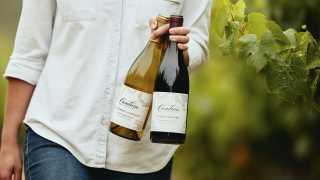 Did you feel like a woman in a man's world when you first began – or is it more diverse than it seems from the outside?
This industry is hard no matter what gender. It's not as glamorous as it looks in photos and you really have to put in the hard work.
I made sure to work hard, network and find some meaningful mentors and winemaking peers who share my deep passion and would see how much I cared about making great wine. That drive, determination, and relationships ultimately helped me land my dream job here at Cambria Estate Winery.
That said, the industry had improved since I first started making wine. I'm also so lucky to work in Santa Barbara County where such a large percentage of my friends and colleagues in the area are also female winemakers and business owners, that I sometimes forget it's rare within the industry.
I'm also lucky to work for a winery that is rooted in female empowerment and leadership. The winery is owned by women, led by women, and the wines are made by women. That is one of the many reasons why Cambria is such a special place.
The winery is owned by women, led by women, and the wines are made by women.
How closely do you work with Barbara Banke? Why do you think she has been so successful?
It's empowering to be part of a women-owned, women-lead winery, in a typically male-dominated industry.
From our owners, Barbara Banke and her daughters, Katie and Julia – the vineyard's namesakes – to our General Manager Denise, it's hard not to be inspired.
Barbara Banke is such a force and doesn't let anyone or anything get in her way. It's amazing to have someone like her to look up to and I am fortunate she is a great example for all of us.
If you could only drink one grape for the rest of your life, what would you choose and why?
Chardonnay. It's food friendly and versatile – chardonnay has so much depth and sophistication but can also be easy to drink. Our Katherine's Vineyard Chardonnay is my 'go-to' everyday wine.
What's your deathrow bottle?
2012 DelaRiva Syrah: DelaRiva is my maiden name and it was the first wine I made on my own with a couple friends. It's actually pretty amazing! It has been a part of celebrations like my wedding day.
Sometimes it isn't about enjoying the most expensive bottle, but instead a wine that brings you joy and it's a bonus when it brings you back to special memories.
This wine has the laughter of picking grapes in the rain and the first meal as husband and wife.
For more information on Cambria, go to cambriawines.com