Tristan Le Lous is the Executive Director for Legal and Investments at URGO, one of France's largest healthcare groups.
But if the man invites you for a drink, you're going to want to say yes.
In December 2019, Le Lous and his family bought Château Cantenac Brown – a prestigious Margaux Third Growth estate. And since he's been in charge, the changes have been ground-breaking (literally) – they include the world's largest load-bearing earthen vault.
The ambitious new winery has been designed by the internationally renowned eco-construction architect Philippe Madec.
Built exclusively from raw earth and locally sourced wood, the gravity-fed winery is set for completion by the 2023 harvest, and will be at the forefront of environmentally responsible wine making.
We caught up with the French businessman to learn more about his vinous journey.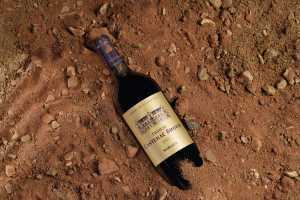 What was your first experience of wine?
My grandfather settled in Burgundy in the 1940s. He was a colonel pharmacist in the French army and found himself unemployed after demobilisation.
He took over a failing pharmacy in Dijon, Burgundy. He needed financing and found it with the winegrowers of the region.
We then found ourselves rubbing shoulders with many winegrowers who financed my grandfather's business and remained shareholders in the company for a long time. That allowed my grandfather to pick up bottles and have a genuinely exceptional cellar.
We used to drink my grandfather's cellar, even when we were pretty young. At the age of 12, 13, 14, we drank wine at the time and, above all, we talked about it. We spent a lot of time at the table talking about the wine we were drinking.
What was the first label or grape you tasted which caught your attention?
I remember an extraordinary bottle that my grandfather opened in 1993. It was a Bonnes-mares 1978; a 15-year-old wine, with fruit and roundness. It is a very vivid memory.
When did you first taste Château Cantenac Brown? What did you think?
It was about five years ago. A purchase made at a wine shop.
The vintage must have been around eight years old, and I found that this bottle of Cantenac Brown had a lovely silky texture, which surprised me for a wine that was still relatively young.
For the rest, the wine was balanced, smooth with red fruit and hazelnut aromas. It was what I expected from a Margaux of excellent pedigree.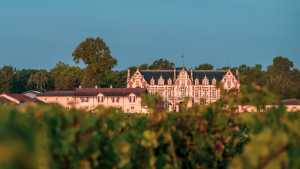 When did you decide 'I want to own a winery'?
Buying a vineyard of this size is a very long-term project because very few opportunities arise. We started thinking about it with my two brothers about eight years ago.
I proposed Bordeaux because of the affinity I have with this region as my wife is from there, and we spend all our vacations there since we met.
I started by visiting different property managers in Bordeaux to understand the main issues in managing a Grand Cru Classé. I met winemaker José Sanfins at Cantenac Brown, with whom I had excellent connection.
For several years, I continued to make a few visits and meetings and to keep an eye on the market. The opportunity came when we got a call that Cantenac Brown was probably for sale. At that point, we immediately positioned ourselves. We were very motivated.
The first time I went there after signing, I will remember it for the rest of my life.
I arrived in Margaux by cab and saw a sea of vines. Then I see this remarkable château emerging from it.
It was a morning when there was the bride's veil: this little mist appears when it is a bit cold at night. It is a vision that I will never forget. I thank my two brothers for allowing me to realise this project.
Tristan Le Lous and winemaker José Sanfins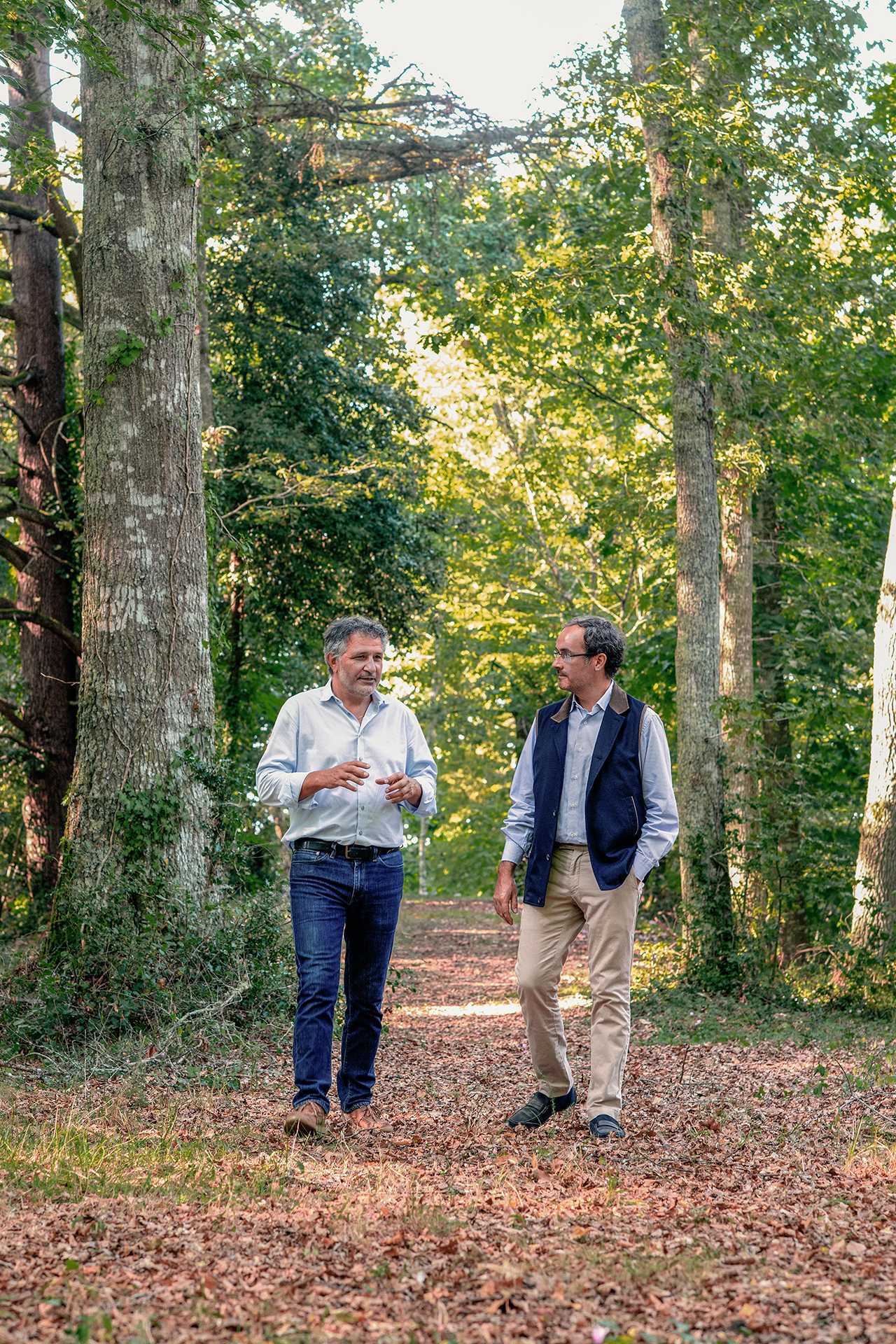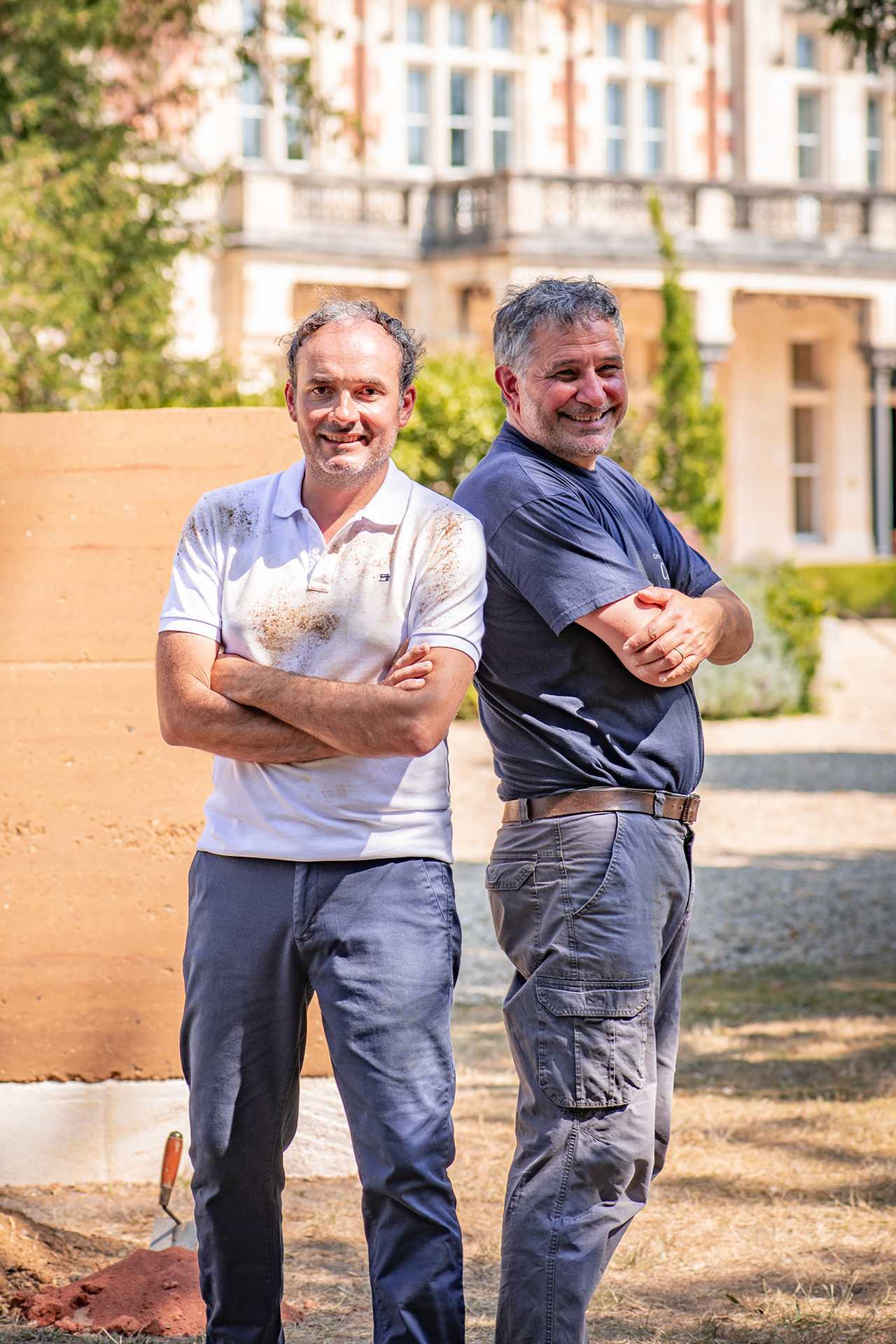 You have a degree in molecular genetics… can you apply any of your knowledge to winemaking?
Traditionally, in my family, one had to study science and then go on to study business. I was no exception to the rule. More than my knowledge of molecular genetics, my training as an agronomist helps me today in my discussions with José.
However, until last year my professional career had nothing in common with the world of wine but instead with the world of finance... it seems that many bridges exist between these two worlds!
How do you ensure the Scottish origins of the Brown family are retained at Château Cantenac Brown?
John Lewis Brown has indeed left us a remarkable legacy. First of all, his Tudor-style castle, the emblem of the property. It is a strong testimony of his Scottish origins.
This castle is unique in the region and inscribes the site in a particular aesthetic.
Our new winery project is therefore designed not to distort the landscape or overshadow the castle.
Brown has also planted a vast arboretum behind the chateau with numerous rare trees that are now several hundred years old. In addition to maintaining this fragile collection, we will enrich it by planting new species, taking into account the original plan of the English garden designed by Brown at the beginning of the century.
Finally, in choosing to return to the land to build our new winery, we follow the same precepts that guided it 200 years ago.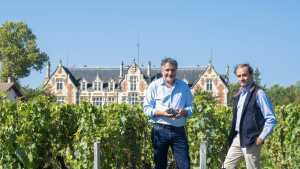 Talk us through the new winery? It sounds like an ambitious project…
We have entrusted Philippe Madec, a committed architect, leader, and pioneer of eco-responsibility, with the mission of building only in raw earth and solid wood.
All materials, natural and untreated, will come from Aquitaine. Simple, pure, and authentic bio-sourced materials without cement use, the project is thus wholly decarbonised.
The walls of the winery will be built using an ancient construction technique, the adobe method. The men will compress the raw earth, made of clay and sand, directly at the chateau to erect this unique enclosure's walls.
Made with compressed earth, the low vault of the cellar will be a technical feat. It will be the only one in Europe of this scale and the only one in the world to have a wooden frame.
An earthen vault of this size has only been built in Ctesiphon for a Persian king in the 3rd century AD and in India, in the experimental town of Auroville. The one at Château Cantenac Brown will be the only one in the world to be load-bearing.
An earthen vault of this size has only been built in Ctesiphon for a Persian king in the 3rd century AD
The thermal inertia of the cellar induced by this vault's raw earth will provide a perfect atmosphere for the stability and aging of the wines without air conditioning and, therefore, without energy consumption.
At the cutting edge in terms of the grapes' technical itinerary, this winery will offer even greater control of the quality of the wines: the route of the grapes and the wine will be entirely gravitational to preserve all its essence.
The vat room will be made up of a vast number of small tanks, allowing for high precision blending.
Sustainability is the buzzword in any industry – how are you making it meaningful at Château Cantenac Brown?
What makes the difference in a project of this nature is how a team embodies it and brings it to life. At Cantenac Brown, this requirement is lived daily, in the cellar or the vineyard.
Many French chateaux have a famously 'closed doors' mentality? Why do you think this is?
Things are changing. Today's wine lovers need to be associated with a process and are no longer satisfied with just enjoying an outstanding wine.
The interest of Margaux for us is that it is the appellation of the Medoc closest to Bordeaux. The reception of the public is, therefore, a significant stake in our project.
We want to show them the unique site of Cantenac Brown and the way we work.
Today's wine lovers need to be associated with a process and are no longer satisfied with just enjoying an outstanding wine.
Yes - it's refreshing to see that you are the opposite – encouraging visitors… What should one of your guests expect from a visit?
The prices of the Grands Crus Classés have gone up a lot in the last few years, which has created a certain distance with the community of wine lovers worldwide.
Fortunately, however, many are willing to indulge in a bit of pleasure and want to know more.
What makes me happy is the testimony of a visitor who has felt a certain closeness with the property, who has been able to make it his own.
Finally, we also try to create an emotion for the visitor; the exceptional site confers itself to this... and I hope soon also our raw earth cellar. 
How was last year's harvest for you? Is 2020 going to be a good vintage?
The 2020 harvest was very complicated to organise because of the pandemic. But it was also my first harvest, so it was an extraordinary moment with many emotions.
At the chateau, the harvest is done by hand, so a specific and rigorous protocol had to be organised to ensure more than a hundred pickers' safety.
As for the 2020 vintage... it should be much better than the terrible year we had! The last week was scorching, so the yields were slightly lower than we expected, but the juice was more concentrated.
If you could only drink one grape for the rest of your life, which would you choose and why?
I would choose a Climens or a Château Yquem. Sauternes are, for me, among the most extraordinary wines. They have an exceptional aromatic richness.
What's your death row bottle?
A 1996 Château Yquem with a fruit salad.
For more information on Château Cantenac Brown, go to cantenacbrown.com