"The future of gin lies in true quality, led by well-balanced spirits, made with intricate, forensic attention to detail."
That's William Lowe's mission statement. And if anyone can achieve it, it's the founder of Cambridge Distillery.
Lowe is not only a Master Distiller but also a Master of Wine. Indeed, he's the first person in the world to have both accolades.
Gin production has remained almost completely unchanged since the mid-18th Century. Most are good; some are very good; Lowe's goal, though, is outstanding.
Cambridge Distillery was founded on the principle that no two botanicals are identical. Lowe started with a deep knowledge of ingredients, only using botanicals that are fresh and in season.
His unique novo-dimensional vacuum distillation also allows him to tailor temperature and pressure. This means the most delicate botanicals can be used and a level of precision is reached that is far beyond that of traditional distillation.
His innovative approach has led to Cambridge Distillery being named 'World's Most Innovative Distillery' three times.
We caught up with Lowe to find out how he's done it…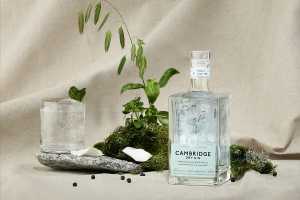 What was your first experience with gin?
I was 18 and had just started working in a bar. I didn't like it at all – it was another year or so before I realised that it was the tonic I didn't like!
The first time I actually liked a gin – and this might sound a little contrived – but it was a gin that I made myself. I couldn't find one 'off the shelf' which ticked all the boxes for me. I suppose that's a large part of why I ended up doing what I do.
So how did you go from bartending to gin making?
I pursued bartending with great enthusiasm, started entering competitions and won national mixology contests. I even served drinks for the Queen at the Ritz on the anniversary of her coronation. When I finished university –where I was studying psychology – 24 hours after my last exam, I was back working bars. That's how my career started.
From bartending to running restaurants and working for industry suppliers, I kept coming back to gin.
Before I started Cambridge Distillery, I worked as an industry educator particularly looking at wine and spirits production methods, provenance, and how we assess quality. I have now been an international judge for both wines and spirits for more than a decade. My proudest achievement came recently, though, when I became the first ever Master Distiller to pass the Master of Wine.
The first time I actually liked a gin was a gin that I made myself
When did you decide you wanted to become an MW?
The MW was something I first considered when I won the inaugural Wines from Spain MW scholarship following my WSET Diploma. I knew it would be a huge undertaking, but it has always been my belief that improving a person's ability in wine tasting has a positive impact on their ability to taste spirits.
In fact, that was precisely the subject of the Research Paper I wrote as part of my MW. I was able to investigate the theory empirically, and successfully demonstrated that teaching people to assess quality in wine makes them better at understanding spirits.
In short, I studied wine not only as an end unto itself, but also to improve my understanding of spirits. It worked, and I have shown it can work for others, too. I am a better taster, a more informed producer, and a more appreciative consumer.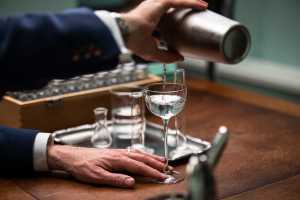 What was the first bottle of wine that really had an impact on you? And the best wine you've ever tasted – a proper spine tingler?
A formative moment in my wine history was a visit to Castello Banfi, and my first taste of their Poggio alle Mura. It stopped me dead in my tracks.
I've no doubt that the effect was amplified by being right there by the vines, but that doesn't take anything away from how influential the moment was for me.
Since then, my most recent showstopper is probably the Egly-Ouriet 2007. The first time I ever tasted it was during the MW tasting exam. I remember thinking quite vividly: "Even if I don't pass this exam, this wine was worth coming here for"! It has become a firm favourite since.
When did you decide to launch Cambridge Distillery?
It had been a private project for a few years already before we decided to turn it into a commercial venture. We (my wife Lucy and I) made that decision in 2011, while walking in the meadows around our home, and wondering out loud why nobody was making gins with real provenance – something which is so highly valued in wines and other spirits.
Having already developed some interesting and versatile techniques which enabled us to use fresh botanicals rather than dried, and locally grown rather than imported, we saw an opportunity to really add something to the range of products available at the time.
Importantly, it was the opportunity to add something with genuine quality rather than just creating another predictable range of 'flavoured' gins.
So we founded Cambridge Distillery on the principle that no two botanicals are identical, and they need to be treated individually.
Our aim was to expand the range of fresh natural flavours available through distillation. We pioneered an innovative approach that allows us to tailor distillation parameters to each botanical, meaning we can use the freshest and most delicate botanicals which are usually inaccessible to traditional methods.
We officially launched Cambridge Distillery on the day of the Boat Race – April 7th 2012.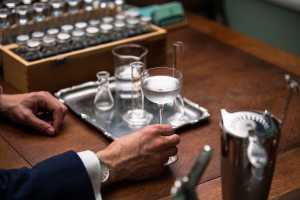 Cambridge has been named 'World's Most Innovative Distillery' three times… what makes it so innovative?
In short, it's the pursuit of quality. We only really engage in projects which have either never been done before, or where we believe the level of quality achieved thus far can be greatly improved. We're not innovating just to be different; we're innovating to make liquids which are demonstrably better than that which went before.
Thanks to our unique distillation method, we can work with a much wider range of botanicals than the classic Dry gins. These new ingredients not only enrich our flavour palette (e.g using truffle for earth complexity or ants for citrus-like notes), they also have a tangible impact on the trade.
They influence consumers, bartenders, spirits producers around the world and the current scale of the gin industry in Japan is a clear example of what can happen when we start working with a new range of botanicals. We made the world's first ever gin using Japanese botanicals, and a whole host of other producers have followed suit with similar recipes.
What's the most satisfying part of your job?
We've done what many people thought was impossible, and we keep doing it. We've gone from being the smallest distillery in the country to being a leader in the field, and the pride we take in that is difficult to describe.
The team who has joined us along the way are an important part of the success, and have been instrumental in amplifying our voice across the trade. It's amazing to see them all working together – especially in such trying times – to achieve what we're achieving.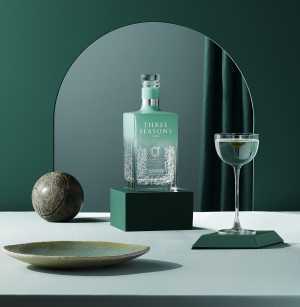 Talk us through the new Three Seasons expression…
Three Seasons is a truly sensorial experience, a gin capturing Spring, Summer and Autumn in liquid form. Each seasonal botanical is distilled individually to preserve its essence - fragrant spring lemon verbena, freshly-bloomed summer rose and ripe autumnal blackcurrant leaf. Only then are they blended into a supple and vibrant gin which stimulates the senses from its initial citrus burst to the rounded, generous finish.
These quintessentially English ingredients have been tailored to express themselves chronologically as they would throughout the seasons with the flavours evolving on the palate, allowing the drinker to experience our unique natural surroundings wherever they may be.
My inspiration for Three Seasons is ultimately the Martini - my favourite cocktail. The Martini leaves a gin with nowhere to hide: it is simple and pure. The Martini that you will create with Three Seasons will be like nothing you have tasted before and will transport you here to Cambridge.
It's not cheap – how do you justify the markup compared to a 'normal' premium bottle of gin?
In traditional Dry Gin production, the spirit and all the botanicals are literally boiled together at high temperatures. Cambridge Distillery's novo-dimensional distillation matrix allows us to tailor temperature and pressure along with seven other parameters to suit each individual botanical. This means we can distil the freshest, and finest ingredients whose flavours would otherwise not survive conventional techniques. This method gives us a level of control and precision vastly beyond that of traditional distillation. It requires more effort, but it really works: every gin we have released has won at least a Gold medal at international competition for quality.
And finally, what are you working on next?
I'm about to start a PhD on the intrinsic properties of quality in wines and spirits at Cambridge University. It's something I take really quite seriously!
Three Seasons (RRP £90) is the latest addition to a portfolio of outstanding gins from Cambridge Distillery named The Collection available online at cambridgedistillery.co.uk