Amir Khan became a household name aged 17, winning a silver medal at the 2004 Athens Olympics. That's a year before the launch of YouTube and three years before the iPhone. 
Khan was the only boxer included in the Team GB squad for Athens. Four years later, five boxers travelled to the 2008 Beijing Olympics – including James DeGale, Billy Joe Saunders and David Price. DeGale and Price are now retired. Meanwhile Khan is preparing for one of the biggest fights of a glittering career – a domestic grudge match against arch-rival Kell Brook. 
"I would never have imagined I would be fighting for 18 more years when I came back from the Olympics," admits Khan. "It's crazy. I always wanted to retire at the age of 29!" 
Instead at 35, world titles on the mantlepiece and millions in the bank, Khan's competitive fires are still burning. Beat Brook and he hopes to challenge once again for the world title. Or there's always the lucrative move into the YouTube boxing circuit – when questioned about a prospective fight with Jake Paul, Khan is typically bullish.
"It would be good to school someone like him," he says, even offering to face Jake's brother Logan on the same night. "In the ring, both of them together, I don't mind."
We chatted to Khan about fighting Canelo Alvarez, sparring Manny Pacquiao, hanging out with Al Haymon and plenty more besides. He's already a legend of British boxing – and his story isn't over yet. 
Enjoy our interview and some bonus chat covering Amir's career and previewing Khan vs Brook. 
LISTEN TO THE INTERVIEW AND ENJOY SOME EXTRACTS BELOW
On the Kell Brook fight
I've always been in the public eye from fight number one, coming back from the Olympics. [More than four million people watched Khan's 2005 professional debut on ITV.] So I've had that pressure on me and I know how to deal with it. Let's hope Kell knows how to deal with it as well. I'm quite lucky in that I've had that pressure on me from day one.
On career longevity
Eighteen years feels forever! I would never have imagined I would be fighting for 18 more years when I came back from the Olympics. It's crazy. I always wanted to retire at the age of 29. I did so much at such a young age. Imagine that pressure! I was 17 and no other boxer went to the Olympics. No-one else qualified. Not only that – a lot of the guys from the 2008 Olympics have retired!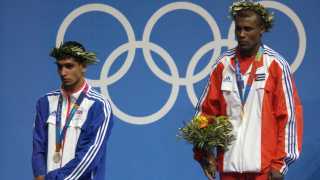 On his future plans
I've already established my name as a pro. No disrespect to Conor Benn, I think he's a great fighter, but I'm on my own path. For me, it would go straight into another world title fight. Winning another world title. But I'm at the age know when I can pick and choose when I wanna fight, who I wanna fight. We bring a lot of money to the table. Let's just see what happens after this fight.
On fighting Canelo Alvarez
It's part of the fighting game. I tried to go up a couple of weight categories to fight one of the best pound-for-pound fighters in the world. That will always be in the history books. With Canelo, there's no regretting because if I didn't take that fight I would have always thought, 'what would have happened?' It made me realise that in boxing, there's weight divisions for a purpose. I'm glad I could come back from a fight like that.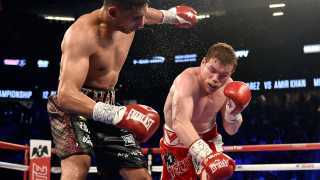 On sparring Manny Pacquiao
They were wars. We'd go to war with each other. The whole gym would stop and watch. People on the bags would stop and watch. Manny was training for the Oscar De La Hoya fight. We helped each other – that's what boxing is all about. Even though sometimes you have to put your friendship aside and fight each other. You have to be ruthless. 
On his training motivations
I've been collecting a lot of Audemars Piguet watches – Royal Oak and Royal Oak Offshore. I've got a fully crusted diamond one, I've got a rose gold one. Next one I want a Skeleton.
When it comes to buying watches, you want to make sure you buy the right piece. For me it's a great investment – something I can pass on to my kids one day. At least they'll remember me – and hopefully not sell it when I'm gone! It's nice to give something sentimental, that means something.
Buying a watch after a fight has meaning – it holds more value to me. I know what watch links back to what fight. After a training camp, being away from my family, I like to treat myself. Knock out Kell Brook and treat myself to a Skeleton.
I'll have to get another one if there's a rematch! I'll have to get the Skeleton rose gold, too.
On the possibility of fighting Jake Paul
Yeah. I mean, at the end of the day I'm a prize fighter. It would be good to school someone like him. The way he beat Tyrone Woodley – Woodley's not really a boxer, he's an MMA fighter. With us, we know how to use our hands. I would destroy both [Paul] brothers put together. Same night job! In the ring, both of them together, I don't mind. There's levels, you know what I mean?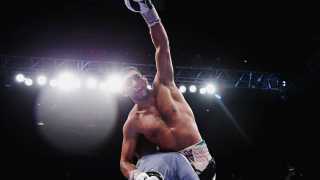 On his friendship with Al Haymon
Al Haymon's my boy, man. I've call his house up and say, 'how's it going?' Al's a normal, simple guy. He does exist and he's the nicest guy you'll ever meet. Al Haymon is so calm when he speaks. So chilled out. When I call his house up, he talks so softly. He doesn't get seen because he doesn't want the attention. He's a Harvard graduate. One of the nicest guys you'll ever meet. He looks after his fighters. When he pays you, he pays you big.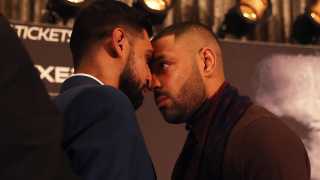 Warren Little, Getty Images
On life after boxing
I like doing TV work `– I quite enjoy it, keeps me busy. TV puts a little bit of extra weight on you – you've got to make sure you're slim! It just keeps you relevant. Once boxing stops, all the doors kinda close. I want to keep myself busy. Commentating, being a boxing promoter, working on different channels. When I call it a day, I'll be quite happy to walk away.
On his legacy
I've done everything I needed to do. I wouldn't change it for anything. I've had injuries, I've been hurt, I've been beat. It's all part of the learning curve. There's a lot of fighters who retired without having a loss, who don't know how they would have coped with having that loss. I know I can bounce back. There were times when I thought it might be time to call it a day. But the more Brook started talking, I said I need to put him in his place. That's the reason I made the fight happen.
Watch Amir Khan vs Kell Brook on February 19, live on Sky Sports Box Office