Beneath the glamour of the Sky and BT lights lives a boxing ecosystem that is witnessed only by the few.
Small hall boxing is the spit and sawdust of the sport, taking place in leisure centres and low capacity venues up and down the country, where the stars are accessible to the fans and the experience is a million miles from that of a Wembley Stadium fight or a bout at the O2.
There is a common denominator between the more high-profile TV bouts and those that happen in the shadows. It is still two men sharing a ring looking to climb the boxing ladder and achieve their dreams.
The ambition may sometimes be scaled back; for some a shot at an Area title may well be their career pinnacle, or the chance to get their hands on an English title might be the goal. The raw emotion of small hall boxing when a prospect gets their hand raised seems multiplied when you are so close to the action within the confines of smaller venues.
Who should you be keeping an eye out for in the upcoming boxing season that you won't necessarily see on the big screens? We look over who is Moving In, who is Moving Up and who is Moving Out of small hall boxing over the next 12 months.
Moving In – Bailey Donald
Coming out of an ever-growing boxing scene in Portsmouth, welterweight Bailey Donald will make his debut on September 21st at York Hall.
With 41 amateur fights to his name, along with the honour of representing England at the 2016 3 Nations tournament, Donald has a wealth of experience that he carries into the professional sport.
The come-forward, aggressive nature of Donald's style is sure to have fans excited
He is also one of the few professionals who will continue to work with their former amateur coach, as Daron Wiseman takes the 18-year-old into the paid ranks. With a wealth of understanding and trust built between the two of them, it could be key in helping the transition.
The come-forward, aggressive nature of Donald's style is sure to have fans excited as he starts his journey as a professional. Still so young, Wiseman will have the luxury of being able to take his time with Bailey Donald once that debut is out of the way.
For more info, see goodwinboxing.co.uk
Moving up – Daniel Egbunike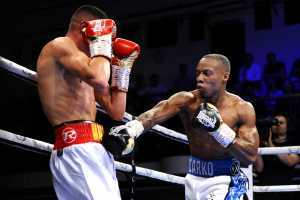 (Photo by Alex Burstow/Getty Images)
Daniel Egbunike may only be five fights into his professional career, but his is moving at a speed rarely seen at this level. The 29-year-old super lightweight has had his hand raised each time he has fought, but what makes him so impressive is the level he has competed at. Typically a prospect so early in their career will still be finding their feet in the sport and be competing in four round bouts against journeymen.
Although Egbunike started off on this route, he soon stood out. A second-round stoppage over tough road warrior Alec Bazza was an eye catching debut, however by bout three the Londoner had moved up to the six round distance.
Typically in a fifth professional fight, ten-round bouts are reserved for the elite level Olympians
It was his last fight though which sets him apart amongst the sea of potential candidates. A fight with Martin McDonagh, himself a 5-0 prospect at the time, over ten rounds at York Hall. McDonagh was a top level amateur with over 80 bouts to his name, so was confident that he would be the victor. Egbunike boxed beautifully throughout, claiming a 97-93 deserved points victory over ten rounds.Ten rounds! Typically in just a fifth professional fight, ten -ound bouts are reserved for the elite level Olympians entering the sport.
To show the discipline and conservation of energy, as well as displaying some high-level boxing skills at such a formative stage of a career, is testament to what an outstanding talent Egbunike is and a reason to keep an eye on him as he moves towards titles in the new season.
For more info, see mtkglobal.com
Moving out – Linus Udofia
At 13 wins and no losses, his most recent coming in an eliminator to fight for the English title, Linus Udofia is a boxer who is ready for the bigger platforms. Having already been featured on big shows (he has boxed on a Dillian Whyte undercard at the O2 and supported Joe Joyce at York Hall), the Luton resident has displayed plenty of promise when the opportunities arise.
Seven of Udofia's 13 wins have been stoppages and he is a thoughtful boxer, one who will be better suited to the longer rounds of Championship fights. He often takes the first round or two to understand his opponent, find his range and timing. It is that patient approach that sees him break down opponents and create the openings to show what a composed finisher he has become.
This could be a breakout year for the emerging star
At middleweight where Udofia fights, there are no easy routes to picking up titles. The impressive Jack Cullen currently holds the English title, defending against John Harding Jr on Sky Sports. At six foot three, he is a sizeable task for anyone at 160lbs. Whether that is who Udofia fights for the title, time will tell, as Cullen has his own ambitions to move onto other titles. However Udofia would fancy his chances of making his way inside the rangy Cullen jab to impose himself on the current champion.
Whether it is Cullen that Udofia ultimately faces or another contender, time will tell. Either way, this could be a breakout year for the emerging star and the time when he looks to cement himself as a TV fighter.
For more info, see goodwinboxing.co.uk