"Right, yes good morning everyone. First order of business is we need to get that cover onto Enable and take this photograph. She's in the off-season at the moment, so she's very, very fresh – she won't give us long to wrap it up before she'll want to get back in her barn. We'll get Frankie in the picture. Do we need anyone else? Me? Oh, no one wants me in the shot. We can all chat after. Where's our photographer? Here she is. OK, good, let's bring Enable round."
John Gosden commandeers the room like a Hollywood agent minding a famously particular client. Even the clamour of journalists, the photographers, and the strict time schedule point towards a fearsome diva who could turn the softbellied to stone. The anticipation – that brief moment of suspense before the star reveals herself from behind the curtain – is palpable. Let's hope she's in a good mood today.
There is, of course, one rather discernible difference between Enable and, say, the Lady Gagas and Beyoncés of this world, and that is the fact that she is a horse; a thoroughbred, to be more exact, and possibly the most famous racemare on the planet. But don't be fooled. All the same, she has her legions of fans, a dedicated social media profile, and an accumulating list of awards garnered throughout a glittering career.
She is every bit the superstar – and as she stands in the sun on a chilly January morning (pre-pandemic times, remember those?), she delivers a graceful pose for all of five minutes before she's clearly had enough, and demands to be whisked away from the media scrummage awed to be in her presence.
Much like Michael Jordan, this is Enable's 'Last Dance' – one final feat before retirement
We're visiting Enable's home at Clarehaven Stables, Newmarket, as part of her latest gong, the joint* winner of the prestigious Longines Best Racehorse Award for 2019 (the Ballon d'Or of racing, if you will), but away from the trophies the wider narrative is that racing history awaits should Enable win an unprecedented third Prix de l'Arc de Triomphe in October of this year.
Much in the same way that Michael Jordan's Chicago Bulls sought a record sixth NBA championship in 1998, this is Enable's 'Last Dance' – one final feat before retirement beckons. The fairytale ending feels close enough to touch, but life is rarely that straightforward. (*No doubt the mare threw an almighty tantrum upon hearing she'd be sharing the award, especially having beaten her two co-winners, but I digress.)
For those unfamiliar with racing, the Arc is arguably the greatest flat race in equine sport. The gruelling mile-and-a-half test of speed and stamina has pitted the world's best middle-distance runners against each other for the last 120 years. It's the richest race in Europe these days, with the winner bagging north of £1.5m, but it's the prestige that trainers, jockeys, and owners dream about the most.
Arc winners are remembered with the kind of misty-eyed reverence that only comes with historically important sporting events: this is the Champions League final, The Masters, a heavyweight title bout, whatever you want to call it. This is as big as it gets. Winning once is a momentous achievement, twice is extraordinary, but three times? Next to impossible.
Make no mistake: when we talk about Enable, one of only eight champions to have won the Arc two times, we're already talking about one of the all-time greats. But what's a good story without an unassailable task? Allow me to set the scene…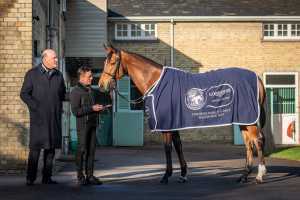 The Master Trainer
"If you're looking at a football manager with a team, or a coach with an athlete, they'll establish a relationship, they'll understand maybe where the strengths of a player are and where their vulnerabilities lie. There's no doubt when you're training racehorses, those principles remain the same." It's difficult to overemphasise the importance of John Gosden to Enable. He has shepherded her from exuberant youth, through the troublesome injury-interrupted second chapter, to the brink of greatness that she stands upon right at this moment.
As the trainer of more than 3,000 winners across the globe, he is widely considered to be one of the finest mind's in racing, and certainly the most eloquent; when he talks, you listen. "In any sport, a coach's role is forever trying to develop the natural ability of their athlete, and bring them through to their absolute zenith. That means training the mind as well as the body. Getting a horse fit is not the most difficult thing if you're patient, and you build it up gradually all the way through, but the most delicate thing is often their self-confidence."
Enable is not the kind of horse for whom you'd imagine confidence has ever been an issue. She has lost just three times in a 17-race career, winning a grand total of £10.7m, but her mental fortitude has often been put to the test. During a vintage renewal of the King George at Ascot last year (think of it as the FA cup final, if the Arc is the Champions League equivalent) a tremendous colt by the name of Crystal Ocean refused to go down without a fight. As the two horses went hammer and tong, straining every sinew to get their noses in front, it was Enable that found extra to repel her challenger in the dying strides.
Enable is strong in her mind, she's brave and she has that will to win 
Gosden, always handy with a sporting allegory, compares the performance to other brilliant athletes: "You watch any of those great tennis players in the fifth set, some of those extraordinary championship games, and the difference comes down to mental reserves. Yes, we know they're brilliant players. Yes, we know they are very fit and they can go on an amazing length of time, but in the end it comes down to what's in here. [He taps the side of his head.] There are an awful lot of horses who have plenty of ability, but when the going gets tough they disappear. But Enable is strong in her mind, she's brave and she has that will to win."
Like any good fairytale, however, adversity lies in the path of the heroine. Following the King George, the doyen of racing continued her winning ways in the Yorkshire Oaks before setting sights on last year's running of the Arc.
As the 2017 and 2018 winner of the race, and unbeaten that year, Enable was a hot favourite to complete the unprecedented 'three-peat'.
But horse racing is a sport that uniquely relies not just on fine margins, but matters outside of human control – failure is a very real, all-too familiar reality. Several days of heavy rain had softened the underfoot conditions sufficiently to take the sting out of the mare's signature sprint finish; a gear shift that few have proven capable of living with in the past. Forging clear with two furlongs to go, Enable looked certain to make history and sail off into the sunset – only for the French-trained Waldgeist, a gutsy son of the great Galileo, to claw her back with the finishing post in sight. Somebody had failed to read the script.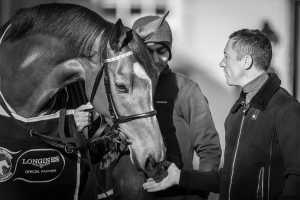 The Legendary Horseman
"We were so close. It was history on the line. Everybody turned up that day to see something special, and she almost pulled it off. When she went two lengths clear with a furlong to go, I heard the fans going mad, but unfortunately in the last 50 yards, we stopped and we got caught. It went from this absolutely amazing euphoria to boom, the gas being let out of you. It's like, 'Who shot Bambi?'" Lanfranco 'Frankie' Dettori, Enable's charismatic jockey, is the final member of this trio. As Enable prepares for one final attempt at a third Arc, racing's greatest showman will be hoping to will his charge to victory.
In a career spanning 35 years, the Italian has notched up more than 3,200 winners, trademarked the flying dismount celebration, been embroiled in a controversy here and there, survived a plane crash, and shared the limelight with some of the greatest racehorses of all-time.
He is the Tiger Woods of his sport: iconic, inimitable, and holder of more records than you'd care to count. Crucially, he has transcended a sport that not everyone enjoys, and enthralled the general public with his partnerships with Golden Horn, Stradivarius, Dubai Millennium and, of course, Enable. Some sportsmen and women were born for the big occasion – eating up the expectation and the pressure, and delivering when it matters most – Frankie is one of them.
The Dettori and Gosden alliance followed the worst chapter of the jockey's life. In 2012, the rider split from Sheikh Mohammed's Godolphin racing team after 18 fruitful years. His future appeared uncertain, only to be compounded not long after when the rider tested positive for cocaine, and was handed a six-month suspension – a brief "moment of weakness" which he "paid a very big price for". But few in the game could ever match Dettori in the saddle, as the son of Italian champion jockey Gianfranco Detorri it's in his blood, and fewer still have the experience.
It went from this absolutely amazing euphoria to boom, the gas being let out of you. It's like, 'Who shot Bambi?'
For Gosden, it was time to pick up the phone: "He was said to be this guy heading into the twilight. That was wrong. It was clear to me that was wrong… It quickly became apparent that it was a phone call I had to make." Two years later, Dettori and Gosden won The Derby with Golden Horn in 2015, and the big winners have kept coming since. It's no wonder the pair are close.
"He's a great athlete. He's highly intelligent. Very instinctive – has a great feel for a horse. He's an excellent race rider, very respected around the world by his peers. And if you can keep his feet on the ground, he's the best at it. Without a doubt, he's the greatest I've ever legged up on a horse."
Gosden might joke that this fruitful partnership is just "a couple of old guys working together", but the synergy between the two has created the perfect environment for a precocious mare like Enable to flourish. So what is the secret?
"I don't know what it is but we've got some chemistry together. I don't know if he trains the horses to suit my riding or I ride the horses to suit his training, but it works," Dettori says.
"Jockeys don't turn the key and drive an engine, we're dealing with a live animal. Horses are used for blind people, deaf people, people with special needs. They feel what you feel, and if you're in a happy place and you're feeling confident, the horse runs faster. Confidence comes with the people you work with and John gives me a lot of confidence."
History Awaits
Dettori has won the Arc a record six times, but to win a seventh he will need to navigate Enable past a series of dangerous foes. Godolphin's front-running Ghaiyyath became only the third horse to beat Enable when winning the Eclipse this year; fellow Gosden stablemate and champion stayer Stradivarius steps down in trip in a bid to add to his trophy cabinet; while last year's Arc third, Sottsass, will likely be there at the business end.
The chief threat, however, will come from this year's 1000 Guineas and Oaks winner, Love. Arguably the most talented filly since Enable herself, Aiden O'Brien's charge boasts a similarly devastating turn of foot, and stamina reserves that could potentially exceed the mare's own. As a three-year-old, she will also carry 7lbs less weight than Enable – a fact that has led many to conclude that Love is perfectly placed to spoil the party.
Still, if Enable needs to be at her very best to win her farewell race, the sight of her cantering to a record third King George (three is the magic number, it would seem) on 25 July felt like a suitable hors d'oeuvre before her coronation in France.
Time and again she has proven herself the queen of the flat, but in October she'll have to defend her throne one last time.
For the Longines World's Best Racehorse and World's Best Jockey Rankings, see longines.com