It's 8pm on a balmy Andalusian evening and I'm standing on the terrace of Villa La Escondida, rioja in hand naturally, and watching as the sun languorously slips behind the horizon.
The villa's name, meaning 'the hidden one' in Spanish, feels a fitting one as the last vestiges of daylight twinkle off the infinity pool and gild the surroundings in a warm hue; it's like an Andalucian mirage. It's a gorgeous night – the kind of evening where the world seems to turn a little slower and all-too briefly little else matters than good company, something delicious to eat on the veranda, and the promise of championship golf the following day. But, then again, Sotogrande can have that effect on you.
Here in the confines of Costa del Sol's most famous residential estate, you feel somewhat suspended in animation as the body regenerates in this life-restoring environment. It's enough to make you wish you could live here forever. Well, hold that thought…
The story of the Sotogrande estate begins with Joseph McMicking, a Filipino-American businessman, who in 1962 acquired five farms (or fincas) in the Cádiz province and set about transforming the land into a luxurious residential resort with a focus on healthy living. Fifty years or so before anyone had ever heard of the Danish concept of hygge, McMicking saw an opportunity to celebrate the good things in life in the warmer climes of the Costa del Sol. Initially inspired by Forbes Park, a gated community in McMicking's hometown of Manila, Sotogrande soon developed into the Beverly Hills of Europe; an area synonymous with glamour and luxury. But even its ambitious founder would be struck by just how much the estate has changed in the 60 years since.
Andalucia is famous for its combination of mountains and sea, but Sotogrande made it sexy
The 4,500-acre resort stretches along the Spanish coastline and all the way back into the foothills of Sierra Almenara, with more amenities than you can shake a three-wood at. Andalucia is famous for its unique composition of mountains and sea, creating achingly beautiful views from every vantage point. But Sotogrande made it sexy.
These days the location offers its guests five world-class golf courses, six polo fields, two tennis clubs, a marina, a beach, a fabulous man-made lagoon, the newly opened SO/ Sotogrande hotel and spa, and probably a partridge in a pear tree. Precious few places in Europe can compare with such an offering, without at least making some concessions – whether it's location, facilities or transport links – but, no, Sotogrande doesn't do compromise.
Which brings me back to La Escondida and yours truly feeling smug about life. Now, before I go on, I have to level with you: it's not for sale. I can sell you the lifestyle, but I can't sell you a house that's already accounted for. However, it's the perfect embodiment of Sotogrande in the modern era.
Not content with its position as Europe's premier residential destination – a place where some of the most powerful families on the continent (and, er, Tony Blair) happen to own homes – the estate has set its stall out as a boundary-pushing platform for some of the world's finest architects to strut their stuff.
Gone are the traditional Andalusian farm-style properties of yesteryear, as charming as they might be, and in their place come sleek contemporary homes that perfectly fit their owner's lifestyle as much as the landscape.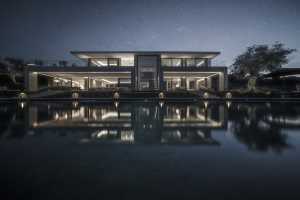 La Escondida, for example, is part of a six-villa private community called El Mirador. Designed and built by ARK Architects, these properties are multi-level delights that blend indoor and outdoor living across a series of cunningly designed spaces – like the sweeping floor-to-ceiling window at the entrance of La Escondida. It extends across two floors and offers genuine gasp-inducing views out across the golf course and the Mediterranean Sea beyond; the definition of love at first sight. Or how about the stylish outdoor kitchen and barbecue area? Or the basement Turkish spa and indoor pool, built to the owner's exact specifications? Entering any room here seems to delight and surprise in equal measure.
The jewel in Sotogrande's crown, however, takes this concept of bespoke living even further. The Seven is a collection of seven one-of-a-kind properties created by seven different eminent architects. The likes of Marcio Kogan (considered one of Brazil's most important contemporary architects), Ben Van Berkel (the world-famous Dutch architect), and Andreas Martin-Löf (Sweden's most exciting young architect) have added their names to the roster, each creating their own unique concept upon a one-hectare canvas.
From Tony Stark-worthy concrete monoliths to warm wooden structures that sink into the landscape, The Seven covers the breadth of 21st century architecture. Ultimately, how you furnish your space is up to you, but whether you're looking to integrate a cinema room, golf simulator, or office into the floorplan, you can rest assured that you are in the safest of hands. The same is true of the outside area where visionary French gardener Jean Mus has lent a distinctive Provençal touch to each gardens.
So exclusive are these properties, in fact, that when I enquire about possibly taking a peak at the plots I am given a resounding 'no'. It would appear that seven isn't my lucky number, but then with a starting price of €7.6m you can forgive Sotogrande for carefully guarding its best-kept secret.
The Seven is a collection of seven one-of-a-kind properties created by seven famous architects
The Seven is located in a private corner of Sotogrande's La Reserva Club community. While I can't tell you much more about the properties themselves, I can tell you all about the residents' access to the highly respected championship golf course, the tennis and health club, and The Beach, a man-made beach area and water sports lagoon that appears like a mirage in a hilly valley. If you're wondering what the modern era country club looks like, you're looking at it.
Designed by Cabell B Robinson, La Reserva golf club is a personal favourite of mine. It snakes through two intersecting valleys, offering twists and turns and frequent changes in elevation, ratcheting up the difficulty with a series of tricky driving holes and a few approach shots that require you to shape the ball one way or the other. Much like its famous big brother Valderrama, it's certainly a stern challenge but it gives you a fair shake of things – unless you happen to have had one too many glasses of red the night before, in which case it will gleefully punish you for your indiscretions.
Perhaps the best place to clear a slightly foggy head is The Beach. La Reserva's latest creation – part of recent injection of some €50m of investment into the estate – is a surprisingly impressive offering for what is ostensibly a man-made beach. But this oasis of calm with its sleek stylings and accompanying watersport lagoon is a charming spot to while away an afternoon. It's the ideal place to bring the whole family – or maybe just a good book.
The benefits of La Reserva Club are not exclusive to The Seven. Located just around the corner, Village Verde is yet another residence that gives homeowners access to club facilities. Reimagining village life for the 21st century, Village Verde is a community of 220 apartments and town-houses set within 18 hectares of parkland.
The high-spec two, three and four-bedroom apartments have been created to offer the ultimate in open-plan living – light and airy spaces that seamlessly blend into the dual aspect or wrap-around terraces. The lateral designs allow for these balconies to encompass at least 65 square metres per property, while there are large roof terraces on the penthouses and townhouses – a crucial feature when you consider the 300+ days of sunshine Andalcuia can offer each year.
While 'village' might be a stretch, there's a world where you can envision a day at Village Verde as wandering down to the residents' café and garden terrace for a bite at lunch, heading to the indoor pool for a dip, grabbing something for dinner from the mini-market, and maybe catching a movie in the outdoor cinema area in the evening. Work? Ah, forget about it. It can wait until tomorrow.
The truth is, though, the pandemic has changed the way we think about our day jobs. While the City isn't going anywhere any time soon, hybrid working is here to stay – and that makes the 25-minute drive from Sotogrande to Gibraltar airport (and the three-hour plane journey from London City) appealing to new buyers. There are worse commutes.
As well as La Reserva Club, Sotogrande is home to Real Club de Sotogrande (the oldest course in the area, dating back to 1964), the 27-hole Almenara Golf Club, La Cañada, and of course Valderrama. Each scratches a certain golfing itch, but it's the latter which remains surrounded in mystique.
Host of the 1997 Ryder Cup, Valderrama is worth every column inch it has ever received
Coveted by Europeans since it hosted the Ryder Cup in 1997, Valderrama is worth every column inch it has received over the years. I won't add too much to the commentary, but here's the basics: 1) This course is immaculate on a level you'll likely have never experienced. The greens are lightning fast and fairways are carpet. 2) It's as hard as everyone says. Score just seems to slip away from you at every turn – find the fairways or lose a stroke, miss the green and you're dropping a shot, judge a putt wrong and it'll cost you – which is why soon score just doesn't matter. It's golf for the fun of it. 3) For an exclusive course that costs €400 to play and insists on forecaddies (€60 before tip), it's a surprisingly laid-back club. From the shady restaurant terrace to the quiet library stocked with every conceivable golf book, come for the round of golf and stay for the club itself. It's undeniably a special property.
Away from the sporting facilities, Sotogrande's first and only five-star hotel opened in July to wide acclaim. SO/ Sotogrande, from the contemporary lifestyle arm of the Sofitel hotel group, takes over from what was previously The Almenara Hotel – I'll be honest, an average-at-best resort that was ten years overdue a refurb – and, my goodness, what a change it has been. SO/ has transformed the site into a luxurious contemporary hotel befitting of its location in the Sotogrande estate.
Designed in consultation with Spanish swimwear designer Delores Cortes, the resort takes the iconic elements of Andalusian culture – the fan, the carnation flower, the arch of a traditional cortijo (farmhouse) – and turns them on their head, adding splashes of vibrant colour in a way that subverts expectations of what we have come to expect from more traditionally inspired Spanish resorts like the nearby Finca Cortesin. It feels at once typically Andalusian and also impeccably modern.
The spa, for example, is no ordinary hotel spa. It features flotation tank and cryotherapy treatment options, as well as a state-of-the-art gym and indoor pool. The investment makes sense when you consider that homeowners in one of the neighbouring developments can pay a resident's fee to enjoy this facility for themselves. With a host of restaurant and bar options also available – including SoCiety, a restaurant with a rotating roster of guest chefs every few weeks – the resort adds yet another string to Sotogrande's bow.
Not convinced? Maybe a night in Villa La Escondida will change your mind. If you're serious about purchasing a property, Sotogrande is offering a customised stay to fit the needs of prospective residents. The Discovery Package includes accommodation, golf and other activities, a few slap-up meals, and a tour of the available properties. Trust me, it'll leave you spellbound.
For more information, see sotogrande.com & lareservaclubsotogrande.com