There was a moment in late 2020 when Marcus Smith found himself at a crossroads. The fly-half's career to date had been plain sailing: he'd slid into the Harlequins first team following his 2017 debut at 18 years of age, he'd played for England at almost every junior level including the final of the 2018 World Rugby Under 20 Championship, and had quickly built a reputation for being one of the most exciting No 10s in the Premiership. 
But in the deep oceans of elite rugby, all too quickly you can go from swimming along to treading water. As easily as things had been given to him, Smith's game seemingly evaporated overnight: his passes lost their fizz, his pace seemed half a yard slower, and the electricity he usually crackled with on the pitch was grounded. He was benched by Quins and never felt further away from breaking through into the England senior team. The route in front of him, so clear for most of his sparkling youth career, suddenly seemed foggy. What if this was as good as it gets?
Smith turned to the person he trusted most in the whole world, his mum, who urged her son to renew his faith in God, to pray for clarity and guidance, and to trust that all things happen for a reason. And like any good son, he listened. He grew closer to God and found solace in the fact that not everything was his to control, he needed to "surrender everything" to a higher power. He also redoubled his efforts to understand his game, physically and mentally, journaling for pages on end about his every thought and emotion as he wrestled with the daily challenges of life as a professional athlete. 
Whether you're a religious individual or not, what happened next was nothing short of divine: Smith regained his starting position to lead Harlequins on a fairytale run that ended with them claiming the second Premiership title in the club's history, and their fly-half talisman as the league's top points scorer, bagging 286 in total. 
In the pressure of the playoff semi-finals, an astonishing comeback from 28-0 down at half time against Bristol Bears, followed by a thrilling to-and-fro final with Exeter Chiefs. It was a 22-year-old Smith who embraced the moment to convert crucial kick after crucial kick and play a pivotal role in his team's try-scoring moves. It was no surprise when the Quins linchpin made his full England test debut just a week after lifting the trophy, and the culmination of a lifelong dream followed with a call-up to the Lions a week later. I probably don't have to tell you that it was the best month of his life. 
Born in the Philippines to an English father and a Filipino mother, Smith first found rugby when he moved to Singapore, but it wasn't until he arrived in Brighton in his teens that the England player really took it seriously. Similar to All Black superstar Beauden Barrett, Smith was never the biggest kid growing up and this ultimately shaped the player he would become in later life.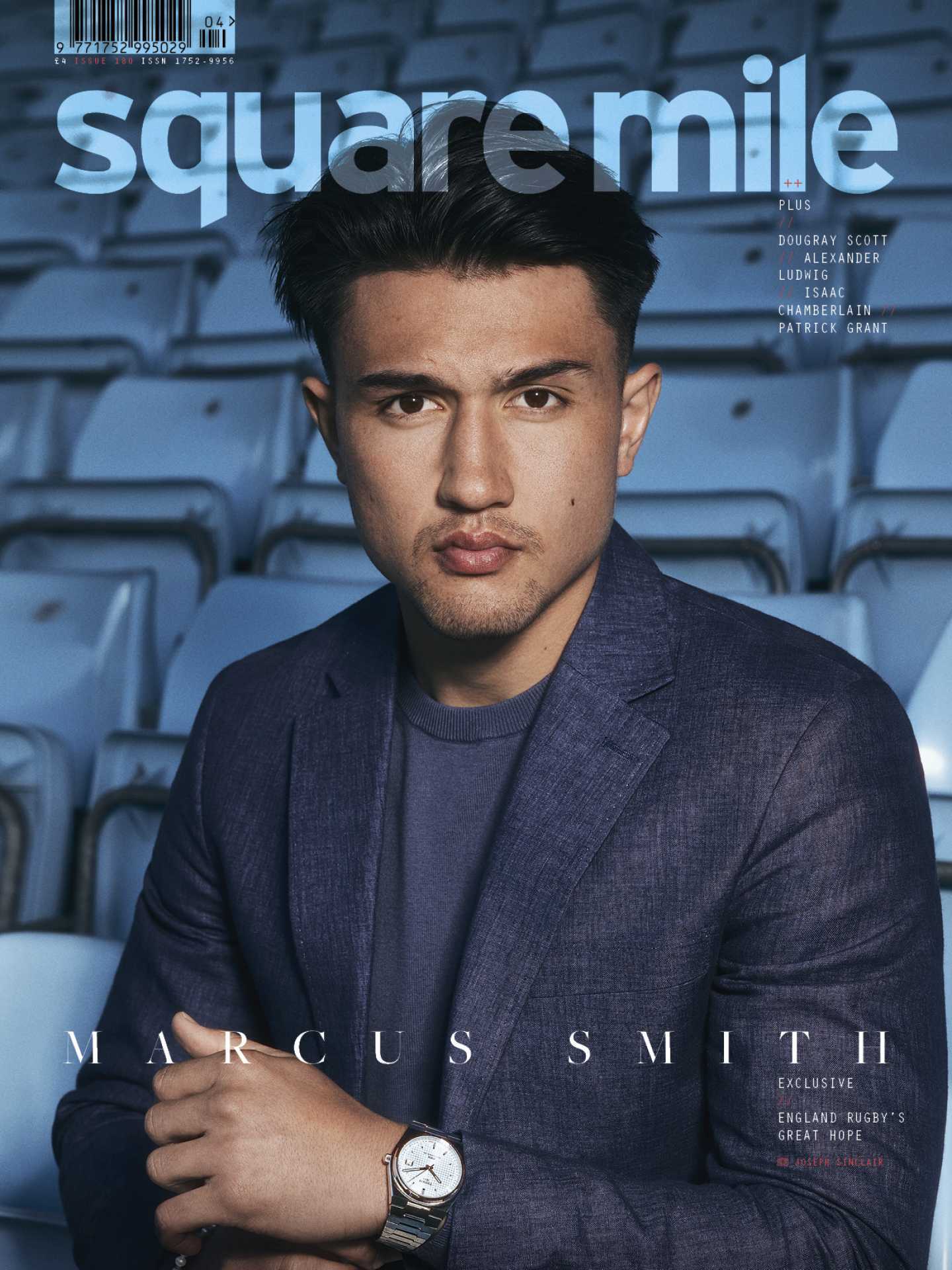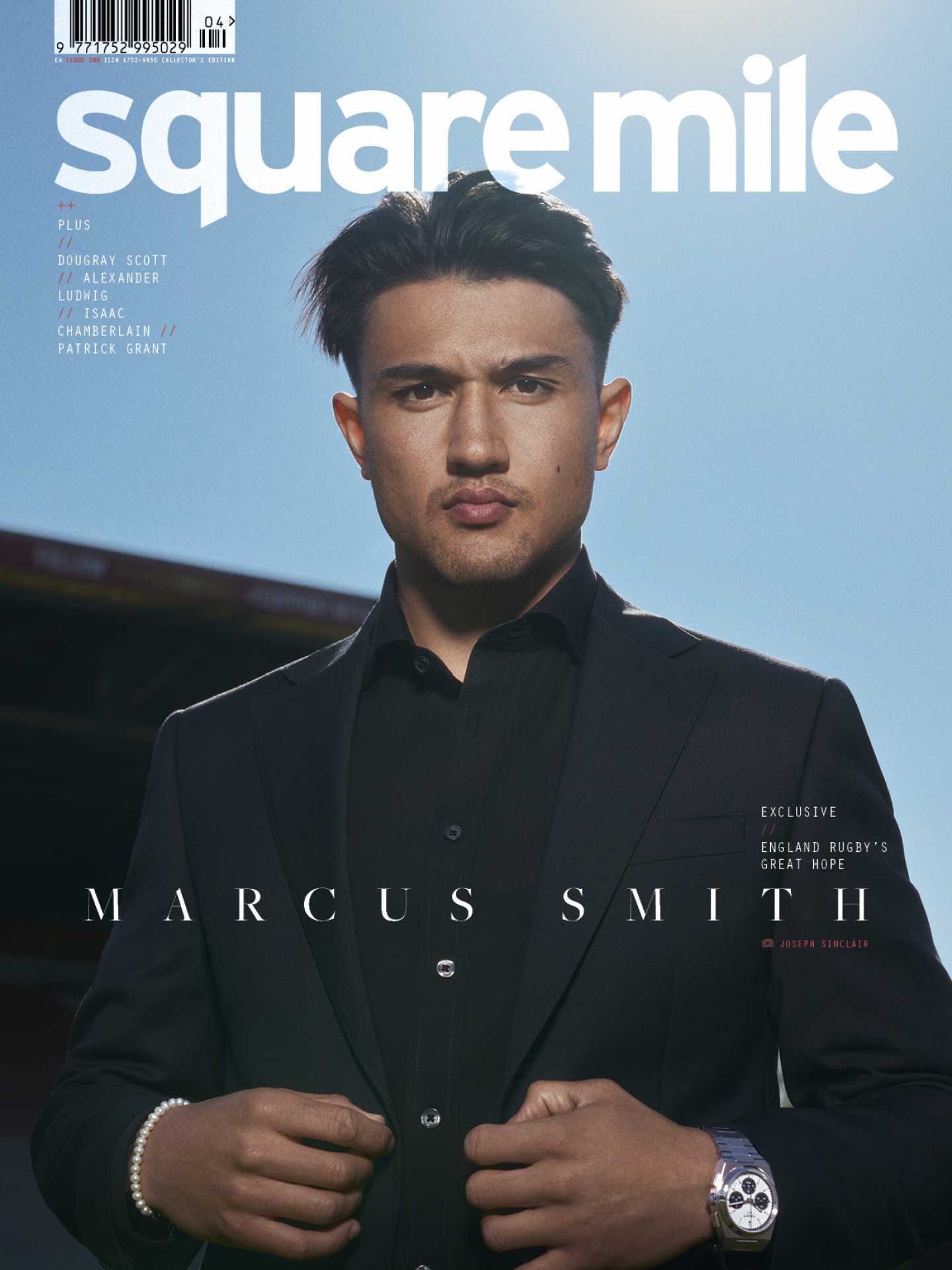 His game is one of intricate footwork, instinctual movement and explosive acceleration, which sees him break through the opposition's defence and lead the charge to the tryline. Combine that with his natural talent for place kicking (a byproduct of his early desires to make it as a professional footballer), and you'll see why he quickly slotted into England's offensive setup. 
Eddie Jones, former-head coach, had been a guiding hand in Smith's blossoming career when they first met at Brighton College while Jones was coaching Japan. After Jones took the England job in 2015, Smith was one of a number of so-called "apprentices" that he invited to train with the senior squad to set them on the path for future success. Smith was in a hurry to pay him back. His England career proper began with a surefooted display during the Autumn internationals against the likes of Australia and South Africa – converting the match-winning kick in the latter – before he firmly established himself as a rising star during the 2022 Six Nations, where you could make a strong case for the fly-half being England's player of the tournament. 
Smith and England's fortunes since then have been mixed. The departure of Eddie Jones from the national setup coincided with a three-month period on the sidelines for the No 10 as he nursed an ankle injury back to health. The Rose's spluttering 2023 Six Nations campaign under new boss Steve Borthwick was a 'work in progress' to put it kindly, and has left many questioning just how deep into the Rugby World Cup tournament England can realistically go.
But Smith is undeterred. "To be the best team in the world this summer, we're going to have to improve every facet of our game, but I'm sure that the team that goes out to France will be the best prepared team that we can have. We'll give it our best to make the country proud," he tells me during our interview at the Twickenham Stoop, home of the Harlequins. 
If that seems like an old head on young shoulders, that might have something to do with the fact he counts World Cup winner Jonny Wilkinson as a close friend and confidant. The pair talk a couple of times a week, usually just shooting the breeze about nothing in particular, but they'll also meet up on the training field to drill down into the intricacies of dead-ball kicking. Wilkinson is, of course, no stranger to the weight of expectation and he has impressed on his young charge the need to drown out the noise and focus on what's in front of you. 
No doubt the various spheres of influence in Smith's life will stand him in good stead for what might be the most important months of his life since that fateful 2021 season finale. Should he will England through to the latter stages of the World Cup, there'll be a few more prayers than usual for God to answer.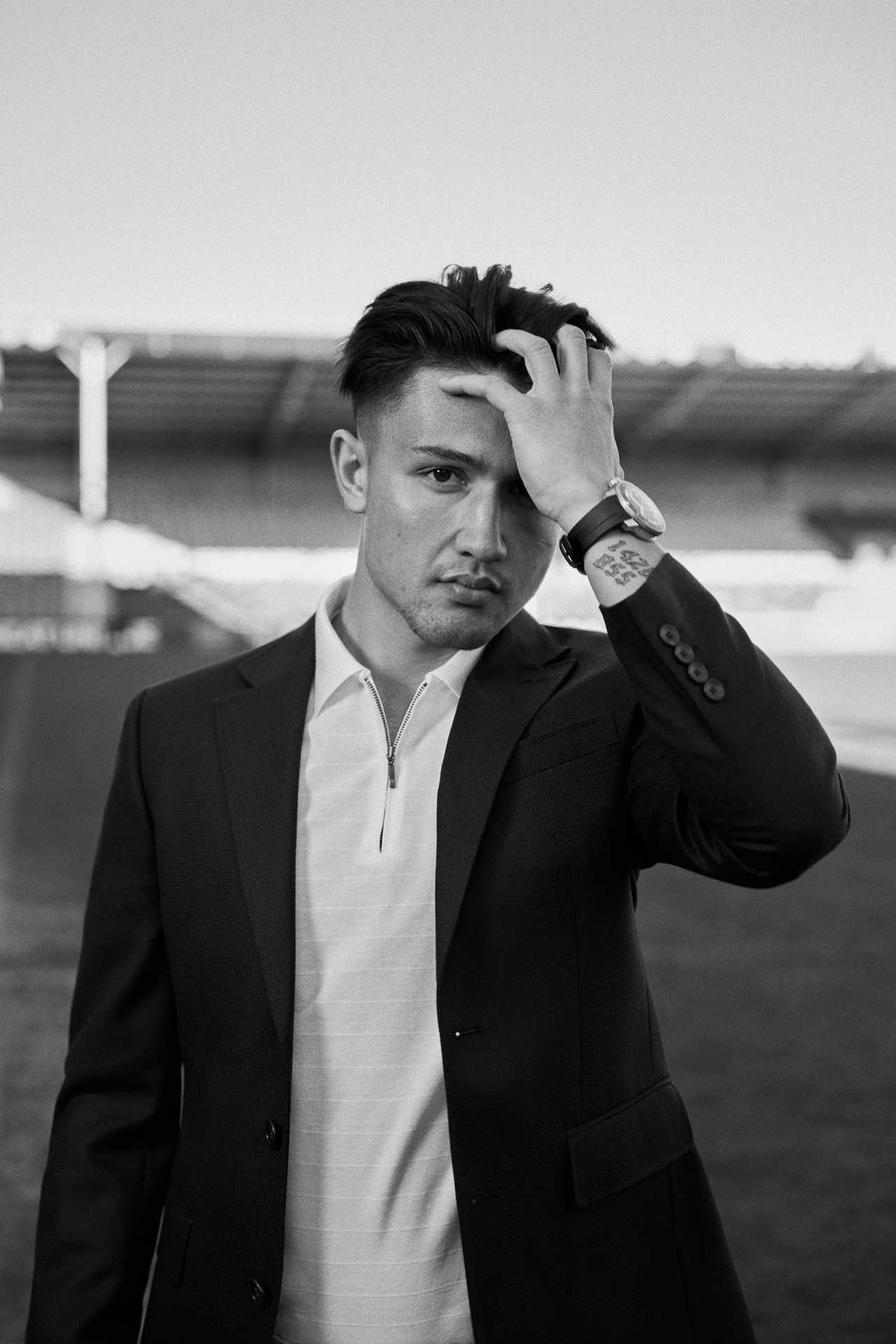 Square Mile: You burst onto the scene in 2021, going from a promising young player at Quins to all of a sudden being a future England star. What was your secret?
Marcus Smith: That's a year I'll never forget. We won the league with Harlequins, and within a few weeks I think I got my first cap for England and then managed to get on the Lions tour down in South Africa. 
It was a pinch-yourself moment. If you said to me at the end of my career I would've achieved those things, I would've been overwhelmed, but to experience those things at such an early time in my career – I think I was 22 at the time – was amazing. It made me more hungry and desperate in the future to achieve them again because the lifelong memories I made on those trips with such a talented group of players will live with me forever. 
I would say the secret is firstly hard work. A lot of the time, we're guilty of only really remembering what happens on the weekend in a game, but I take pride in my preparation. I make sure there's no stone unturned when I go to sleep on a Friday night knowing I can give the best account of myself for the team. 
As well as that, I grew closer to God and still today I pray a lot. I felt something special in 2021 and it brought me closer to Him. It's made me count on God and surrender everything to Him, because he's always got my back through the ups and downs of my life.
SM: Tell me more about your faith. What led you to explore that side of your spirituality?
MS: Obviously, that season wasn't all plain sailing. Around November-December time, I was on the bench a few times at Quins. I wasn't in contention with England, I wasn't playing my best rugby.
My mum is massively religious herself, so she always used to encourage us to pray with her. I wanted a solution. I wanted to try something different because what I was doing wasn't working, and therefore I trusted my mum and listened to her and started praying with her regularly. Through that I felt more at ease with myself. I felt more able to deal with the ups and downs of professional sport and life as well.
It allowed me to understand that everything happens for a reason and everything is meant to happen. As long as you are good and do the right things and you work as hard as you can, that's all you can ultimately do. And so I surrendered all the outcomes, everything that I can't control to Him and worked as hard as I can at the sport I love dearly. It's definitely brought me very, very close to God and I believe strongly in Him.
SM: Where does journaling come into all of this? I know you have stacks of notebooks charting your goals. When did that begin? 
MS: I met the very successful mental coach Craig White in 2021. I think before that he was S&C coach for the Lions, Wales, and Wasps as well. He came into Quins to try and build our culture, so it started that way. He spent a lot of time with me talking about improving my mental state and allowing myself under pressure to think clearly and show the best of myself. 
The first thing, or one of the early things, he taught me was around writing a gratitude journal and literally writing down word for word how you're feeling in moments when you're stressed, moments when you're ecstatic and getting it all down on a paper, so that when you look back in time to reflect on those sort of moments, you're able to understand how you felt.
I'm an emotive person and sharing those emotions is massively important. So I wrote things about how I was feeling on certain days, what I was grateful for. A lot of them come down to my family and how seeing them made me happy, which I think is an extremely powerful feeling during times of high pressure in the game that I play. It means I turn up to train in a better frame of mind so I'm free to work harder. Just writing those things down reminds you of what you're fighting for and, ultimately, that's only going to help your performance.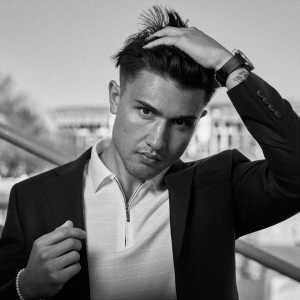 SM: That must be a great tool in managing the tougher side of the elite game. Growing up, I know turning pro wasn't something that you discussed as a kid and your parents encouraged you to have fun. At what point did you realise you could make it to the top?
MS: Yeah, I grew up in Asia, I was born in the Philippines, lived there for eight years and I played all sorts of sports. More importantly, I just enjoyed being out in the sun with my dad and brothers lobbing a ball about, and just spending time outdoors, competing in whatever game it was. I think rugby took a front foot in my life when I moved to Singapore. I was around 13-14, I was playing a lot of rugby, a lot of football, but I was desperate to be a footballer – I'm still desperate to be a footballer!
At the time I was probably better at football because I was a lot smaller. I'm small now, but I was really small when I was younger. I think that the turning point that I can remember was when I first moved to Brighton at around 14-15 years old and I didn't get into a team at a football trial, but I did get into the Harlequins Academy. At the time, Quins had just been crowned champions of England for the first time and I started to learn more about what a special club it was in terms of its players and history. They were putting a lot of attention into me and for me to experience that, especially after living on the other side of the world where professional sport was such a distant thing in my mind, that was exciting. 
The professional nature that it brought into my life from a young age was huge for me. Not long after that I said to my mum and dad that I wanted to be a rugby player. I wanted to play at the Stoop one day, I wanted to play for England, and play for the Lions. I think these sort of things I potentially wouldn't have experienced if I stayed in Asia until now. So, I'm very grateful that my mum and dad brought our family over here and gave me and my two younger brothers an opportunity to compete with some amazing players and people.
SM: In the short time that I've known you, the thing that I've noticed is what a genuine person you are. As the ground staff walk past you say 'hi' to them, you know them all by name, you speak to fans who come over. That's a result of your upbringing, right?
MS: One hundred percent. My mum and dad were quite strict growing up and I still remember when I was younger we weren't allowed to leave the dining table until everyone was finished and things like that. At the time all I wanted to do was get outside and  play football, rugby or cricket, but I think the fundamentals of that was just discipline and about respecting the people around you. 
For me, as I said, I'm in a privileged position to be able to be a part of Harlequins and I think all those staff that I saw today feel that way as well. I'm very grateful to be in this position and I'm always thankful for them.
Look at the facilities we've got here, look at the pitch we've got, the stadium. If it wasn't for the staff, it wouldn't be kept like this. All the unseen work, I think that goes behind the scenes, they probably don't get the credit they deserve. The least I can do is say hello. I would like to think I'm a respectful person. Hello is just basic manners, isn't it? It's got to be done.
SM: I think it speaks volumes about your values, and maybe it explains why you've been able to handle the attention of the media from so early on? It seems like from the moment you put on an England jersey, there was this energy around you and you were being labelled 'the next Jonnny Wilkinson'…
MS: I always see it as a privilege that you're written about and being compared to legends in the game and great people as well is an honour, but it's something that I don't really read too much into because I'm on a different journey and a different path in my career. I'm currently still really young, I've got a lot to learn and a lot of experiences to go through, so to be compared to them is special because one day I'd love to emulate some of the things that Jonny Wilkinson did. He's a special player. 
However, the way I see it is every single time I get the opportunity, I have to put my best foot forward, make sure I prepare as hard as I can in the week so that come the weekend I can go out there, express myself, and do it with a smile on my face. Your career definitely flies by, I still remember my first game at Quins like it was yesterday, so I've got to make the most of every opportunity, because you never know when it's your last game.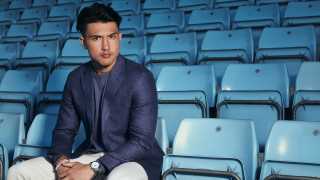 SM: Wilkinson has actually become a close advisor and a friend, right? How often do you guys talk and what kind of advice has he passed on to you so far?
MS: I was very lucky to have met Jonny at an under-18s camp. Even now, I remember how excited I was when I first saw him. As I said, he's a legend of the game, but also more importantly, he's a great bloke who's very approachable. 
He's got time for me and I'm very lucky to have him to talk to because I've learned an awful lot about dealing with pressure, about living my life in a way where whatever happens I can control my state of mind, and learning to never be flustered by anything. That's a skill that with practice can be very powerful if you can master it. 
I chat to Jonny probably a couple of times a week, and I try and kick with him as often as I can just so that I can continue to hone my kicking skills and improve with both feet and all that stuff. It's something different in my weekly routine and I'm always excited every time I drive to see him because I know I'll come away a better person, a better player.
SM: It's about filling up your cup and being a student of the game, isn't it? Especially as rugby is changing so quickly at present…
MS: Yeah, I think if you look at rugby over the last 15-20 years, it's changed a lot. I think the way the laws are refereed these days has a big steering on how the game's played and I think the key things are, like you said, just making sure you're a student of the game and understanding where you think the game's going, speak to people about where they think the game's going so that you have the best picture in your mind about what's the best way to play to use the rules to your advantage.
There are many ways to skin a cat, so I'm constantly trying to evolve the way I play and the way that I think is the best way for the team to win, especially in fly-half position. In the heat of the moment, you probably are one of the key decision makers on the field and if things aren't going well, you have to be brave enough and think quickly enough to change the tide of the game.
SM: As fly-half, you have to be incredibly resilient and not afraid to make the wrong choice. I think there are so many crucial moments where you are the person with the hands on the ball and all eyes are on you, whether that's kicking or leading an attack. 
MS: It's obviously a balance as a fly-half. The team does look at you for decisions and obviously you touch the ball a lot more than probably a lot of other positions on the field, so you have a big influence on the game. 
For me, that's just about focusing on the basics that I can control: my running, my kicking, my passing, my tackling, and with that, trying to be as calm as I can in every moment so that I'm not premeditating anything I want to do. I'm almost reacting to what's in front of me and hopefully I've worked on the skills enough that, come the situation, I'm able to counter it effectively.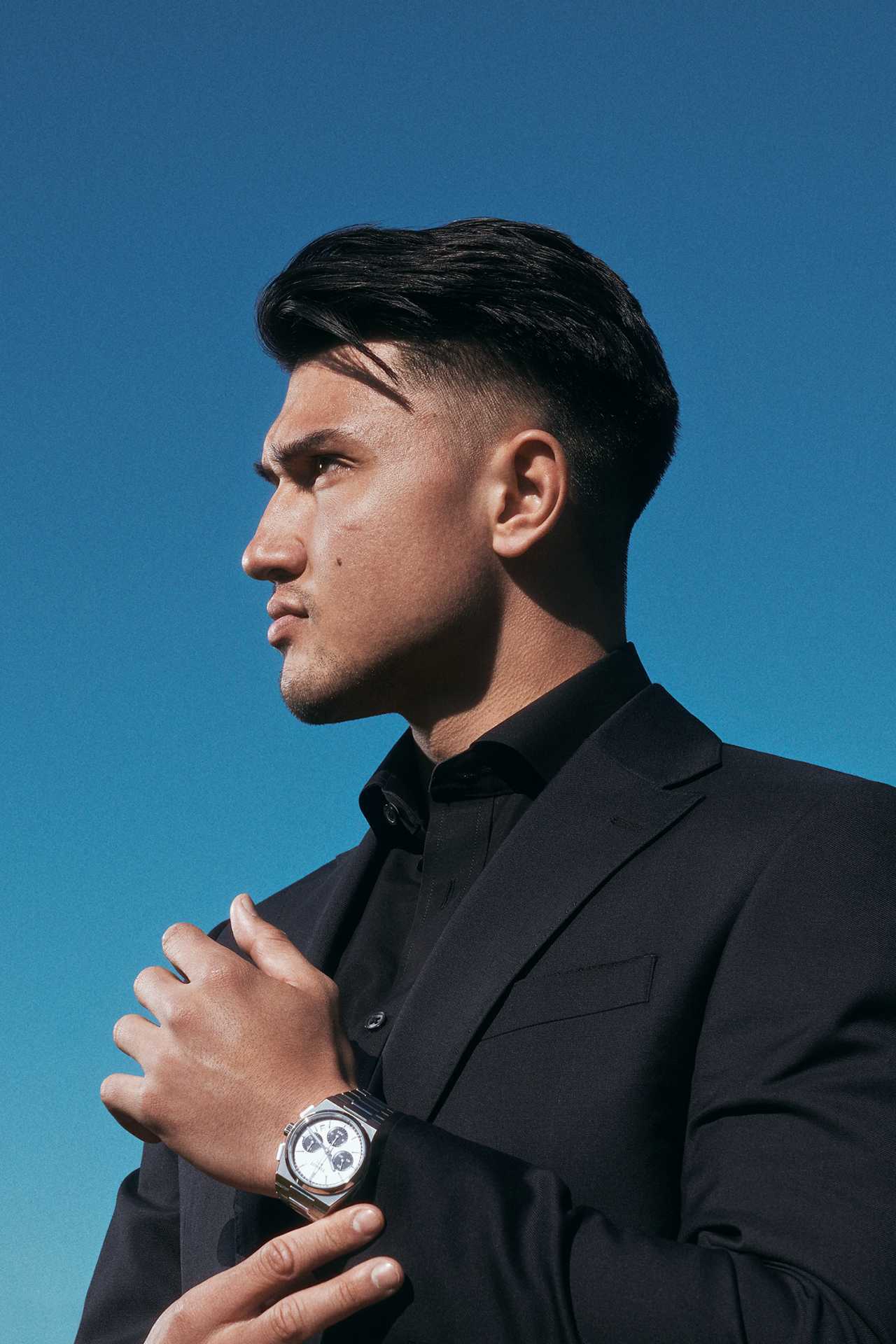 SM: Eddie Jones has been an integral part of your rugby education. How important has he been in your career since your school days?
MS: I've actually known him since he was Japan coach. They were training at Brighton College and I chatted to him a little bit then, so I think I was 16 or something like that. He watched one of my games and gave some feedback to my school coach, Nick Buoy, and to have someone like that who's known me since I was a teenager is great for me.
He took over the England job in 2015 and pulled me into an England camp before I was even a professional and I was able to train with the guys I think before they went to Argentina in 2017. Just to be able to be in a session coached by him, he's obviously a brilliant coach globally and he challenged me when I was younger. He pushed me, but that was ultimately in my best interest.
I've learned an awful lot from him and, over the last couple of years especially, our relationship improved. It was a good experience for me to work with a coach like that who's got unbelievable experience across the world of rugby. 
SM: As the only England coach you've known as a professional, whoever was going to replace him was probably going to be a transition for you. Has it been a difficult adjustment under Steve Borthwick? 
MS: No, I wouldn't say so. I think before we went into camp for the Six Nations, we all had one-on-ones and I was very lucky I was able to sit with Steve for a couple of hours, pick his brains and ask him loads of questions, and he did the same with me. I feel over the five weeks we had, we got closer. Obviously time allows relationships to build and I was only in camp for eight weeks, so I've only really worked with Steve for eight weeks as such. Hopefully this summer I get picked in the World Cup squad and I'm able to spend more time with him.
What he's done with Leicester and Japan is unbelievable, and even the building blocks that he's put in place for us at England have been great and I've learned a lot even in the short period. I'm looking forward to seeing how our relationship grows and I'm looking forward to learning a lot more from him.
SM: Looking ahead to the World Cup, what kind of chance do you give England? Do you see yourselves as underdogs?
MS: Obviously with the world rankings the way they are, we're not where we want to be. We want to be the best team in the world. I think we're sixth at the minute, so we've got a lot of work to do before the World Cup. But I think the good thing is we've still got time; we've still got time to make amendments to our game and we've still got time to all improve individually as players. 
I think whoever is lucky enough to get on that plane to France will be in the best physical condition of their career. I think they'll be mentally fresh and buzzing to go. There aren't many people who've played in World Cups, and to be a part of one would be a dream come true. I think whoever goes out there will try the hardest for England to try and bring the trophy home.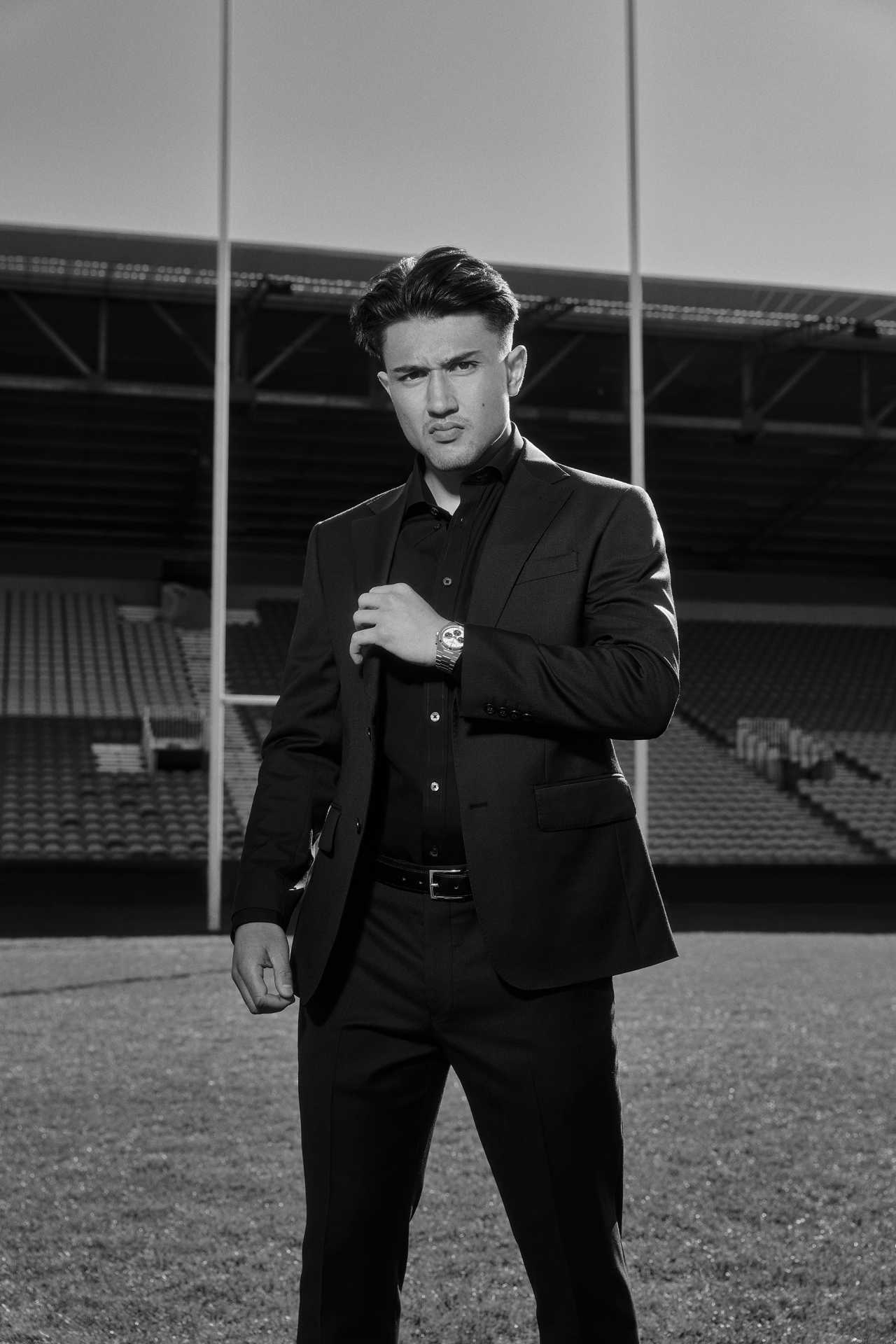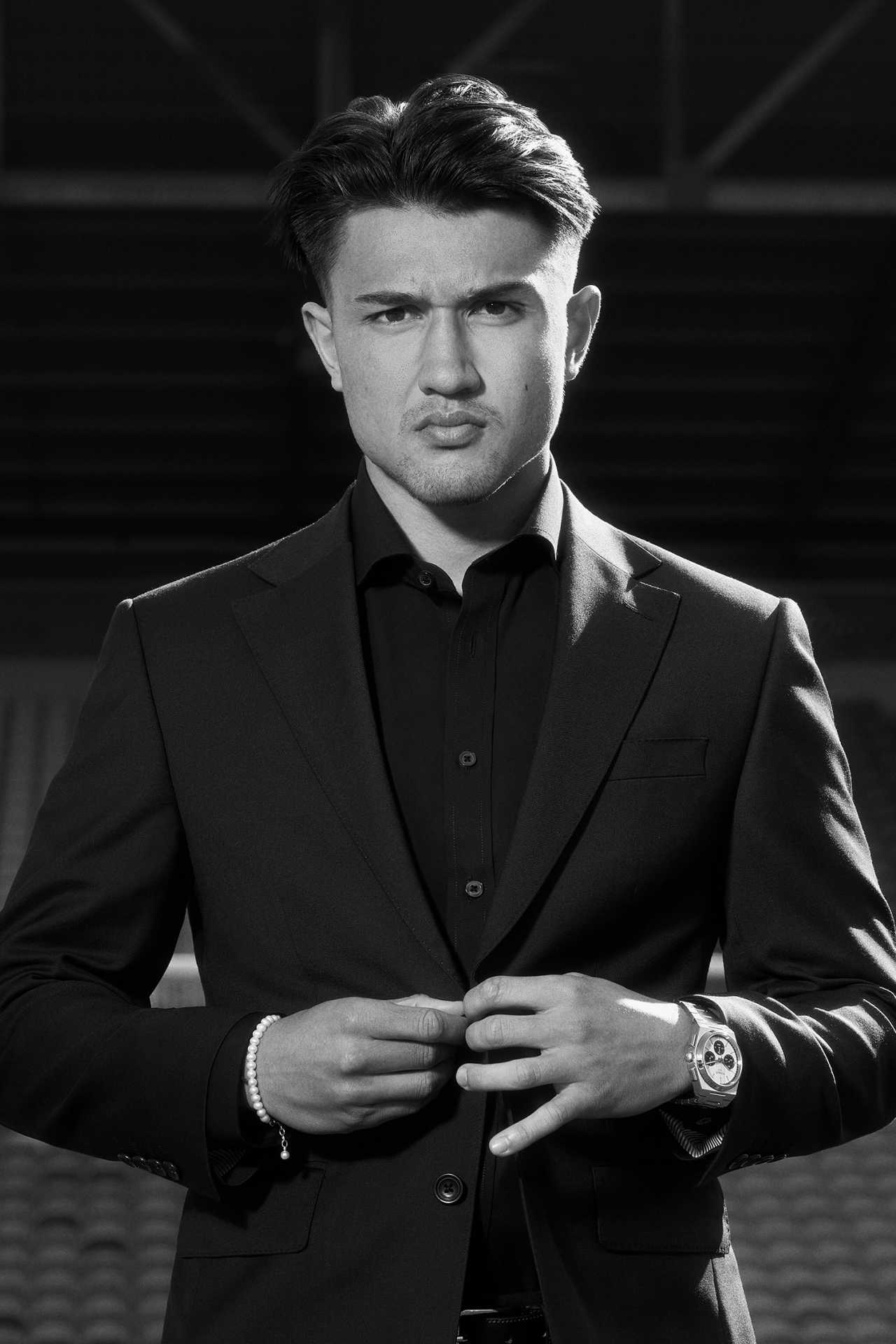 Marcus Smith x Tissot
On his role as Tissot ambassador
SM: Why do you think the worlds of sport and watchmaking are so closely entwined?
MS: Timekeeping in sports is a big thing. Whether it's during the game or managing your time outside of it, balancing the many commitments and responsibilities that come with it; you need to always be on top – I think that's the natural tie-in. Also, as athletes, we always want to look the part and having a nice wrist piece helps complete any outfit; it's a statement piece and the perfect accessory.
SM: What attracted you to the world of watches? Do you remember where your fascination started?
MS: I would have to say it's down to my dad. He gave me my first watch and I love the idea of passing down special watches to family members. It makes them sentimental. That, and how smart they can look. They take an outfit to the next level.
SM: Tissot creates some fantastic heritage pieces as well as sportier models. What's your personal style?
MS: Depends on the occasion. Normally a sporty model if I'm dressed casually like normal, but if I'm trying to look my best then a smart metal bracelet would be my go-to – like the PRX [pictured left].
SM: Do you have any tips for people looking to buy their first watch? MS: I'd just say make sure it matches your personal style and the image you want to project. It's supposed to enhance your appearance, so you've got to wear it confidently. Go for one that you can wear anytime, anywhere.
See more at tissotwatches.com
SM: Heading into France '23, one of the big questions has been the partnership between yourself and Owen Farrell. You two are the catalysts of the team; are you confident that you guys can push each other forward?
MS: Ever since I met Owen, we've gotten along really well on and off the field. He's a massive competitor every time I've played against him, we're both competitive guys, but we always shake hands with respect when the whistle blows. I respect him massively for everything he's done in his career. To be able to rub shoulders with him and learn off him has been a massive help for my career. 
We've obviously played a few times together now, and I love playing with him. I love having him outside me to be able to bounce ideas off. He's another brilliant decision maker, so to be able to give him the ball and know that he's going to make the right decision nine times out of 10 is a luxury. Hopefully our relationship can continue to improve on and off the field and we can be part of a squad that creates history in France.
SM: I think we know the Six Nations was far from perfect, but there was enough potential shown in those games to suggest that you guys could put together something special.
MS: Yeah, definitely. As I said, there's loads of time left, but with that, there is still a matter of urgency that we've got to get on with it and improve because we're not exactly where we want to be just yet. 
To be the best team in the world this summer, we're going to have to improve every facet of our game, but I'm sure that the team that's going out to France will be the best prepared team that we can have and will give it their best to make the country proud.
SM: I wanted to talk about your Filipino heritage because I know it's important to you. Could you tell me a little bit more about the influences of your cultural heritage?
MS: The Philippines has an extremely special place in my heart. I lived there until  I was eight, went to school there. Just the strictness of the school that I went to over there, San Augustin, was crazy. I think it instilled in me discipline and a good work ethic from an early age. As well as that, I think one of the biggest things that has influenced me in my life is how family oriented my mum, her siblings, and her side of the family, are. Being a part of that is really special.
SM: Are you your biggest critic or is your mum your biggest critic?
MS: No, I would say I am. My mum is a huge motivator for me. She always challenges me. She always wants to see the best of me in anything I do. She's always on the phone. Whenever I get to talk to her on the phone, we're always there for hours talking. She's challenging me on this, I'm defending myself, it's a productive conversation.
Ultimately, I know it's from a good place, it's from a place of love and, therefore, whatever she says I take on the chin and try and bring it into my life because she's obviously said it for a reason.
SM: What are you guys talking about at the moment in terms of areas to improve?
MS: For me, it's about, first and foremost, the way I talk in public to my team, being able to get my thoughts out there in a respectful manner with enough oomph so that, in the heat of the battle, it gets remembered. It's about key, short messages. 
Then, in terms of rugby, I'm always working on my kicking game, improving my running, improving my defence, focusing on my decision making. It's all facets of my game.
I work as hard as I can every time I get the opportunity to get on the field. I love practising, I love challenging myself and I love to see myself improving. More than anything else, that's what makes me happy. 
Marcus Smith is a Tissot ambassador. For more information, see tissotwatches.com