Can you tell us about MATCH Hospitality's journey into the luxury-corporate hospitality industry?
MATCH Hospitality is part of the Byrom group of companies, which is a family-owned-and-run business with over 30 years' experience in sports event services delivery. The 1986 FIFA World Cup MexicoTM was our first foray into the world of landmark sporting events. That tournament was in many ways the dawn of a new era of globalised large events, and our newly established tour operator company, Mundimex '86 was at the forefront of bringing people from all over the world to Mexico to experience it. Over 50% of the international fans who attended the tournament were guests of ours, many attracted by our novel 'Team of your choice' ticketing model.

This was the start of being recognised as industry leaders in the developing sports hospitality sphere. A number of milestones – like the incorporation of Byrom plc – and official appointments followed. Operating as the World Cup Accommodation Bureau ("WCAB"), Byrom plc was the very first company to officially manage the official accommodation for the FIFA World CupTM, starting at the 1994 tournament in USA.
We contracted rooms in more than 670 hotels and innovated the development of the Check-In Voucher operating system to facilitate guest accommodation at these volumes. The scale of it was incredible, and all in a world without the ease of the communication and digital collaboration tools we enjoy today.
These kinds of innovations allowed us to develop and define premium experiences at the biggest events in the world. In the following years, our range of services and the group of companies all grew and strengthened – as did our relationship with various sports events and tournament owners. Our range of services continued to evolve as we took on more incredible tournaments.
We are constantly learning and redefining expectations for the industry. Over the last three decades, we created sport hospitality experiences that changed how industry operates. We know what makes the experience of an event a truly remarkable one. With a world-class team, supported by innovative technologies and event management systems, we also have some innovative and ambitious ideas on how to continue leading the way.
We are constantly learning and redefining expectations for the industry
How do you go about creating the best luxury experience? What are the key questions you ask yourselves as a team?
Our strategy is founded on a commitment to service that elevates the client and customer experience. As a business, we have a depth of industry knowledge, an unparalleled sales network, and we know events inside and out. That is how we provide end-to-end execution and management of events. We ground our capabilities in extensive, global market research too – so we know who we serve, what they aspire to experience, and how we can take them there.
When we get down to delivery on the customer-facing end, everything is centred on the experience we create and offer – ranging from the family-friendly, inclusive spaces that are immersive and interactive, to the gilded, premium, and exclusive spaces for guests seeking rare experiences.
So, the questions we ask are all about making that happen, such as how we build packages that allow guests to feel a part of an event, or how we ensure a hospitality guest's experience of an event is seamless and hassle-free?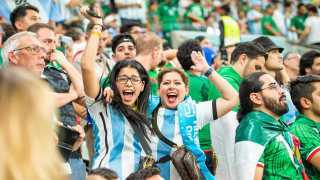 Are expectations changing in modern luxury hospitality?
The concept of luxury has undergone significant changes in the time we have been providing our services. It's clear that generally our understanding of luxury has broadened, from one of pure materiality to a much more experiential one. Some clients want crystal glassware, but everyone wants to feel a part of something bigger, experiencing more access, more passion, and often emotional connection to events.

Luxury hospitality therefore has to hit both the material and experiential requirements. It needs to have a unique factor that cannot be readily replicated. Comfort, ease, access, and an elevated user experience are all defining elements of contemporary hospitality product design.
What is your personal favourite sport for the hospitality viewing experience?
Nothing matches the sheer excitement of many thousands of avid fans, driven by the allegiance to their national team bidding to succeed at a FIFA World Cup match.
Hospitality is often considered a means to augment the sporting experience in a premium way, as it increasingly appears to be a great way for businesses to network. Is that something you are seeing in your clientele? 
Major sporting events provide fantastic networking opportunities, and that is why this industry used to be primarily "corporate hospitality". In person, real world, face-to-face networking for business growth is still a key desire for many of our clients. Sporting events are highly social occasions with a great focus on community and a shared experience. We have seen first-hand how they can become a wonderful platform for our clients to network, learn, and build relationships.
Increasingly, though, sports hospitality has opened up beyond corporate, for families and friends who want to experience something amazing together. We also see a large number of high-net-worth individuals who want to witness big sporting events, in the kind of comfort and style they have become accustomed to.
Our understanding of luxury has broadened, from one of pure materiality to a much more experiential one
No doubt the FIFA World Cup in Qatar has been a huge focus for you. Could you tell us more about the MATCH Hospitality experience?
Our guests can expect impeccable products and service, against the backdrop of an exciting tournament hosted in a modern, compact, and technologically advanced location. Additionally, they can expect a world-class experience at every hospitality product tier. We have multiple levels of ticket-inclusive hospitality products available, all offering their own distinctive and curated way to experience the spectacle of the FIFA World CupTM, ranging from social to exclusive, casual to ultra glamourous. We also have bundled matches called Series, and off-site products (outside of the stadiums).
This is the first World Cup held in the Middle East, and one of the challenges for the market has been understanding where alcohol is allowed to be consumed. Could you tell us more about how Match Hospitality is solving that problem?
The service in our hospitality products (MATCH Club, MATCH Pavilion, MATCH Business Seat, etc) will have a full range of international beverages, including alcohol. Customers of our private suite products specifically (MATCH Private Suite) will be given the opportunity to choose whether they would like to have only non-alcoholic beverages provided or whether they would like the full range of available beverages, including alcohol.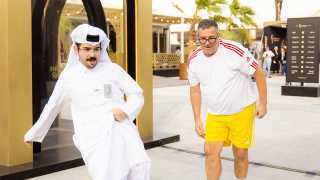 Can you give us any details on the premium options you will be offering at the FIFA World Cup for clients? What can people expect to enjoy?
The Pearl Lounge is our most opulent and prestigious experience available for clients at the FIFA World Cup 2022 in Qatar. This is a six-star offering that represents the absolute pinnacle of luxury sporting hospitality. It places our guests right in the heart of the action at the magnificent new Lusail Stadium. This is the venue for the final and is the only stadium with a Pearl Lounge.
The Pearl Lounge is perfectly situated right above the halfway line to give the best stadium views possible for the biggest sporting moments of the decade. The first-class service includes a dedicated concierge, a six-course gastronomic showcase, with live chef stations, in-lounge entertainment, and selection of champagnes. Cocktails and artisanal coffees will be served along with wines selected by a world-class sommelier.
How do you believe the hospitality industry will change in the future?
What started off as corporate hospitality has been changing for years, to a more individual experience. Digital has also been a factor therein. The industry must evolve to meet the demands of its users, in how they seek, book, and experience hospitality, and this includes the environmental and social impact that our experiences have. It would also be naïve to underestimate the impact of the pandemic that we have lived through, as well as the downstream effects like changes in work patterns and the blurring of boundaries between business and leisure. This is contributing to systemic change, and we are not immune to it.

This makes unique hospitality experience sought after – experiences are key. I believe that immersive experiences in curated spaces with exceptional service will become the gold standard for the hospitality industry – that is what we work to deliver to our guests, as responsively and responsibly as possible.
For more on the World Cup, see hospitality.fifa.com. To discover more from Match Hospitality, click here.