The Queen's Jubilee has led to an inevitable plethora of commemorative special editions – some rather better than others. (McLaren painting an Artura in platinum showed a distinct lack of imagination, we thought.)
One company doing it right is Burberry. Perhaps that should come as no surprise as the British brand is a Royal Warrant holder and official Weatherproofers to the Queen.
And so when it came to creating something to mark the occasion, Burberry designed an item the Queen herself is very partial to wearing in cooler weather: a silk scarf.
We must say, it's quite the looker…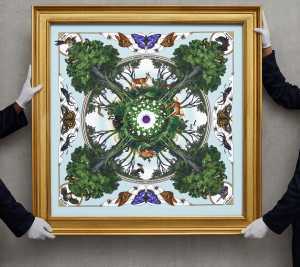 A celebration of Burberry's British heritage and the brand's roots in exploration and the outdoors, this Italian-woven scarf in silk twill is hand-illustrated with a motif inspired by ancient British woodlands and their flora and fauna.
Yew trees, bluebells, butterflies and squirrels are joined by birds representing each of the four British nations: a Robin for England, Capercaillie for Scotland, Sparrowhawk for Northern Ireland and a Golden Eagle for Wales. It's the garment equivalent of blaring 'Rule Britannia' at full blast, Union Jacks waving in the air.
More than that, the British fashion house is marking the occasion with a donation to conservation charity, The Woodland Trust.
No doubt Ma'am will be pleased. 
£330; available from all Burberry stores, in store at Harrods, and online at burberry.com