A black-tie invitation is not the most common letter to receive in your mailbox these days. But cocktail hour has taken on a whole new lease of life during the Covid pandemic, with virtual quarantinis via Zoom now de rigueur.
So whether you want to make an online impression, or host a special dinner for your immediate bubble, what if you want to go full Gatsby? Do you need a cummerbund? What cufflinks should you wear? Self-tie or pre-tied bowtie? What even is a cummerbund?
Evening dress – or full dress – is a traditional dress code for events held after 6pm. The style, as we know it today, was formed back in 1865.
The Prince of Wales, the future King Edward VII, frustrated by the constraints of traditional white tie, placed an order with Henry Poole & Co on Savile Row for a short evening jacket with matching trousers in a midnight blue cloth. Thus, the dinner suit was born.
There are some fixed rules to evening dress, but when the final party destination requires you to board an airplane – anyone else missing weddings abroad? – you can allow creativity to start flowing, and play with colour as well as texture. You might even end up deciding on a dashing pink jacquard silk jacket.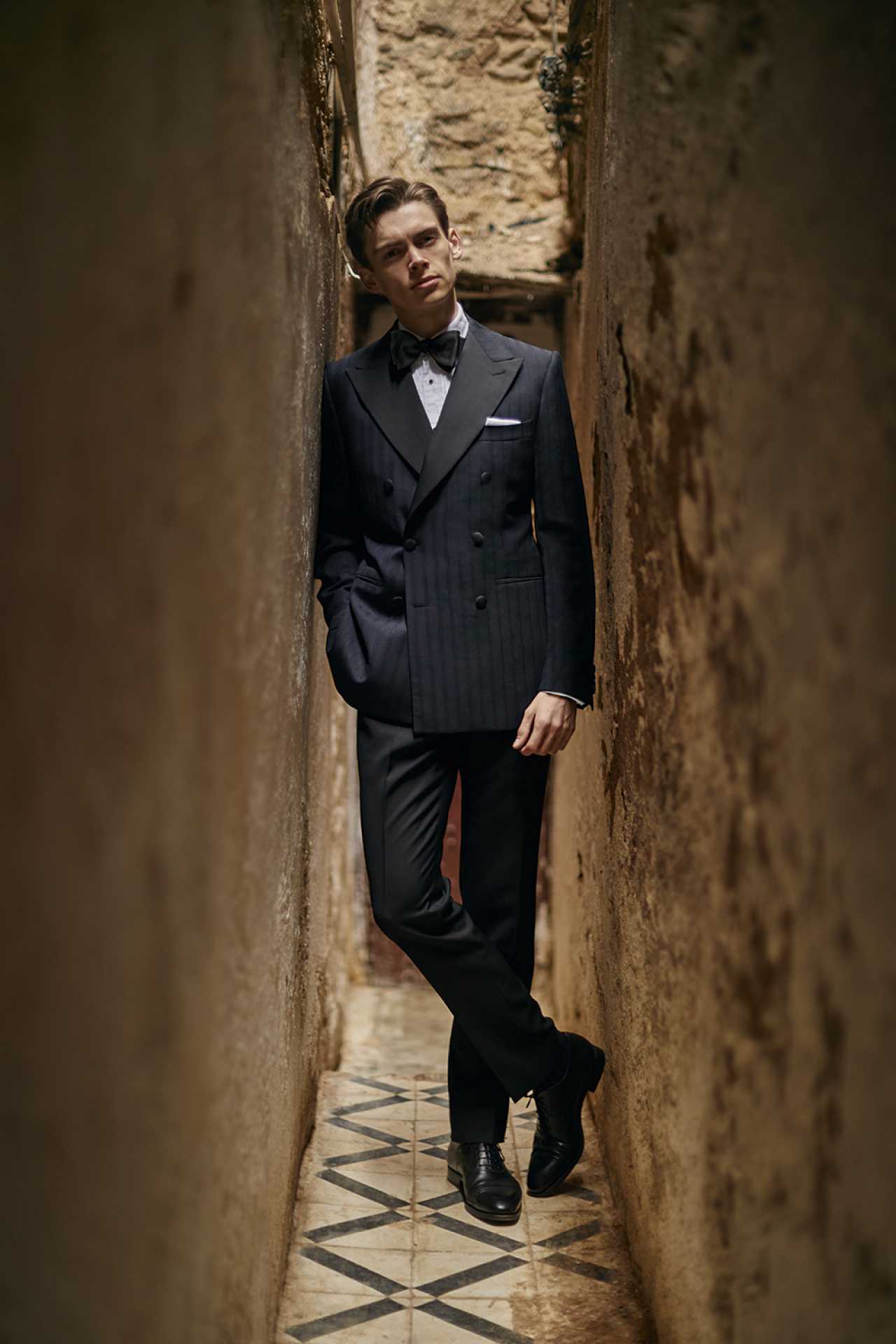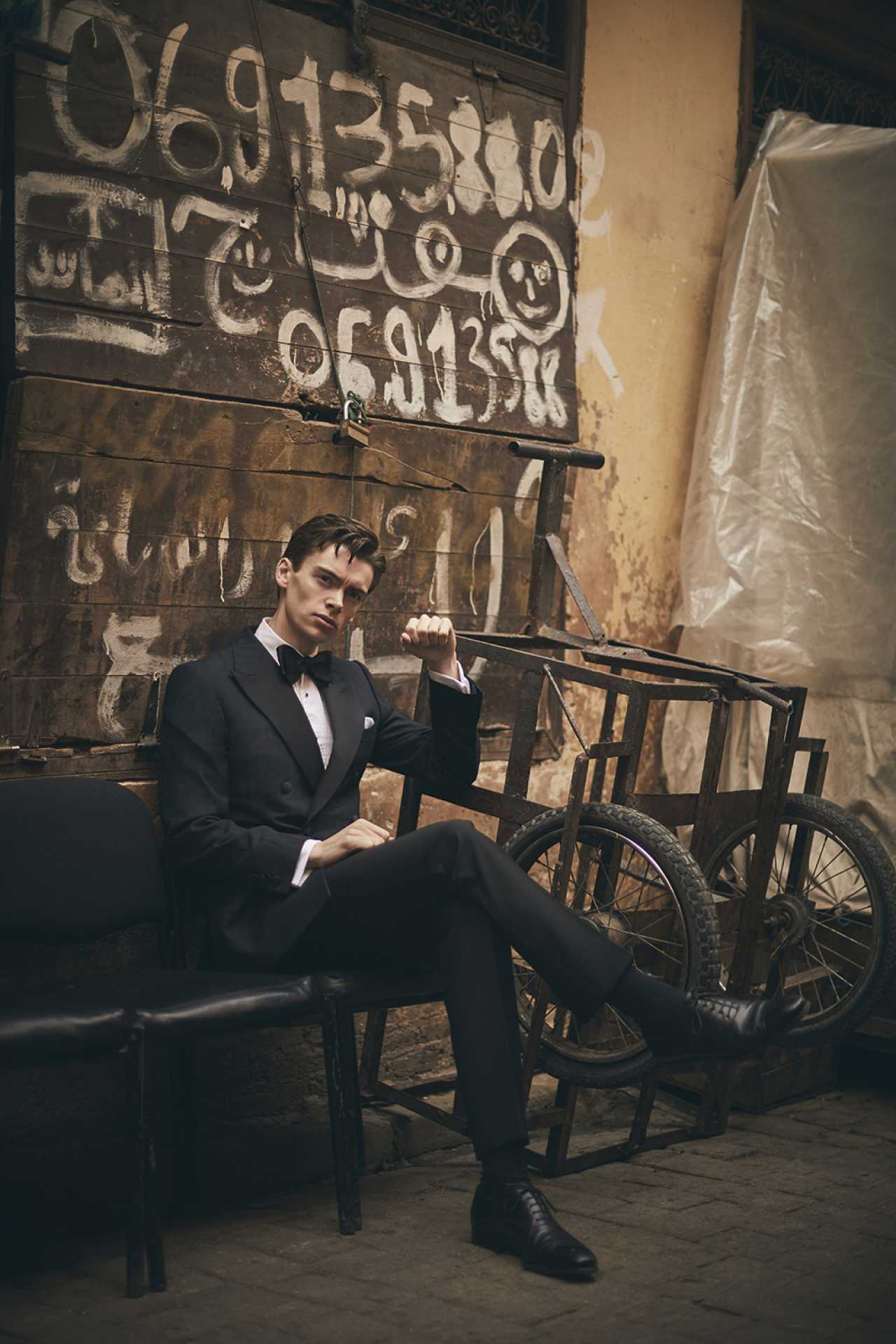 These images were captured last year in Morocco's spiritual capital, Fez. It is known as the world's largest medina, chaotic but marvellous at the same time.
Staying there for three days for this photoshoot was an adventure that I will never forget. As we still all have a limited travelling calendar ahead in the shortterm, it feels like a fitting time to share this adventure – from what feels like another world – as an editorial essay paired with a few sartorial lessons on formal wear.
So, please read on to find out how to look your best for your next virtual black-tie event; these are my rules for dressing well in evening wear…
PICK THE RIGHT BOW TIE
Always opt for a self-tied bow tie over a pre-tied. There is something truly beautiful and unique about imperfections. If you insist on pre-tied, then find one that's not too perfect.
SHOES CAN MAKE OR BREAK YOUR LOOK
Don't make the mistake of wearing your scruffy office Oxfords to the ball. Your evening shoes should have a high polish and a finer silhouette than a standard Oxford or lace-up.
AN EVENING SHIRT, IS NO ORDINARY SHIRT
Your shirt should be double-cuffed and secured by cufflinks, not buttons. You're getting dressed for a special occasion, so you can't get away with your ordinary white shirt.
It should have a pleated front and be fastened with studs.
When it comes to choosing your cufflinks, don't go over the top with anything too bling – diamond-studded skulls are best left to Damien Hirst – and leave Lego to your children.
And for your shirt studs, stick to something classic such as black onyx or mother of pearl.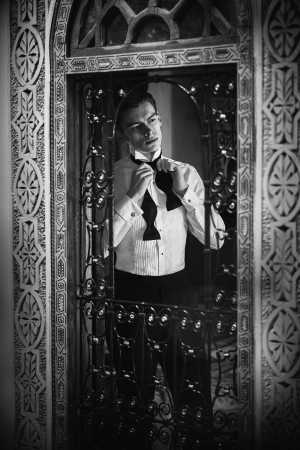 MATCH YOUR METALS
Your black tie-appropriate timepiece isn't the only hardware that will require synchronisation. The trick is to marry your studs, cufflinks and watch for the most distinguished overall effect. →
DON'T WEAR STANDARD SUIT TROUSERS
It is very important to get the trouser right: black or midnight blue barathea trousers with a single braided or satin stripe down the outside leg.
DON'T FEAR THE PEAK LAPEL
When it comes to the jacket lapels there are many choices; notch, peak, or shawl in single or double-breasted. Any of these jackets are suitable for black tie. A peak lapel can feel a bit much on some office suits, but it is the most traditional of the dinner suit options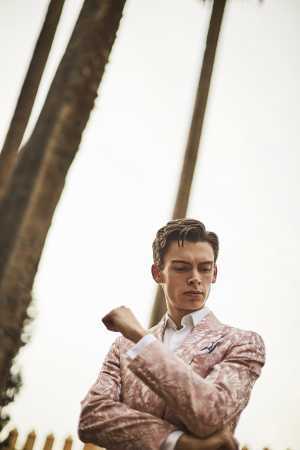 GET THE LOOK
The first look is the most traditional, but with a subtle flair that makes it stand out from your average tuxedo. A double-breasted evening suit in midnight blue, it is cut from lightweight wool with tonal dark blue stripes, and finished with black silk grosgrain lapels and buttons for
a polished glance. The evening shirt is hand-cut by the finest shirtmakers of London's Jermyn Street, Turnbull & Asser Bespoke.
The above look presents a sophisticated yet dashing option for a warm weather winter wedding. This single-breasted tropical jacquard evening jacket in pale pink features jetted pockets and mother-of-pearl buttons, a nod to the traditional dinner suit. Here, I've styled it with an unbuttoned pleated dress shirt and cream linen trousers.
The below look features a one of a kind garment made by one of England's oldest vertical mills for Gieves & Hawkes. A pure silk evening jacket with a bespoke tropical cactus jacquard. It is woven piece by piece, cut and pattern-matched by hand. A brilliant showcase of sartorial savoir faire and attention to detail.

THE ULTIMATE
Henry Poole & Co – or simply Poole's to its patrons – is known as the bespoke tailor that made the first modern-style dinner jacket, so that is really the ultimate choice for a black tie party.
I would opt for something classic but with a retro flair; a classic black dinner jacket with matching trousers, a cream silk ruffle front evening shirt and of course, a self-tied bow tie.
Follow Mathias on Instagram.