When MR MARVIS was launched back in 2016, the remit was simple: make the perfect pair of shorts and offer them in just about every colour. These Originals are the ideal length (just above the knee), super comfortable thanks to their elasticated waistbands, and made from high-quality cotton twill.
The next step for MR MARVIS was to expand its ethos to swim shorts, known as The Swims – before broadening the offering sideways with a larger range of short styles. 
Take the new seersuckers, fresh for this season: these airy shorts, made out of certified 100% organic cotton, take their name from their fabric. The characteristic material with a fine stripe gives these shorts a casual look and feel.
How about shorts for your family, too? Enter, the JR MARVIS collection – providing even the smallest misters with the ultimate comfort and fit. Available for boys between two and 14 years old, the range has gained several new vivid colours this season.
Basically, what MR MARVIS doesn't know about shorts isn't worth knowing. So what next? Well, Longs, obviously. Otherwise known as trousers to you and me, the slim-fit Longs have just been launched. They are available in 11 colourways, and all made from Oeko-Tex and BCI-certified cotton.
Whether you're going long or short, MR MARVIS products have one thing in common: they all subscribe to 'slow fashion'. MR MARVIS doesn't replace its collection, but rather expands it with new styles and colours each year, so there's no wastage.
The brand also strives to produce its collection responsibly and sustainably. Take the MR MARVIS' sport shorts, for example, which are made from 88% recycled post-consumer plastic bottles.
In these troubled times, it's always nice to see any brand just get it right.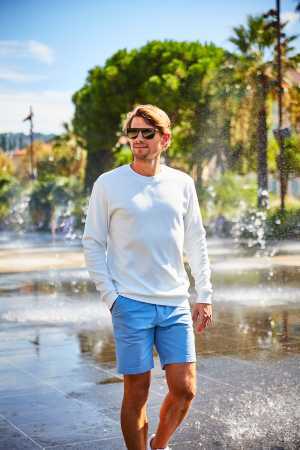 For more information, see mrmarvis.co.uk