The term 'seersucker' originates from colonial India, deriving from the Hindi phrase 'shir o shekar' meaning 'milk and sugar'.
The description is an apt one, referring to the contrasting smooth and coarse textures of the lightweight silk. This railroad stripe was originally a working man's fabric, but by the 1930s had been adopted by the Ivy League as a relaxed look for the summer months.
The wrinkled appearance is useful for negating any travel-induced creasing, but it also enables much of the fabric to be held away from the skin when worn, facilitating heat dissipation and air circulation.
For summer 2021, MR MARVIS has embraced this summer stalwart, rolling out a new collection of its iconic Swims range in a seersucker pattern.
Fortunately material tech has come on a bit since the colonial silk days. These are instead made from recycled polyamide (36%), organic cotton (31%), polyester (27%) and elastane (6%). This makes the swim shorts super stretchy, airy and dry again in no time after a dip in the sea or pool.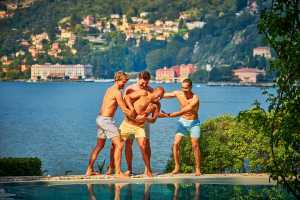 The inner lining is made of fine, soft mesh for optimal wearable comfort. You can wear the two cords on the inside and outside: you determine your own style and fit. As with all MR MARVIS products, The Seersucker Swims also has a hidden zippered pocket for valuables. The stylish silver-coloured MR MARVIS octagon can be found at the bottom of the left leg.
The Seersucker Swims are available in six colour combinations: The Catamarans (dark blue with white),The Aristons (bright blue with white), The Trawlers (green with white), The Cruisers (yellow with white), The Decks (red with white) and The Pontoons (baby blue and white).
The Seersucker Swims are available online priced at £89.