A lot of outerwear brands are fairly nerdy; they come with a pair of sensible walking boots and a waterproof Ordnance Survey map. 7L is not that kind of brand. Its jackets would look as good on the slopes of Courchevel as on a night-out in Covent Garden.
7L's core ethos is forward-thinking products that fuse style with functional-first performance – so there's more than a little chic mixed in with the geek.
The brand also takes its eco credentials very seriously, as CEO and Creative Director Jamie Lundy explains:
"I believe that everyone should aim to be as sustainable as they possibly can," he says.
"With 7L, we've picked fabrics that are durable and will last a long time. Everything is well made by competent and trained people, extremely skilled in what they do, it's traceable and also ethically sourced.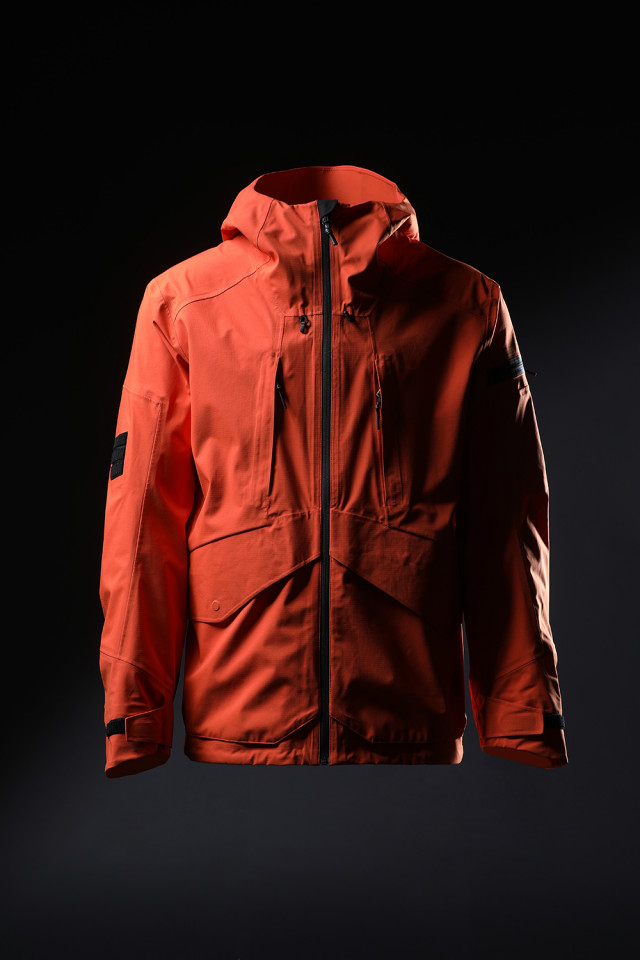 "When we want to develop a new fabric or piece, we make the best effort to stringently research what is available, what function and purpose it has and to ensure that we make them with sustainability at the forefront where possible," says Lundy.
As a young brand, Lundy says that 7L's DNA of being open to constantly listen and learn has enabled the business to be diverse, flexible and to easily adjust to any new philosophies, ideas or trends.
"We feel that because of this, we're not scared of change or of questioning our own approach to important issues like the environment. For example, I recently found a fabric made from recycled Japanese fishing nets, which I really love and want to use in next year's collections – so we will," he says.
We found a fabric made from recycled Japanese fishing nets which I love and want to use in next year's collections
One of 7L's main focuses has been to bring at least half of the product sourcing and manufacturing to Europe and the UK. The new AW20 Origin System – due for release in October – is 50% made in the UK with the rest sourced or manufactured in Portugal, Spain and China.
By taking steps to being manufactured closer to home, 7L is of course reducing the company's carbon footprint. "It's a slow process and takes a lot of time and investment but we're achieving amazing results," says Lundy.
Within the new collection, some of the garments can interact with one another. For instance, the Modular Down Jacket (MDO) – a bit like a ski jacket – link zips inside the triple layer (3L) waterproof shell jacket, thus creating a fully Waterproof Down Jacket.
"I wanted to take the brand back to its military DNA and modular concept with the '7 Layer System' and create a more masculine, gritty aesthetic - garments that last a long time," says Lundy.
The '7 Layer System' was originally developed for the US Marines to create a less bulky standard kit, enabling soldiers to carry and wear more body armour, backpacks and weapons more easily.
The military developed a 12-piece kit that essentially had seven layers of clothing. Layer 1 would be the base layer, which could be a cotton type garment, underwear, or a T-shirt. Layer 2 would be something like a lightweight shirt or jumper, Layer 3 a fleece layer, Layer 4 would be a field or combat jacket, and Layers 5, 6 and 7 would be a windproof jacket, a rain jacket and an arctic cold layer.
The '7 Layer System' was originally developed for the US Marines to create a less bulky standard kit
"We took that concept, fused the function with fashion and put it into 7L but with intelligent and very durable fabrics. T-shirts, base layers, wind layers, up to Arctic down parkas," says Lundy."The common misconception is that all the layers are supposed to be worn together. This isn't the case.
"You pick and choose which layers you want to wear and that suit the current environmental conditions. They are all designed to work with or without each other, layering up or layering down," he adds.
Developing content on 7L's website that will help customers better understand the layering process, the idea of the short tutorials you will find is to explain which garments work best in which conditions, including topics on breathability, permeability and humidity and how these affect your decisions on what to wear.
"One of my favourites within the ORIGIN SYSTEM is the Classic Cut Military Style 7L x ARKAIR Field Parka. This has been designed and made in the UK, manufactured from 100% organic cotton from the world renowned Dinsmore Mill in Ireland," says Lundy.
"It comes seam-taped, drop-lined, a hydrophilic membrane inserted and a DWR finish. Not to mention our Swedish inspired Camo called Night-Cam developed by ArkAir themselves as an exclusive for 7L".
Lundy explains further: "Some of our fabrics and membrane structures help regulate body climates by allowing heat and moisture out so you can still wear these warmer layers in your car or on public transport without sweating or overheating."
So there you have it – clothes that are as happy on the mountain as on the Met Line. We know where we'd rather be.
For further information, visit sevenlayer.com