Sun is shining, the weather is sweet, yeah. Now just for your wardrobe to match…
The summer of 2022 is proving to be a hot one – and fashion brands have been turning up the heat on their latest releases.
Whether you're touring Europe with the roof down or chilling out on the beach with your shades on, here are our favourite pieces of the summer so far.
We have a mix from conservative, old-school class to 1980s-inspired neon chic. We'll let you decide which looks will work for you…
MR MARVIS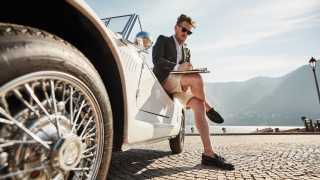 Selwyn Senatori is a Dutch Neo-pop artist. Italian by birth, but living in Amsterdam, his motto is 'It's not a job, it's a lifestyle'. Happily for him, that lifestyle is la dolce vita.
So when it came to finding a partner to help design a new limited run of summer shorts, Dutch brand Mr Marvis knew where to turn.
To help get Senatori's creative juices flowing, Mr Marvis sent him on an epic journey – taking off by sea-plane, driving down the coast in a vintage Fiat, crossing Lago di Como in a luxurious speed boat and arriving in style at the rooftop of the Villa Regina.
All this in pursuit of the perfect cup of coffee.
The end result? A limited run of the new The Coffee Breaks – an artwork you can wear on your next trip, whether that's to the Great Lakes or to Great Yarmouth.
See more at mrmarvis.co.uk
Vilbrequin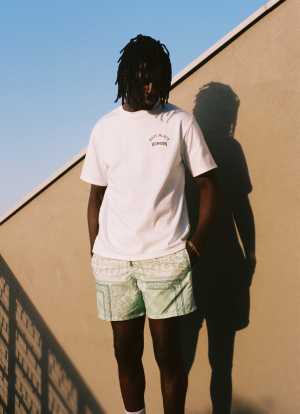 Vilbrequin never shies away from a good collaboration – and its latest is a doozy.
The French brand has teamed up with Japanese label A BATHING APE.
The seven-piece drop of swim trunks, tees, and sweats for men, women, and kids is characterised by detail-driven craftsmanship, top-grade materials, and bold print – something both brands are more than familiar with.
Mixing traditional techniques with urban-feel tailoring, this new predominantly black-and-white wardrobe is a change of gears for Vilebrequin. Pastel green and pink accents are a departure from the House's quintessentially Saint-Tropez colours, while bandana prints tap into a streetwear vibe that's very now.
Vilebrequin & BAPE BLACK collection Moorea swim shorts, £220, vilebrequin.com
ORLEBAR BROWN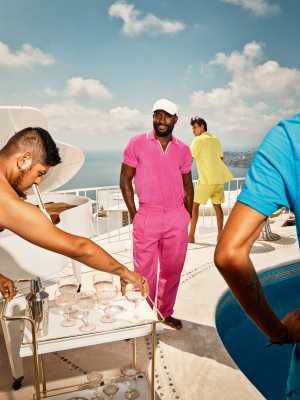 In case you're living in a bubble, the 1980s is hot right now. Like, Magnum PI's Ferrari 308 hot.
British brand Orlebar Brown is fully leaning into the trend with its latest drops – including the new Club Tropicana and OB x Wham!! collections.
These are not clothes for the shy or retiring. Think: hot neons, lairy Hawaiian shirts, and towel sun vizors. And we couldn't be more on board with them.
Come on in! The water's lovely – and the drinks are on us.
OB x Wham! Jarrett Towelling Wham classic fit half-zip towelling polo shirt, £165; Dunmore Candy Cotton-Linen trousers, £225, orlebarbrown.com
STENSTROMS
Established more than 123 years ago, Stenstroms is a Swedish brand now synonymous with good quality and timeless style. Seasonally delivering collections that are both sophisticated and full to the brim with an eclectic mix of shirting and accessory options, Stenstroms is an easy 'go-to' for those looking for a faithful partner in easy-to-wear gear, style focussed gear.
For more information, see stenstroms.com
Luca Faloni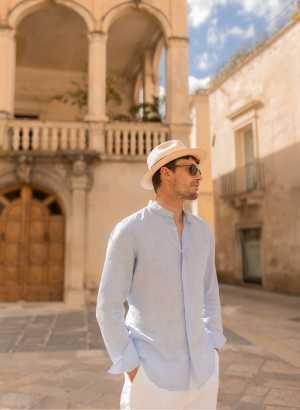 Italian menswear specialist Luca Faloni has established itself as a provider of premium, timeless pieces that have become the staple part to many a man's wardrobe over recent years. Working with only trusted artisans from the region of northern Italy, Faloni is an expert in beautifully fitted pieces that stand the test of time across cashmere, wools, silk-cotton and linen, here we choose the perfect summer linen shirt for that sophisticated get-away style.
Luca Faloni Portofino linen shirt, £160, lucafaloni.com
Varsity Headwear
Specialists in everything from the neck upwards, Varsity hails from Oslo and has fast become the first point of call for people looking for the perfect cap. Rigorously tested and deliberated over, its caps are offered in rich array of fabrics, including linen, oilskin, seersucker, wools, athletic tech and the brand's very own Seaqual fabric, which is fast-drying and wrinkle free.
Varsity Tuscan yellow linen cap, £75, varsityheadwear.com
KARDO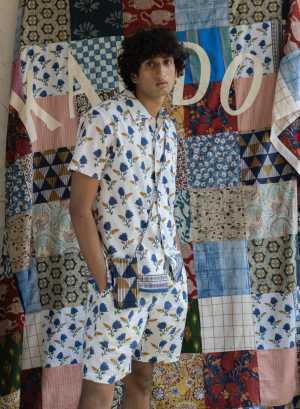 Embracing the heritage and outstanding craftsmanship of communities within India, Kardo is a brand on the rise, utilising traditional methods to produce forward-thinking and modern-day garments for both men and women.
This Chintan hand block print shirt is in collaboration with ANOKHI, the masters of block printing, who almost single-handedly revived this traditional textile printing practise and the livelihoods of block printing communities in Rajasthan since the 1970s.
The technique involves the meticulous precision of hand stamping a motif onto the fabric using a wooden block. It's a skill, often passed down through the generations, that requires patience and precision
Kardo Chintan hand block print shirt, £135, kardo.co
Ron Dorff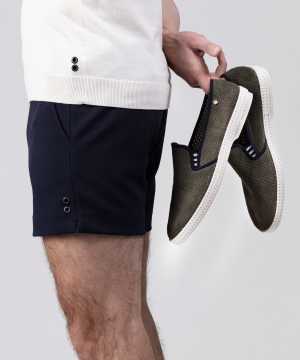 The Swedish retro sportswear brand, based in Paris, is well versed in presenting the best in 1970s and 1980s-inspired gear, but with a modern-day twist. The Mykonos Boy and Riviera Collections have proved a huge hit for the summer season, so we have selected the Ron Dorff x Rivieras cotton slip on, perfect for a stylish and easy to use option.
Ron Dorff x Rivieras cotton slip on, £65, rondorff.com
Grenson
Always a popular and well-rounded choice for footwear, Grenson has created a classic range of sandals for SS22. Its Florin design, which is available in neutral, brown and black colour-ways, has been a bestseller. So it could be time to ditch the Havaianas, and upgrade to something more lasting.
Grenson Florin sandals, £98, grenson.com