Fresh Fitness Food has a bit of a reputation in London as one of the must-try healthy food delivery services, not least because shed loads of the City's personal trainers love the stuff. Take a quick scroll of their Instagram feed and you'll spot veg-packed salmon dinners alongside protein-boosted gooey chocolate brownies. Meal prep that includes brownies delivered to your door every day? I'm sold.
FFF offers a variety of meal prep delivery options for anyone and everyone. With a team of nutritionists on hand to chat first timers through, the plan really is tailored to suit your personal needs, likes and dislikes. As someone who trains six to seven times a week, doesn't eat meat and dislikes cheese (weird, I know), this immediately ticked boxes for me. A vegetarian's biggest fear is signing up (and paying) for anything that will secretly contain lashings of parmesan.
It's so tailored to you and your nutritional needs that there's no standard option, but this kind of adds to the excitement about what's coming every day. Plus, don't miss your snazzy personal portal on the website, where you get a detailed breakdown of your daily macronutrient splits, calories and dishes post-arrival.
What do you get?
My meals from FFF focused on a split of around 130g of protein, 150g of carbohydrates and 65g of fat, translating to a healthy balance of 1700 calories including three meals, a snack and a juice every day. In real time, breakfast looked like lots of seed-topped frittatas, sweet potato oat muffins and generous servings of yoghurt and granola; lunch, tofu salads and prawn stews; and supper, many a variation on white fish with an assortment of fresh vegetables and carbs of some form.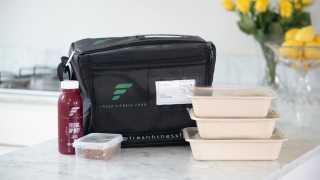 Does it taste good and will I get bored?
It's up there with one of the best healthy delivery services I've tried for a number of reasons. I'm full all the time thanks to how much protein I'm eating, meaning I don't even think about other food. And on that note, I'm amazed at the range of flavours and textures they manage to cram into the meals and snacks offered. It's not easy to make high-protein meals that good but you can taste that they've got a chef who really knows what they're doing in the kitchen. Plus, give me a sweet treat a day (FFF provided brownies, apple crumble slices and more) and I'm yours.
One thing that's worth noting here which I forgot—this really is a highly tailored meal plan, so if you don't like anything, the team are only a phone call away. If you've got a raging sweet tooth like me, for example, you can let them know you don't want your snack to rotate between sweet and savoury. Worth noting.
How does delivery work?
Your food is delivered to your door in the early hours of the morning from 12pm to 6am Monday to Friday, and you're provided with a reusable cool bag that you return each day. I worried this may be a right faff but they're great at asking exactly where you'd like your food delivered so it's nestled in a safe spot (thanks, guys).
How much does it cost?
Pricing varies depending on how many meals you'd like and how long for. It is expensive, as they go, but I must stress here just how convenient and tasty FFF was. Order three meals a day for the next 100 days and you could eat for £23 a day; for three meals for the next 10 days, and it's £27. There's loads more about pricing and how FFF works at freshfitnessfood.com.
Exclusively for Square Mile readers: use this special discount code and you'll get £50 off your first order. Simply type in SQUAREMILE50 at check out.