There is moderation even in excess, said Benjamin Disraeli. These words certainly play through my mind as I fondle a gold-leafed eclair on my bedside table, having just enjoyed a tasting menu in the Michelin-starred dining room at Hotel Chais Monnet.
A restorative, not purely indulgent, break is what I came here for after all and, despite the alcohol-famed region, whisperings about this spa gave me good cause to expect some balance.
A Cognac house converted into a luxury hotel should be a dangerous thing but there's something surprisingly holistic about this place, with elegant bicycles at your disposal, long glass corridors blurring what is outside from what is within, a pastel green 2CV parked alongside a wheelbarrow to welcome you, and an altogether picturesque setting to calm the soul.
The first five star hotel in the region, Chais Monnet is a multimillion-euro project by Javad Marandi, a British businessman and property developer, whose investments include the bucolic Soho Farmhouse and a fabulous Michelin-star restaurants in Paris. So far, so fabulous.
The Spa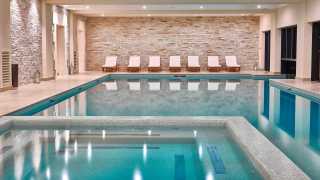 The spa and wellness area is one of the highlights of the hotel, ideally for a gentle swim in the 25 meter pool to wind down a day of touring Cognac cellars, or restorative moments in the hammam.
I recommend a snappy workout followed by an hour long signature massage, before padding back to your room and pouring yourself into evening attire for a cocktail in the mood lit bar, le 1838, where there may be jazz, and there most certainly will be Cognac.
Dining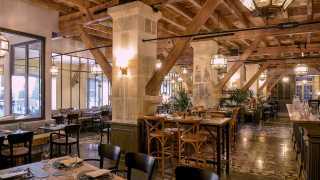 For a casual and beautiful lunch, La Distillerie is a buzzing brasserie that is most alive during weekend brunches. The menu skips from lighter dishes like Salmon trout Gravelax to big seafood numbers and wine-soaked regional specialities.
For something a little more special, Les Foudres – the work of gastronomic king Sebastien Broda – is a white-table clothed affair offering complex dishes like eggs cooked with truffled pecorino cream and Pata Negra Bellota ham, and simple but impressive beasts like the Brittany blue lobster.
All four desserts are deeply theatrical and snap-worthy, but one cannot go wrong with The Chocolate, with crunchy peanuts, caramel cream, sea salted chocolate biscuit, and emulsion Guanaja ice cream.
The Rooms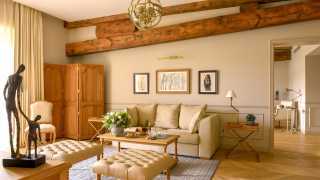 Rooms are elegant and generously sized, dressed in cream and taupe, with plump, high beds, and Louis XV-style furniture. Aside from comfort and style, the turn down service includes a full plate of rich homemade fancies, including eclairs to ruin diets for. Breakfast must be taken, at least once, in the room, perched on plump bed pillows and admiring the views.
Rooms start at 230 Euros a night.
While you're there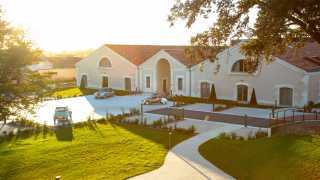 Not far from the hotel is a delightful day trip to trigger dreams of moving to the French countryside to set up shop and live the good life. La Baume de Bouteville is an artisan French balsamique vinegar house, started by young entrepreneurs Lionel and Cedric, in the heart of the Grand Champagne area of Cognac.
Take a tour of the production house, then sample a few balsamics along with (if you ask the hotel to call ahead and organise) some oysters and a crisp glass of Champagne. Then head into the House of Cognac for a tour of an altogether grander institution, and some very strong samples at the end of your education.