There's something very cool about The Gantry and I can't quite put my finger on it…
Perhaps it's the fact it's a Hilton that feels less like a hotel and more like a shared working space for young creatives, which happens to have very plush rooms. Or perhaps it's the fact it's a brand spanking new hotel in one of London's up and coming areas (Stratford's East Village).
Who knows? Not me, and I've had the pleasure of staying there. Whatever it is, this is a hotel that's surely on the way to becoming one of London's Next Big Things.
After opening its doors in November last year, The Gantry has gone from strength to strength – and not just because of its Flat Iron-inspired design, influenced by industrial Victorian East London and Stratford's historical role in the city's train building industry. No, instead it's so good because it's so… effortless.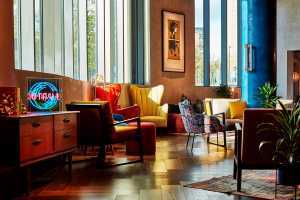 Rooms, which start at around £120, come in all shapes and sizes – and honestly, they're all excellently designed and have everything you need (including what can only be described as the King of walk-in showers).
But less about sleeping – The Gantry is about having a bit of fun. Union Social, the hotel's communal space – which doubles as its bar and restaurant – gives you the distinct impression you've been invited to spend the night at the latest "it" spot, among people from all corners of the world gathered to eat, drink, chat or chill out. And the menu, well it speaks for itself.
With everything from a miso noodle bowl (which I would highly recommend, £16) to the pressed shoulder of lamb (£20) and the Gantry Burger (£22), there is something for everyone. We really enjoyed getting a few of the large plates – of which there are great non-meat options – and sharing them out, too.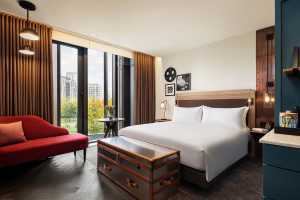 Top tip: if you're only having bar snacks – or having them too – you MUST order the honey glazed paneer. It's £7 and worth every penny; you'll thank me later.
The drinks don't disappoint, either. There's no need to list them out, this is East London we're talking about – order whatever cocktail you want and the bar staff are more than happy to oblige. If you're lucky enough to get a seat on the terrace, though, the Aperol Spritz – or four – I had really slipped down a treat.
And just like that, I've put my finger on why The Gantry's so great.
40 Celebration Ave, East Village, London E20 1DB; The Gantry