London's best Airbnbs
Planning a trip or staycation to London and want to reside in style? We've rounded up the best Airbnbs in London. Cost, location, amenities – all the information you need is here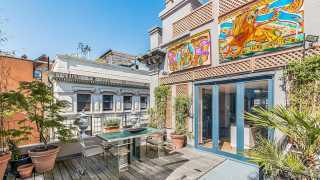 London has some of the finest hotels in the world – and London's Airbnb game is equally strong. 
Whether an apartment in Bloomsbury, a villa in Barnes or a townhouse in Earl's Court, London Airbnbs offer five-star luxury with all the comforts of home. 
We've rounded up a selection of the best Airbnbs in London for your next trip or staycation in the capital. 
All these London Airbnbs require a minimum booking of a week so you'll have plenty time to get accustomed to their comforts. It's the leaving that might be the problem... 
Barnes VILLA, Richmond upon Thames
Quite a lot to say about this one, because it's a house. Quite frankly it has everything. Jacuzzi, outdoor bar and barbecue, a gym, sauna, super snazzy indoor lounge (two of them), and a pretty big garden space. The indoor bar is a highlight, out of a 1950s speakeasy bar. Very Gatsby. Sleeps a whopping ten guests with five bedrooms and five (and a half) bathrooms. The cost is £2,800 a night. It's also located in Richmond upon Thames, so a bit of tranquility for you.
Click here for more information
TWO JERMYN STREET, St James's 
Sleeping six, and with two bedrooms plus additional bedding, this one's pretty ideally located. Just a stroll from Piccadilly circus, it's nice and central for you. The view from the terrace is pretty crazy, too. It also has a lift that comes up straight to the apartment, which is a very handy. As for the flat itself, it's perfectly ornate, nice oaky floors and lots of charming decor. The price is a bit of a steal too (relatively speaking) at £437 a night.
Click here for more information
LOGAN PLACE – FLAT 1, Earl's Court 
Spacious but cuts it short at minimalistic. You won't feel lonely, but clutter-free. Its open-plan, and two-floored. It's simple and stylish, sleeping six at a cost of £1,158 a night. There's a lovely open bathroom, too, with an easter-egg shaped bathtub and sink (cool bathrooms, always a bonus).
Click here for more information
EATON PLACE, Belgravia
This one screams decadence. There's a lounging over a chaise longue, smoke curdling in the air from long pipes vibes. There is a no smoking policy though, so don't take that literally. It's in Belgravia, sleeps four, at £1,900 a night. With two bedrooms, they both have king-size beds and ensuite. The flat has a snazzy kitchen, too.
Click here for more information
THE RUBY RESIDENCE, Kensington
A perfectly located Kensington flat. View over the balcony is the highlight here. The apartment has a nice, cosy living space, four bedrooms, five beds, and four bathrooms. It comes in at £1,800 a night, sleeping eight. Both bedrooms have an ensuite and a nice little terrace.
Click here for more information.
HYDE PARK SUITE
The living room has a natural arc shape and large open windows. There's a nice dining room (seating eight guests), four bedrooms, four beds and four bathrooms. Each bathroom has its own shower and two have a bathtub. So sharing is caring with the baths in this place. This flat comes in at £1,400 a night.
Click here for more information
THE SAPPHIRE SUITE, Kensington
If checkered-themed apartments are your thing, give this one a check. There's a symmetry to it. The living room is super long, and super cool. It sleeps eight and costs £1,800 a night, and has four bedrooms. Also has some nice rooftop views over Kensington.
Click here for more information
RUSSELL Square, Bloomsbury
All your dreams of having the funkiest, slickest bachelor pad are right here. This place is wild. There's eclectic stuff everywhere, Buddhist statues, beds that look like they're floating in mid air, and a tin-can-looking bathtub (cool, not clunky). There's a bar and the office space has a glass floor and rooftop ceilings. It's pretty surreal stuff. Bit of a steal if you ask us, at £845 a night, sleeping eight, with three bedrooms.
Click here for more information
HERBERT CRESCENT, Knightsbridge
It's something out of the 19th century but still blends into the modern enough for our taste. It's sophisticated and the light and bright colour schemes contrasted against the dark cabinets and surfaces just give this place a special magnetism. It's £1,097 a night and sleeps twelve, with six bedrooms. Another ideal location, too, two minute stroll from Harrods. Nothing to complain about whatsoever.
Click here for more information
Garden House, South Kensington 
There's so much packed into a cosy space. It overwhelms the senses. There's a giant historical map, tiny little bookcases brandished about the flat, a fireplace, leather sofas, a semi-globe mirror and rustic coffee tables. The kitchen and garden spaces are absolutely lovely - the garden especially; it's out of a fairy tale. It costs £1,563 a night but sleeps eight into five bedrooms. This one is pretty special.
Click here for more information
TOWNHOUSE, EARL's COURT 
Open-concept plan, at £1,100 a night, this place sleeps six and has three bedrooms. It's ideally situated near Earl's Court station (about a two minute walk). It has a really cool patio sofa with two mushroom coffee tables. When the telly gets too much just pop yourself in there, or out for a glass of wine in the outdoor lounge.
Click here for more information
BEAUFORT PLACE, KNIGHTSBRIDGE
Aside from a checker-themed balcony overlooking Knightsbridge, this one nails minimalism pretty perfectly on the head. It's got a nice cream-and-marble themed aesthetic. Walnut floors are a nice addition. It feels truly designer. And the price, at £1,500 a night, speaks to that. But it sleeps six, and has three bedrooms, so, nice and spacious.
Click here for more information
PEMBROKE Townhouse, Kensington
This little village house sleeps four. It's a spacious three bedroom dig, and at £1,364 a night it may milk you out but is it worth it to feel like a prince/ess? Always.
You've got yer exposed brick fireplace, a walled in bookcase and a renaissance-y secret garden to drink your wine and read your Capote. This place just has that beatnik vibe.
Plus, located in Kensington it's just a stone's throw from Harrods and Hyde Park. Get yourself down.
Click here for more information
PRINCE LUXE, Chelsea
This one's a bit more for the artsy folks. It's purple, for a start. The whole street has a pretty eclectic colour scheme, to be fair. At £1,295 a night, it's a four-bed (two guestrooms) and sleeps seven. Plus it's got a nice terrace, and a modern living room.
You've got a great selection of fine art to stare at, too. If you're like me though you'll spend more time obsessing over the under-the-stairs bedroom and bathroom. Not Harry Potter, but still magical. It's close to Hyde park and Trafalgar Square, and has some nice brunch spots close by.