It might be a mere 60km from its neighbour, Hong Kong, but Macau has an intriguing personality all of its own thanks to its unique fusion of Portuguese and Chinese culture. Yet while nearly 500 years as a Portuguese territory has coloured the region's rich heritage and landscape, Macau also has plenty to offer those seeking fun and excitement, with its famous and glamorous casinos and world class entertainment offerings.
With the emergence of a vast array of lavish five-star hotels, a thriving fine-dining scene and plenty of opulent shopping malls to marvel at, Macau is fast becoming one of the world's most luxurious and alluring destinations. Its combination of modern-day glamour and fascinating, living heritage are increasingly placing it at the top of travellers' must-visit lists, and it's no surprise it was named one of Lonely Planet's Top Ten Regions to Visit in 2015.
Shiny new hotels continue to spring up across the region, and more than 60% of them are five-star and deluxe so you'll be spoiled for choice for where to stay, whether you're on a business trip or leaving the laptop at home for a luxury city break. Will it be the new sumptuous Ritz-Carlton all-suite hotel, with more than 250 suites and breathtaking views of Cotai Macau; Asia's largest JW Marriott, boasting 1,000 rooms; or the elegant, contemporary Crowne Plaza Macau, whose 208 rooms all look out onto the Pearl River Delta? Decisions, decisions…
Look behind Macau's glistening exterior and you'll discover a region with a wonderfully rich cultural landscape. In the centre of Macau 17th-century Taoist temples, historic baroque churches and pastel-hued palaces stand majestically alongside chic, modern Chinese buildings. With more than 20 buildings and monuments, the Historic Centre of Macau is a picturesque labyrinth of narrow streets, cobbled alleys and pretty piazzas just crying out to be explored.
All that sightseeing is bound to get your appetite going, and if it's foodie indulgence you're after, look no further: Macau is one of Asia's great food destinations, with 11 Michelin-starred restaurants scattered across the region. If authentic, flavour-filled street food's more your thing, Macau is home to a rich snack scene: the pork chop bun – a juicy, deep fried pork chop crammed into a doughy bap – is a local delicacy, while the Portuguese culinary tradition lives on in Macau's creamy pasteis de nata (egg tarts).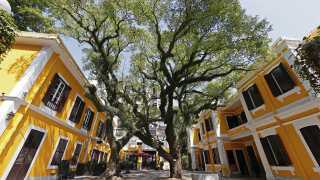 Once you've sampled the local cuisine, head to the top of the Macau Tower, which, at 338m, looms above the southern tip of the peninsula and offers gasp-inducing views across the shimmering Pearl River Delta. Adrenaline junkies can get their fix by teetering on the edge of the imposing tower with an outdoor Skywalk, or climbing up the mast at the top. While the really brave can plummet headfirst from the building – at 233m, it's officially the world's highest bungee jump. Sporty types can also get their pulses racing by heading to Macau's southern countryside, which offers an array of activities, from canoeing to golf, and trekking to cycling.
Having explored the beauty and culture of Macau by day, it's time to experience the glitz and glamour by night. As it's small in size – around 30 km² in total – it's quick to get around. Macau overflows with options for the after-dark reveller, with a dizzying number of bars, nightclubs and plush casinos to entertain you. The Broadway at Galaxy Macau is its bustling street and attractions district, showcasing the best of traditional and contemporary Asian culture and live street performances, and housing a 3,000-seater Broadway Theatre. For a truly spectacular evening of entertainment, head to the City of Dreams for the House of Dancing Water show, where world-class acrobats twirl as they dive gracefully into water and motorbike riders somersault above your head.
When it comes to entertainment, there's even more to come: the art deco-style Studio City Macau will be tempting visitors to its cinematic-themed leisure and entertainment complex, housing a TV studio, five-star hotel, nightclub, dining venues and gleaming shopping mall. Inside the complex, Asia's highest Ferris wheel and a virtual-reality Batman Dark Flight ride will keep big and small kids happy, while party people can head to Pacha Macau for a long night of revelry.
Opulent hotels, delicious cuisine, a stunning landscape – and let's not forget those shiny casinos: it's a winning combination.
This is a promotional feature.
For more information, see macautourism.gov.mo