It can be hard to tell where Los Angeles ends and Santa Monica begins, but there are a few tell-tale signs that'll show that you've made it. Life along this coastal stretch ticks at a much slower pace; the beach is far more important than business; and the restaurants, bars and hotels are long-established, down-to-earth and far less swayed by the ever-shifting trends. It's the perfect base for exploring Los Angeles, but if you're tempted to keep it local, Ten Lifestyle's Alex Dalzell pinpoints the best places to eat, drink, party and sleep.
Eat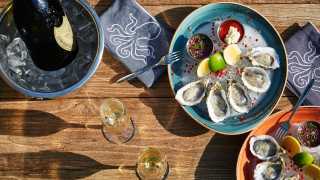 Compared to some districts, this northern neighbourhood doesn't attract that much attention from LA's countless camera-wielding tastemakers; but that's not to say you can't eat well – you just have to dig a little deeper. And it's well worth it when the reward comes in the shape of places like Cassia. Part grand French brasserie and part modern Asian eating house, it's a collision of cultures and flavours that's been masterfully executed by chef-to-the-stars Bryant Ng. If you struggle to bag a reservation but are willing to wait for a spot on the terrace, pop next door for a glass of Ynez Valley grenache and a plate of local amberjack crudo at Esters.
You'll notice that 'local' features heavily on every menu across town and, while everywhere tries its best to pinpoint provenance, nowhere betters Belcampo Meat Co. Everything on the menu is bred, slaughtered and butchered at their farm in the hills overlooking LA and the enormous slabs of steak can't be beaten. Farm-to-plate cooking is also a big deal over at Fig, a sun-soaked garden restaurant just steps from the beach; and Tar & Roses, which is back on the scene after a fire, has one of the most approachable menus in the area.
Old-time Santa Monica residents will always point you in the direction of Michael's – it's had its fair share of ups and downs but is riding high thanks to the deft touch of young-gun Miles Thompson. Whipping up dishes like yellowtail fish with barley miso and white chocolate, it was a risky appointment, but his brave combinations work – as the month-long waiting list attests. Other old-guard favourites include Valentino – which has kept pace with Italian game-changers like LA-darling, Bestia – and the epic burgers at Father's Office.
Drink

Burgers, doughnuts and fusion sushi – if a new trend is sweeping through London, chances are high that it took root in Los Angeles. The next big thing to land from the West Coast? Farm-to-glass drinking.
It's all down to one bartender: Vincenzo Marianella. He's one of LA's cocktail greats and at his buzzing Santa Monica hangout Copa D'Oro he selects seasonal produce from farmers' markets to blend into his drinks. Expect smoked blueberries, bergamot mint and the odd fiery burst of jalapeño in the mix.
Most cocktail connoisseurs will stop-off at The Tasting Kitchen on the borders of Venice. The bartenders take a much more simplistic approach to their drinks but it's no less impressive – head honcho Justin Pike is a master of the three-ingredient cocktail. Try the barrel-aged Negroni to see what we mean.
For wine, it's got to be the living room feel of Bodega. By day, the café-cum-bar attracts legions of coffee snobs and freelancers, but at sundown the laptop lids are closed and the wine begins to flow. It's a solid list of Californian varietals and staff will be proud to impart their wisdom. Their passion and knowledge is rivalled by the crew over at Sonoma Wine Garden, which also happens to have one of the best outdoor areas in town.
Party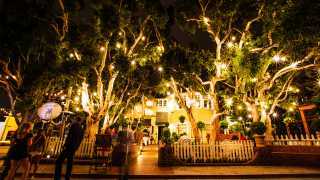 It's only 15-minutes' drive from Beverly Hills (OK, maybe quadruple that in rush hour) but nightlife in Santa Monica is much more down-to-earth than the lofty heights of Hollywood. There's one place where you can channel that level of glamour and that's Onyx on the roof of the Shangri-La hotel. The décor is a bit strange – a mash-up of 1980s glam and Rat Pack-era Vegas – but you'll be too distracted by the 360-degree views to care. Arrive at least an hour before sunset for the best chance of bagging an outdoor table.
To get acquainted with the locals, head to The Bungalow. Dripping in vintage memorabilia and 1970s styling, it has gone a bit overboard on the retro theme, but the crowd doesn't seem to care – this is one of the liveliest and most welcoming spots in the neighbourhood. The drinks are strong and well-made (which may have something to do with that warm welcome) and the beachfront location can quickly turna lunchtime drink into an all-day session.
There are more theme-bar fun times to be had over at the nautical bedecked Chez Jay. It's a charming spot and once you're ensconced in a red leather booth with an ice-cold beer and round of steamed clams, you'll see why it's been a no-frills favourite for more than 50 years.
Sleep

There's no doubt that you'll want to make the most of the beach while you're here, so it pays to stay at the Fairmont Miramar Hotel and Bungalows, which is just steps away from the beach, pier and promenade. The hotel is part of Santa Monica's history – a grande dame that has sat on its bluffs for more than a century.
A 136-year old fig tree is the spiritual centre of the resort – and provides the inspiration for its restaurant, Fig, which serves up wood-fired dishes made from locally sourced ingredients. There are three places to stay here: the Ocean Tower offers sweeping views of Malibu, and embodies mid-century style; The Palisades suites have a residential atmosphere inspired by local culture and lifestyle; and then there are newly appointed bungalows – reflective of Santa Monica's beach community, hole up in one of these and you'll feel like a local.
The hotel's site was once the land of US senator John Percival Jones – co-founder of the town of Santa Monica. No doubt he'd be pretty impressed with how far the city has come.
Hotel review by Alex Watson. Ten Lifestyle Concierge is the world's largest lifestyle concierge provider, with professional lifestyle managers based around the globe. For info: 0845 020 5270; tengroup.com