Nothing quite says you've made it like taking your private lift straight to the top floor.
The penthouse suite is the very embodiment of being on top of the world. In the case of the Ritz-Carlton suite in Hong Kong, that's quite literally the case – as the penthouse is on the 117th floor of the 484m-high International Commerce Centre.
Of course, soaring views aren't everything...
Whether its famous patrons, DJ booths, wine cellars or private chefs, these hotel suites represent the best of the high life.
Las Vegas
Sky Villa – Palms Casino Resort 
Las Vegas. Two words that evoke more vice than any other place on Earth. Neon lights, Elvis bellowing Vivaaa, supercars, smoke and poker chips. It's a place that makes Shoreditch look like the Cotswolds. A place with at least a cameo in just about every cool story that has ever been told. And it's also home to The Palms Casino Resort's two-storey Sky Villa. A perfect embodiment of the city's mantra, this penthouse suite is simply, utterly, beautifully ridiculous.
Where to begin? The 32rd floor, I suppose. The Sky Villa includes a massage and fitness room, personal sauna, two master bedrooms and a 24-hour butler – what more could you ask for? A 17-seat bar, enough leather sofas to field exactly the sort of parties (sorry, conferences) you see in the movies, and your wildest dreams. Is this all getting a bit much?
Fair… how about a leisurely swim in the private pool overlooking that famous skyline? And should you need anything, like, anything, then just ask the butler. You could say, wow, hard job, but look at their office. Not to mention the tips, this place is setting you back five figures a night.

What happens in Vegas won't stay in Vegas with all the photos you'll take. There'll be no fear nor loathing here either, though there might be some in the Instagram comments. 
For more information, see palms.com

Shanghai
Presidential Suite – Mandarin Oriental
Just as you can judge a man by his shoes, and a nightclub by its smoking area, so you can judge a hotel suite by its bathroom. Happily, the Presidential Suite of Mandarin Oriental Shanghai has an absolute corker: 50-sqm, boasting views over the city skyline, a tub that could float a schooner, a steam room, and, most decadently of all, a TV. Peak hygiene.
The rest of the suite doesn't scrub up too badly, either. Most of the 25th floor will be yours, to do with what you will. (Well, within reason.) What are we talking here? We're talking a master bedroom, a kitchen, a dining room in which to eat the food prepared in your kitchen, a wine cellar, a wine bar at which to drink the wines taken from your wine cellar, and a meeting room where you can meet people or pretend to be a Bond villain.
The living room's ceiling is 4.8 metres high, so if anybody turns up to dinner on stilts, they should be golden. Ditto acrobats. Oh, and then there are the private roof gardens. Both of 'em. Do you need two roof gardens? You absolutely do: how else would you be able to see the entire city? Or ensure that, whatever the hour, you can always lounge in the sun. (Unless it's, you know, night.)
Should you tire of all this opulence, the Mandarin houses numerous bar and restaurants, and a wonderfully stocked spa. We hear Shanghai has a fair bit going on, too.
For more information, see mandarinoriental.com
Los Angeles
Presidential Suite, Hotel Bel Air
"Now this is a story all about how / your life got flipped, turned upside down / relax for a minute, just sit right there / and enjoy your stay in the best suite in Bel Air."
It may be named the presidential suite, but the jewel in the crown of Hotel Bel-Air is fit for any prince, whether Will Smith or Charles Windsor – the latter once said, "I slept better in the presidential suite of the Bel-Air than in any other hotel in the world."
And how could HRH fail to enjoy his stay when you consider the splendours on offer. We're talking private entrance, Spanish-style courtyard, swimming pool, jacuzzi, and garden patio furnished with a fireplace and a seating area spacious enough for supersized parties. Well, if you're going to work on that California tan, you might as well do so in luxury.
The interior is none too shabby, either. The living room has a grand piano, the dining room seats up to ten people, and, best of all, there's a wet bar; enjoy a couple of drinks and then have another whack at the piano.
The hotel has hosted numerous Hollywood royalty since its opening in 1946, most famously Marilyn Monroe, a frequent guest for more than a decade. Indeed Monroe's famous 'The Last Sitting' photoshoot took place here – just six weeks before her death. Some places witness history; Hotel Bel-Air is part of it.
Prices up to $18,000 a night – or you can rent for $300,000 for a full month. For more information, see dorchestercollection.com
Monaco
The Diamond Suite - Princess Grace, Hotel de Paris Monte-Carlo
Hotel de Paris Monte-Carlo is one of the most famous hotels in the world, and the €40,000 a night Princess Grace penthouse is the jewel in its crown – a celebration of Monaco's most famous former resident that doubles up as Monaco's most exclusive lodging.
Opulence, opulence everywhere: from the rooftop pool and jacuzzi looking across the bay, to the two enormous bedrooms with their own private dressing rooms, to the gleaming in-house spa.
The minimum booking is three nights – or €120,000. Definitely one for the high-rollers.
For more information, see montecarlosbm.com
Morocco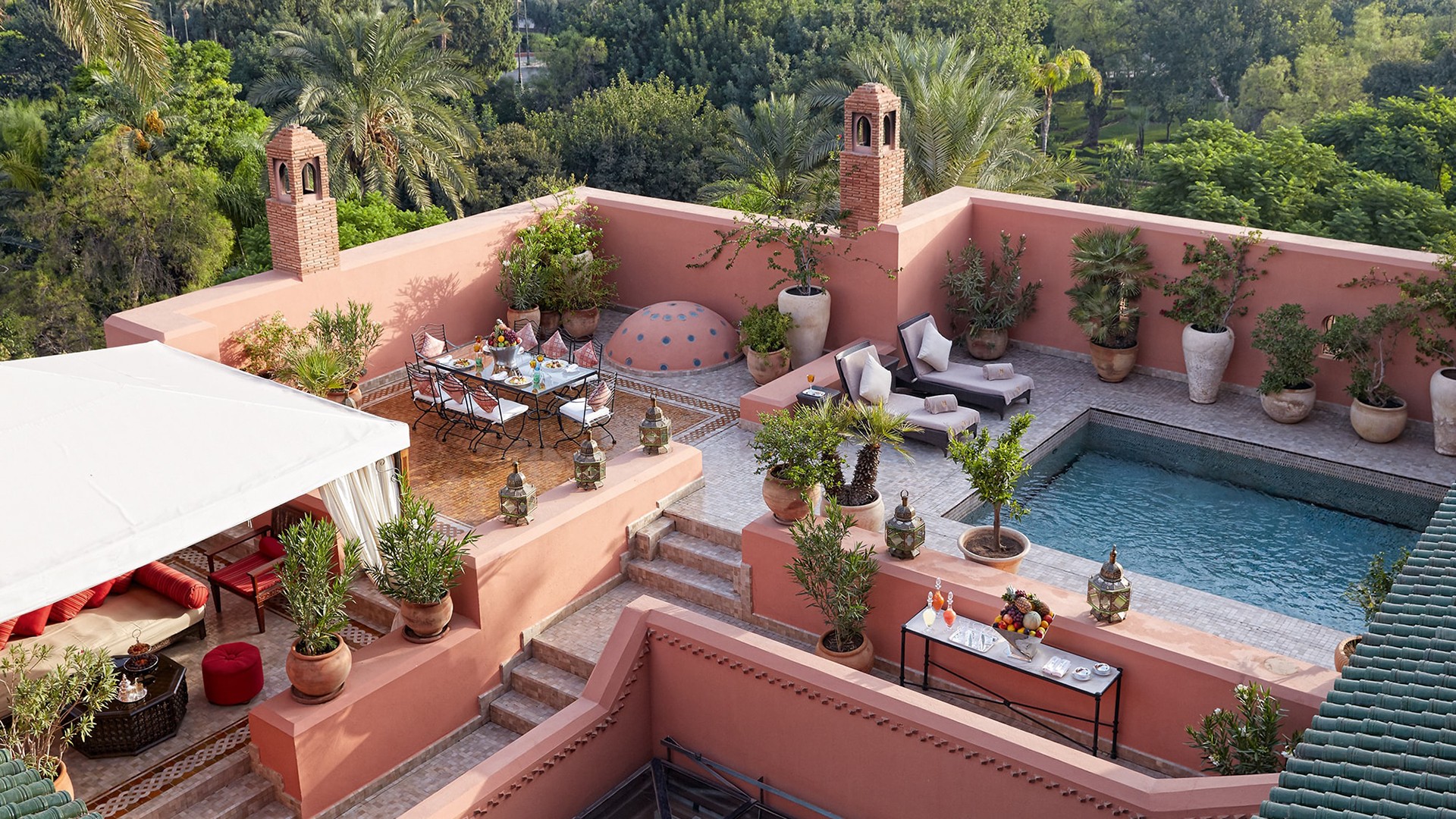 The Grand Riad at The Royal Mansour, Marrakech
The Royal Mansour's Grand Riad is, as the name promises, fairly grand – 19,375 square feet to be exact. There's a library, bar, snooker room, cinema room, hammam and gyms, not to mention three or four bedrooms.
The suite is an elegant mix of traditional Moroccan design and modern luxury, with zelliges mosaics, crystal chandeliers and silk drapes. You could spend hours inspecting the intricate details in every room, albeit this would be a slightly sad way to spend your holiday, especially considering the Riad has its own swimming pool and a private garden.
The Riad's secluded entrance is via an olive-tree lined patio; once inside you will be greeted by a personal butler who, alongside professional chefs and other in-house members of staff, will take care of your every need.
For more information, see royalmansour.com
Paris
The Penthouse, Four Seasons George V
An art deco landmark, the Four Seasons George V is one of Paris's most revered grandes dames. The 360-degree views from the Penthouse terrace alone arguably justifies its inclusion in this list, the Eiffel Tower almost in touching distance.
The 1,630sq ft suite includes a master bedroom, living room and office – all as stylish as you'd expect from a Parisian hotel suite – while the marble bathroom features an infinity bath with jets. Order some champagne and enjoy some bubbly in the bubbles. C'est magnifique!
Prices from €25,000 per night.
For more information, see fourseasons.com
Las Vegas
Two-storey Sky Villa, Palms Casino Resort
In Las Vegas more is, well more – and the Palms Casino Resorts two-storey Sky Villa embodies the city's mantra. On the 32rd floor (hope your not scared of heights), the Sky Villa includes a massage and fitness room, personal sauna, two master bedrooms and a 24-hour butler – what more could you ask for?
How about a swim in the sky in the private pool overlooking Vegas? What happens in Vegas won't stay in Vegas with all the photos you'll be sure to take.
For more information, see palms.com
Turks and Caicos Islands
Amanyara Villa 2, Amanyara
Amanyara, on the beautiful islands of Turks and Caicos, bottles up a whole lot of luxury with a totally tropical taste. On one side of your five-bed villa you have a private walkway to the beach, including a private lounging terrace on the neighbouring dunes. On the other, you have a private ornamental lake and sunset facing terrace.
Inside the villa you have 6,250 sq ft of interior space and 13,640 sq ft of space under roof. There are 10 individual pavilions including 2 beachfront bedrooms and three facing the ornamental lake. There's a separated two-person service quarters for your dedicated staff.
The hub of the villa is the private volcanic rock, infinity-edge pool. There are two electric golf carts, in case you want to leave the villa, but we can imagine they'll spend most of the time in the garage.
For more information, see amanyaravillas.com
Singapore
Extreme Wow Suite, W Singapore
This suite certainly does what it says on the tin… wow – extremely wow, to be precise. On the top floor of the W Singapore, the 2,000sq ft suite is perfect for entertaining: just off the seating area is your very own DJ booth and a fully stocked wet bar.
There's also a full kitchen, dining area, master bedroom and bathroom with a hot tub. The terrace provides another area to impress with view of the complex and plunge pool.
For more information, see marriott.com
Cannes
The Penthouse Suite, Hôtel Martinez
Located on the famous La Croisette Boulevard in Cannes, Hôtel Martinez is a heady mix of elegant Riviera with chilled Mediterranean – the perfect combination for a beach front hotel. The penthouse suite itself has spacious living and dining rooms as well as master bedroom with walk in closet – not that you really need that much space for swimming costumes. With access to a private beach there will be no need to wake up at 7am to claim a sunbed.
Back in the suite your private terrace is the perfect spot from which to people watch. The suite is one of the largest in Europe – and, at £35,000 a night – also one of the most expensive.
For more information, see hyatt.com
Hong Kong
Ritz-Carlton Suite, The Ritz-Carlton, Hong Kong
The Ritz-Carlton in Kowloon is one of the tallest hotels in the world, occupying the 103rd to 118th floor of the International Commerce Center. Because it's on the Kowloon side, the views of the famous Hong Kong skyline are spectacular – and none so much as the 270-degree Victoria Harbour views from the Ritz-Carlton Suite.
When you're being shown to your suite be sure to take a sniff (stay with us here) as all the corridors are scented with a bespoke fragrance called Black Orchid – even the air here is laced with opulence.
As a guest of the Ritz-Carlton Suite you'll have a chauffeur-driven Rolls-Royce at your disposal throughout your stay, plus daily massages for two at the spa. You'll have a personal butler; monogrammed bathrobes, towels and pillow cases; and exclusive access to personal-shopping experiences.
The room's most impressive feature is the giant golden chandelier above the dining room table – a fitting so impressive as to drag your eyes from that view.
For more information, see ritzcarlton.com
Phuket
Villa Similan, Layan Residences by Anantara, Phuket
At the highest point of the Layan Residences is this epic seven-bedroom villa, featuring seamlessly connected indoor and outdoor living spaces, as well as an impressive infinity pool. All of its seven bedrooms boast breathtaking views of the Andaman Sea so there should be no fighting over room selection.
In the evenings, you can go up to the roof terrace or down to the deck – both areas are ideal for sundowners. With a live-in butler, private chef, plus spa and wellness facilities, this place is built for relaxation.
There's a wine cellar and 'man cave' with pool table and wet bar; there's also a private cinema room with recliner sofas for eight.
Bathrooms include 'emotional sensory showers' which come loaded with massaging water jets, lighting changes, and fragrances. We'll go for the 'stinking rich' option, please.
30,000 sq ft; from £4,750 per night.
For more information, see anantara.com
Abu Dhabi
Anantara family pool villa, Qasr Al Sarab by Anantara in the Liwa Desert
Enjoy sunrise over the sands, race across the Liwa desert dunes and refresh with ancient hammam rituals – welcome to Abu Dhabi's Qasr Al Sarab by Anantara.
The 2260sq ft three-bedroom Anantara family pool villa here includes indoor and outdoor living and dining spaces, a private plunge pool, and dramatic views of the surrounding desert.
The bedrooms are furnished with bespoke pieces from local craftsmen, and the bathrooms include rain showers, oversized tubs and luxury spa services on tap.
From £3,575; 2260sq ft. For more information, see anantara.com
London
Heathrow VIP
When it comes to airports, suites don't become more impressive than Heathrow VIP's. The elite airport service provides each client with their own private suite for their airport wait – like having your own business class lounge all to yourself.
Travel to the airport is suitably luxury – you're picked up from home or work in a chauffeur-driven 7-series BMW. On arrival your hold baggage will be taken off to the airplane for you, allowing you to indulge in the lounge's amenities. These include Michelin-star dining from Jason Atherton, a shopping concierge, and fine art exhibitions from Tanya Baxter Contemporary.
Best of all, you'll be driven straight to the door of the plane bypassing any queues and straight on to the plane. Just remember to turn left when you board.
For more information, see heathrowvip.com