London is a hive of tourist activity, with people travelling from around the globe to experience authentic British culture and learn about the country's history, including the royal family.
London has so many things to do; it is not surprising it makes for such a popular tourist destination.
There are a few essentials for those who want to taste the experience of London as the royal family have experienced it.
Below we go through activities you can do to give you a royal experience of London.
Experience London's Royal Opera House
First up on this list is London's Royal Opera House, one of the city's most prestigious theatres for performing arts and opera.
You can find the London Royal Opera House in the centre of London in Covent Garden. In this location, you can find several venues for performing arts, including The Royal Opera, The Orchestra of the Royal Opera House, and The Royal Ballet.
The tantalising variety of types of performances and shows that tourists can watch will give a truly royal experience.
Enjoy a private pod on London Eye
Next up on this list is a ride on the London Eye in a private pod reserved just for you and whoever you would like to come with you. You can book the entire pod and enjoy the fantastic views of London's most famous buildings and structures, including Tower Bridge, Buckingham Palace, and Parliament.
If you decide to book a private pod on the London Eye, you can even opt to have a meal with views that look over London without anyone interrupting you. If you perhaps want to make it a little romantic for someone special in your life, you can book Cupid's Pod, which comes with champagne and some luxurious chocolates.
In keeping up the tradition of enjoying private events, if you genuinely want to feel like royalty, you can use a private jet charter to fly into London in the first place so that you don't interact with the public. A private jet allows you to fully relax and decide when you fly and things like the types of entertainment you want whilst in the sky.
Drink tea at the Queen's favourite tea shop
The only way you could be more traditionally British than drinking cups of tea in a tea shop is if you did it in the Queen's favourite tea shop.
The tea shop we are talking about is the Diamond Jubilee Tea Salon at Fortnum & Mason, which offers everything you could want for a royal experience of afternoon tea, from fantastic sandwiches and cakes to authentic British tea.
Queen Elizabeth opened the Diamond Jubilee Tea Salon in 2012 along with the Duchess of Cornwall and the Duchess of Cambridge.
Explore the fantastic art scene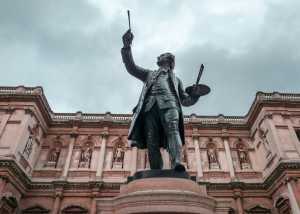 Apostolos Giontzis / istockphoto
For passionate artists, you must visit the Summer Exhibition at the Royal Academy of Arts. It is a fantastic exhibition offering a vast range of art styles, meaning everyone will appreciate something. Because London is considered a massive hub for art, many talented and new artists trying to make a name for themselves come to the city to try and gain recognition. This leaves London with an art scene like nowhere else.
Some of the most highly recommended museums tourists should consider attending include The British Museum, The National Gallery, and The Victoria & Albert Museum.
The museums in London are fantastic for showing you the history of the country and the evolution of artwork through different times. One could easily spend an entire day just visiting various exhibitions and taking in the fantastic artwork.
Book a private box at the theatre
The performing arts scene in London is one of the most famous in the world. There are always lots of shows constantly going on, meaning that you won't have any trouble finding something to watch. With so many options, you might find it challenging to decide what to go and see first.
To get a truly royal experience whilst attending a show at the theatre, you should book a private box that allows you to have an entire space just for you and the people you see the show with.
You now know how to experience London like royalty. From the fantastic performing arts and incredible art galleries to the tea salon frequented by the late Queen Elizabeth, your trip to London will be one you will be one to remember.
Lastly, remember to plan ahead so that you are not disappointed with shows that may sell out.