ALFIE BROWN IS one of the most innovative comedians on the circuit.
His firebrand style has been forged from years of pushing boundaries and fearless experimentation.
On stage, we should add. What happens elsewhere is entirely his business.)
Constantly evolving and striving for ways to innovate, Brown followed up his sellout Imagination tour with the even more successful Sensitive Man – winner of Best Show at the Chortle comedy awards.
For his Square Mile set, Brown recalls an MTV screen test, advice from Live Nation, and a comedy show without any jokes.
WRITING ABOUT GOING TO ACUPUNCTURE AT DR CHINA
I dropped out of school at 17. Trained for nothing, incredibly scared and embarrassed, I couldn't sleep.
I lived with my dad, staying indoors all day, eating badly fried eggs and reading everything off his bookshelf. I found not being forced to acquire knowledge or write very helpful in the pursuit of doing so. In the pursuit of trying to sleep I went to receive acupuncture from a place called Dr China. It was appalling, she stuck needles in me and caused me pain with relish. I think it takes someone with real empathy to inflict discomfort so tenderly.
I went home angry and wrote a monologue (a stinking rip off of Victoria Wood, my hero). Anyway, it made me laugh and that made me ecstatic. I wanted to write comedy.
MY FIRST GIG, 6 JANUARY 2006, LINDSAY'S WINE BAR
I couldn't find a gig. I wanted to start comedy after having confidence boosted by watching some particularly shit stand-up ('well, I'll at least be that good,' I thought to myself).
The only gig I could get was the Laughing Horse New Act of the Year – Edinburgh heat. I had written five minutes of seismically piss one-liners. I got the train up with my then girlfriend who you can now sometimes see on GB News interestingly.
I took the mic out the stand, the cable fell out and I shrieked poshly at the assembled 70-year-old postmen "I'm sick of these cheap gigs." Hoping confidence would win me favour. It did not.
I played to total silence. I wasn't even as good as those shit comedians that had reassured me I'd be OK. That was it… I was addicted.
GETTING THE TREATMENT FOR MTV'S 'THE SHIT ONE'
I was lucky enough to get a remarkable and lovely agent just a few years into doing comedy. The plan was to be a presenter, I wanted to be on T4.
I wanted to have rumours about me and Pamela Anderson doing the rounds. I got a treatment through to go and screen test for an MTV show called The Shit One.
I would interview the 'ugly' or 'overweight' members of famous pop groups and ask what it was like being 'the shit one'. I refused it, I hated it. I wanted to complain. It changed the way I did comedy, everything felt like a reaction to that dog shit form of legitimised bullying.
A MAN FROM LIVE NATION COMING TO SEE ME IN 2011
A high-powered tour manager from Live Nation came to see my show in 2011. I found him in an artist bar a few nights later; he said to me "Advice, be funny, not clever – nobody cares, how clever you are", which is a haiku.
It made me quite sad and in my reactive post-adolescent rage, I wrote a show called Soul for Sale about him saying this to me. It was clever and I think funny as well. Writing these things always makes me feel like a dildo.
2017: A SHOW WITH NO JOKES
In 2017, I had planned to take a year away from Edinburgh. Just have a year off.
A week before the festival was due to take place, I got a call informing me that owning to unfortunate circumstances a space had just become free.
I took the room. I went to do a work-in-progress show with no work to progress.
I often have nightmares that start around January that were now becoming a reality.
Going to do an hour show with no jokes means you can't rely on learned behaviours. You can't rely on derivative ticks. It was an irrigation of all my shittiest habits. I would recommend.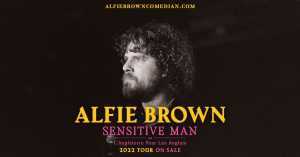 Alfie Brown, Sensitive Man launched on Prime Video on 6 May – this is part of Soho Theatre Live, series 3.