In 2012, Duck & Waffle took 'dinner with a view' to new heights — literally. As the highest restaurant in the capital, it was always going to be an easy sell. But why settle for just the one USP when you can have two? Duck & Waffle opened its doors and open they stayed, beckoning guests at all hours of the day, seven days a week.
Lured in by the view, diners flocked day and night to its home on the 40th floor of one of London's tallest skyscrapers. A decade later and they keep coming — this place is nearly always full, faces (and phone cameras) pressed against the glass.
But though many come first to check out the cityscape, they return for the food. The menu of British cuisine with European influences has attracted a loyal fanbase, to the tune of over 150k followers on Instagram.
As if the panorama isn't enough of a pull, they like to keep things lively by embracing a theme every now and then, particularly during the holiday season. Previous years have seen the restaurant transform into a 1920s speakeasy and, most recently, The Polar Express.
The pandemic has put a temporary stop to the 24/7 premise, though it is currently open all day Friday, Saturday and Sunday, and into the early hours the rest of the week. So don't fret, insomniacs, you should be covered.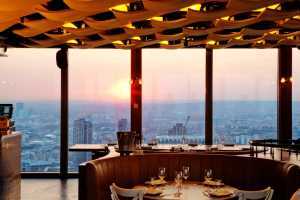 What's the vibe?
The experience begins when you waltz past the doorman and step into the famous glass lift. This transports you up (and up and up and up) as you watch the city shrink below you. Cue a brief existential spell, before emerging on the 39th floor. Here, you climb a flight of stairs to ensure an appetite and you're there: the very top of the building.
The decor in the dining room is stylish but muted – the main event is what's on the other side of the floor-to-ceiling windows. This means the vibe is mostly determined by the time and the weather. An early morning booking and (with a spot of luck) clear skies, will treat you to the sunrise – enjoy breakfast with a pastel backdrop. After dusk, you can dine above a glittering, inky London. With some expert timing you might be able to nab a reservation that straddles day and night for the best of both worlds.
There's a smart-casual dresscode, but this seems to be open to interpretation. When we were there, there was a couple decked out in a gown and a suit next to a guy in a niceish hoodie. Best to stay on the smarter side to be safe – you don't want to be turned away before you get to ride that lift.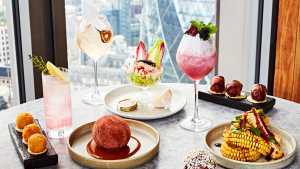 What to order?
When the restaurant takes its name from one of its dishes, that's a heavy hint. Breakfast, lunch and dinner, it'll be on hand to woo you: crispy leg confit, fried duck egg, mustard maple syrup.
Of course, you can choose to be a maverick – and there's much to be discovered when you look past the obvious. The menu is designed for sampling and sharing – also on the dinner menu is a whole roasted chicken and a 500g rib of beef. There's also a selection of snacks and tapas-style small plates, including crispy pig ears, grilled octopus, and spicy ox cheek doughnut.
For drinks, try their new Waffle on the Rocks. Featuring waffle flavoured vodka, it comes complete with a fluffy square of the sugary treat itself and a pipette of syrup (though handling this nifty bit of plastic feels like doing a lateral flow). If you'd rather stick to the classics, opt for their signature Duck & Stormy.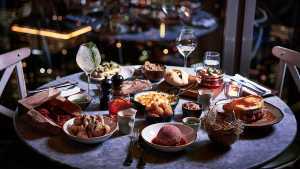 What's the damage?
Small plates vary from £10 to £26. For large plates, you're looking at £22 for the signature duck and waffle, while the whole chicken will set you back £48. Cocktails don't stray far from the £16 mark.
The bill could be kept under control but you're going to want to stay at your table in the sky for as long as you can. So either sip slowly, or be prepared to spend.
After dinner?
Make your way back to the bar, flick through their extensive 'beverage book', and hang around until sunrise. It's open 24 hours a day, after all, and you can never get tired of that view.
110 Bishopsgate, London EC2N 4AY; Duck & Waffle