The Ninth is a self-described 'neighbourhood French restaurant' that focuses on Mediterranean-style cooking with the very best seasonal ingredients and is the ninth project and first solo venture for chef and owner Jun Tanaka.
As origin stories go, I like the simplicity. Ninth because ninth, now shut up and eat your dinner.
Their meal boxes are similarly to the point, with most of the decisions made and all of the hard work done for you.
A meat option, a seafood option or a vegetarian option with the same sides and dessert, each needing very minimal preparation.
What's in the box?
Choose between caramelised lamb neck with yoghurt, Chimichurri and couscous OR marinated sea bream, white miso & lemon, fennel salad and couscous OR roast Delica pumpkin, Dukkah (a nut and spice blend) and couscous. (You can't escape that couscous, and nor would you want to.)
All options come with a generous salad of pickled carrots, radicchio, hazelnuts with a goats curd dressing as well as their incredible chocolate fondants ft. a pot of fancy crème fraîche. After some real soul searching we both opted for the lamb neck, though you can mix and match.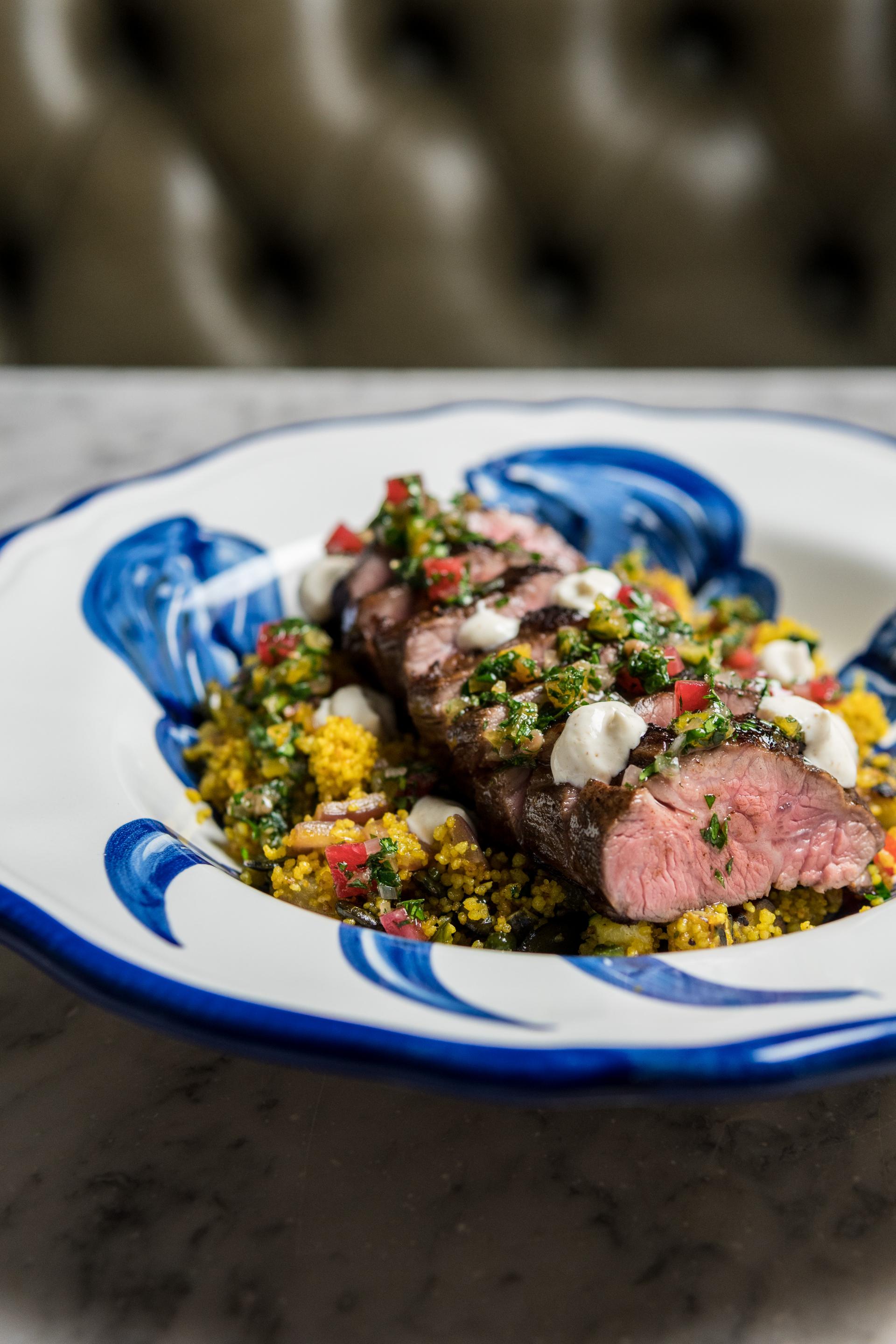 How hard is the preparation?
Really, really easy. So easy that there were a few moments where we genuinely believed we'd made a terrible mistake. The kit promises to take only 15 minutes from box to plate and even with repeated scrutiny of the instructions to make sure we hadn't skipped a step: it bloody did. FIFTEEN ENGLISH MINUTES. Incredible scenes.
The Ninth have helpfully colour coded your ingredients so you know at a glance what goes with what, as well as providing clear printed instructions for cooking and assembling. They also pack in a wee metal skewer so you can test the temperature of the inside of the lamb before serving. The lamb needed a quick fry on both sides (for caramelisation reasons) before being popped into the oven next to the couscous for a couple of minutes.
The overall impact of the meal was jarringly disproportionate to the minimal effort required. Delicious, comforting and surprising food that could, hypothetically speaking, be made by two idiots who'd just inhaled two and half weapons-grade Margaritas. Hypothetically.

What's the availability?
Order by 6PM Tuesday for nationwide delivery that same Friday. Delivery is calculated at checkout, but expect to pay around £10.
What's the damage?
The box for two will set you back £75 (before delivery), with four optional wine add ons at £25 a bottle. There are also options for four people (£150) or six people (£225).
For a delicious and filling meal at home from a Michelin-starred restaurant with all of the work done for you? I'd be tempted to say that's pretty good value.
Anything else to note?
Despite agreeing that the chocolate fondant was the single nicest desert we've eaten in recent memory, it was nonetheless very rich and we struggled to finish one each. Consider a sexy sharing situation to minimise waste.
For more info, see The Ninth