It's been a long, long time since you could go out for dinner and end the evening harbouring optimism for the state of the hospitality industry, and to be honest a trip to Manteca shouldn't engender the same positivity as, say, a Covid vaccine, or a government stimulus, or even the cancellation of that goddamn 10pm curfew that has united the nation in contempt. (The first time the nation has been united since the 2018 World Cup run, although that was more a cocktail of optimism, lager and Atomic Kitten. Still, contempt is a start. Go G.A.Y., currently in the process of suing the government over it.)
As I say, a trip to Manteca won't make you bound out and invest in a restaurant. But Manteca will certainly remind you of the communal joy of restaurants, and how much fun it would (theoretically) be to own one, aside from the hard work, the emotional toil, and the financial instability - and those would be the good years. It's a lovely venue, a big open room that never feels overcrowded despite every table being filled. (On a Thursday evening! In October 2020!)
The staff are attentive, the manager Jack acts as though there's nowhere he'd rather be than right here, talking you through the cocktail list – conveying enthusiasm through a mask is no easy thing but he pulls it off. Manteca takes you back to the heady days of 2019, and for this, if nothing else, we should be grateful.
How's the food?
But we should also be grateful for the food, which is uniformly excellent and sometimes touches the sublime. Starting with the focaccia and home-made mortadella appears to be mandatory, judging by the fact that every other plate out of the kitchen carried one or the other on it. No complaints here: both are fantastic, proper food that carries a bit of oomph. We followed up with the pink fir potatoes with smoked cod roe, so golden and crispy you can almost warm your hands on them, and the pig head fritti with a plume of crispy skin.
Onto the pasta. You'll want to order a portion each but don't go overboard: even the small bowls come pretty hearty. The brown crab cacio e pepe is more or less a must – indeed the sauce is so good, you might want to order another focaccia to mop up. (Or align the focaccia order with the pasta.) However you know the crab cacio e pepe will be good; more surprising is the sweetcorn ravioli, which to my mind is even better. My friend disagreed: you'll have to go along and be the tiebreaker.
Do you have room for some meat? It's worth leaving room for some meat. However, assuming there's two of you, you'll definitely want to share this one if you've enjoyed a few courses. Again, rather than progressing linearly down the menu, the wise diner might hold off on the potatoes to enjoy as a side dish here. But you do you. It's hard to go wrong at Manteca.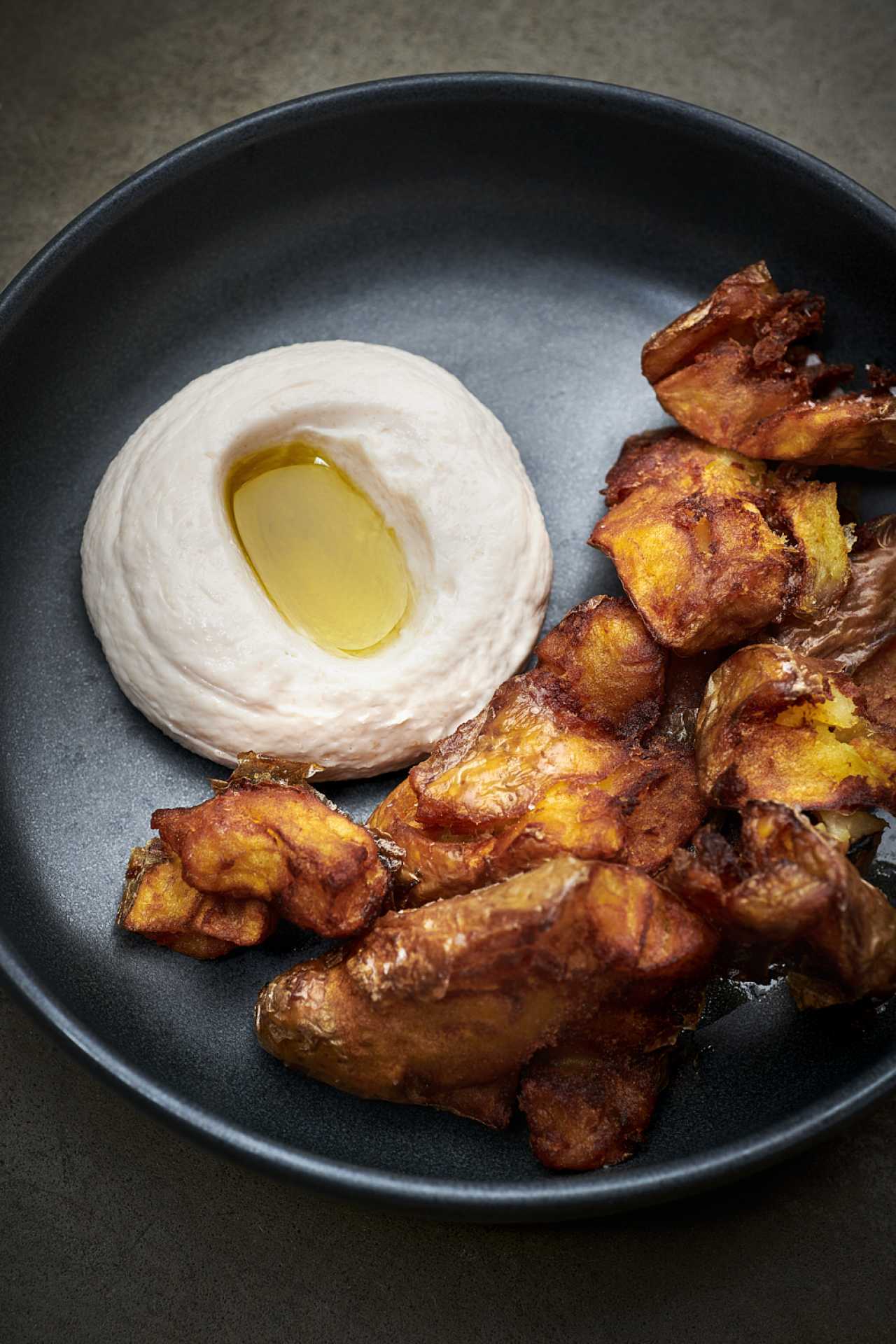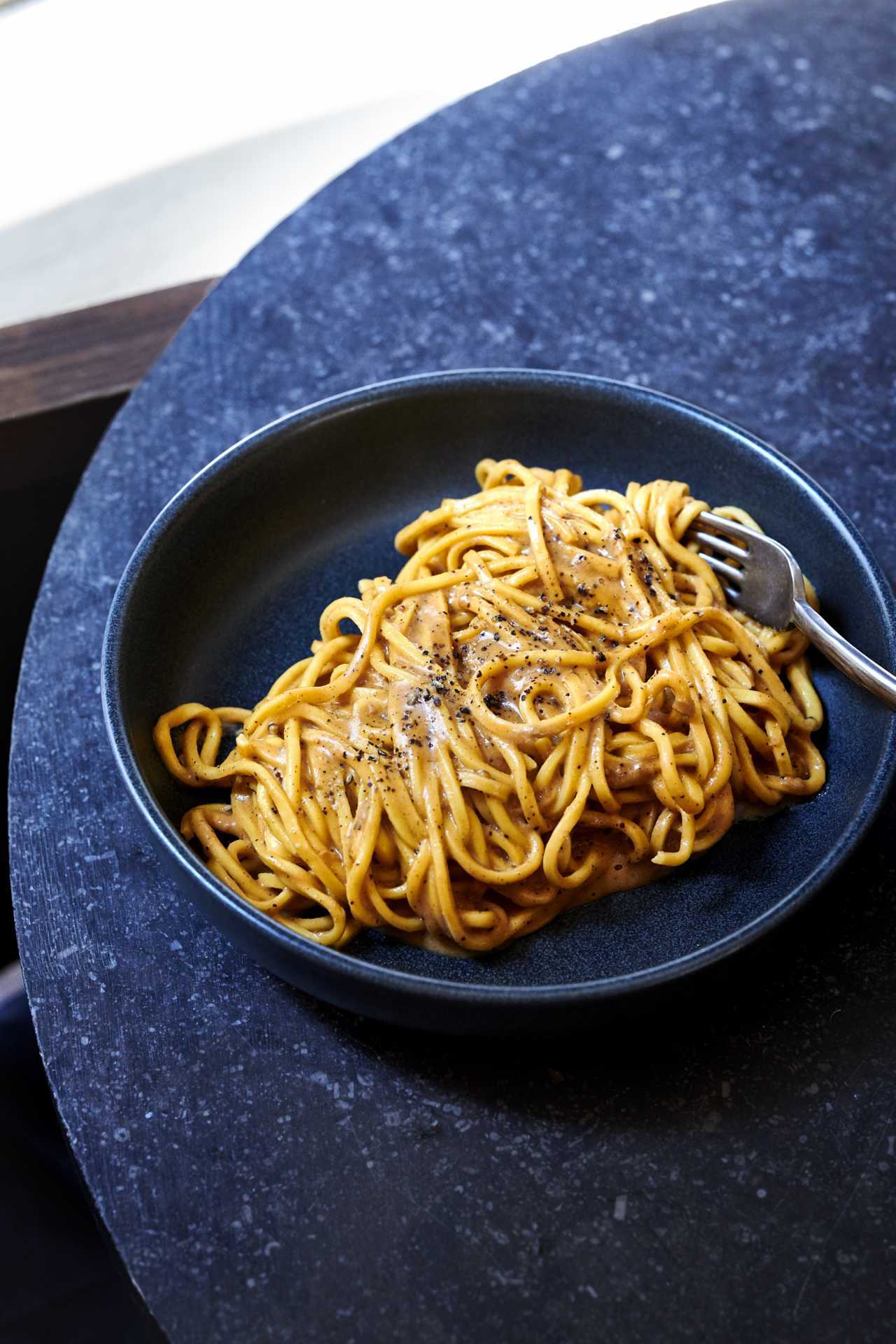 What to drink?
The house cocktails come with an Amaro twist. My Sicilian old fashioned (averna, wild turkey bourbon, triple sec, orange syrup) hit the spot; my friend went for the espresso cascara (ferro china, vodka, borgetti, coconut cold brew coffee) and didn't fall asleep at my conversation, so you know it's good stuff.
We had a carafe of the house red, which went down very nicely – so nicely that we had another. Carafes are cute but there's something of the half pint about them; if you're there for the long haul, you might as well go for a bottle.
Will it bankrupt me?
Oh no. Even with a bottle of wine, a very solid dinner for two shouldn't break the three-figure barrier - and that's assuming a thorough examination through the courses. Limit yourself to a glass as an accompaniment to some pasta and you'll barely hit £20 each.
Still too much? There's a lunch and early dinner set menu for £10. A tenner. We don't endorse this option - you should go Manteca for a good time and a long time - but it's there if you need. 
Anything else to note?
If you can, support your local restaurants and treat yourself to an evening out. Places like Manteca are a reminder of what we have, and what we stand to lose. 
49-51 Curtain Road, London, EC2A 3PT; Manteca