Bellenden Road is a bit of a foodie mecca these days, with the likes of the Begging Bowl, Artusi and Made of Dough attracting rave reviews and sizable waiting lists.
You can now add Uva to the walk of fame. The tapas restaurant has picked up local buzz since its opening and the hype is entirely justified.
Owner Nick Watkins has created a gorgeous space with a menu that lives up to its surroundings. (Try and bag yourself a garden table but be warned, you'll face stiff competition.) 
Great food, competitive prices and a smashing wine list? Prepare to make the pilgrimage to Peckham.
How's the food?
Very special. The menu ranges from traditional tapas to more exciting bespoke options. For the former, the likes of fried calamari, chargrilled octopus and Patatas Bravas make fantastic sharing options, albeit you may be reluctant to pass the plate.
Camarões com Alho (King prawns) come sauteed in a chilli-infused garlic butter sauce that manages to taste even better than you'd imagine a chilli-infused garlic butter sauce to taste. You will be pleading with the waiter for more bread.
Yet the true magnificence of Uva lies in its meat. Chouriço Assado is the finest Portuguese chorizo served on fire at the table, crimson meat darkening upon the flames. The flavours are rich and fatty, a decadent delight.
Then you have seared ribeye served on a hot stone plate with cherry vine tomatoes. Use the hot plate to cook to your personal preference, right there at your table. (Obviously, rare.) This is food as an experience, the kind of dinner you'll describe to your friends and reminisce over many months hence.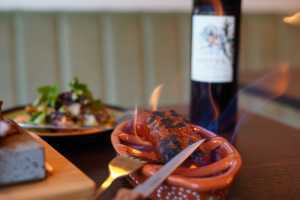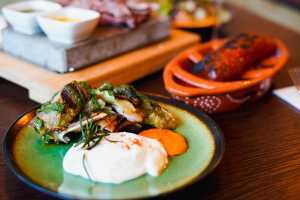 What to drink?
There are your classic cocktails should you fancy an apéritif, digestif or both – hey, you only live once.
But the wine is the real quiz here. Plenty of options, sorted by region - Douro, Alentejo etc. We had a 2019 pagina pinot noir from Lisbon which went down a dream: rich and warm and velvety.
There are also plenty of local beers if you're feeling that way inclined. From Peckham Pils to Brixton Brewery, drink like one of the cool kids.
Will it bankrupt me?
Absolutely not – indeed Uva is one of the best value restaurants in Peckham. The vast majority of tapas dishes come under a tenner, and while the ribeye is £13, you'll know where that money goes.
The wines are all very reasonably priced – assuming £30 or thereabouts – and that's assuming you're making an evening of it with a bottle. Happy days all round.
Anything else to note?
Around in the day? Uva also offers a delectable brunch menu from 8am to 3pm – the chorizo eggs with asparagus look like worth setting the alarm for.
139 Bellenden Rd, London SE15 4DH; Uva London