There are two things you need for longevity in any industry: a quality product and a cool logo. (Disclaimer: this mightn't be entirely true.) Sandeman Port House has both.
The product is beyond dispute – ever since George and David Sandeman set up the business on Birchin Lane in 1790, Sandeman has produced consistently excellent port, wine and sherry for thirsty drinkers around the world. Not a bad return for an initial investment of £300.
George ended up head honcho when David left to found the Commercial Bank of Scotland. He moved the business to St Swithins in 1805 as the cellars were ideal for ageing and storing the wines. Barrels were transported off the cargo boats on the Thames via an underground passage that led to the wine merchant.
It's a cool story. As for the logo – a silhouette of a caped Zorro lookalike brandishing a wine glass? Very, very cool. The silhouette being known as 'the Don'? Even cooler.
Coolest of all? Sandeman is returning to its City roots, opening a new restaurant and bar on St Swithins Lane. The Don restaurant will open soon but Bar 1790 is already welcoming diners – so naturally we dined there.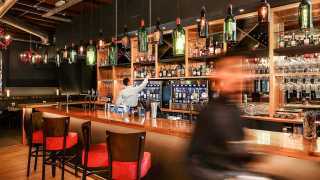 What to eat?
Start your evening with a port and tonic – a wonderfully refreshing drink served with either white, red or rose port. Then it's onto the tapas and the real fun begins.
Try salt cod croquettes, deliciously warm and creamy, served with a bright orange Romesco sauce. The plus 1 called it "the nicest croquette she'd ever had." (No, it wasn't her first. She's eaten them in Spain and insisted the Bar 1790 croquettes are up there.)
Marinated veal cheek with creamy potato and baby artichoke may be marketed as a small plate but don't be fooled – it's the size of a main course and a bloody good one at that. The potato isn't even the best potato on the menu: that would be smashed potatoes with confit garlic. Or should I say 'smashing potatoes'...? (And there's an early contender for worst joke of the year.)
Slow-cooked octopus tentacle is fantastic, although £28 is quite a lot of buck for your bang considering the veal will fill you up for £5 less. This isn't the tentacle of some mystical giant octopus, just a very tasty one. Deep fried quail is served whole and goes down like the most classy Morleys of your life – a huge compliment.
As for the wine, choose from a large selection of Portugal's finest compiled by head sommelier Max Cohn and founder of Liberty Wines David Gleave. Ordering by the glass will ensure maximum opportunity for exploration although there are numerous bottle-only offerings and we don't blame you in the slightest if you do. I went with a 2019 Vinha Grande from Douro that knocked my little socks off.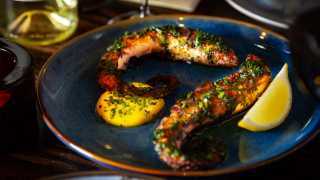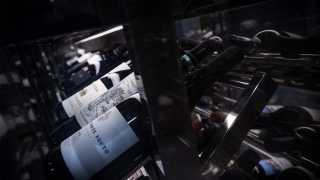 What's the damage?
How exploratory are you getting with the wine? There's some brilliant value here, with carafes under £20 and bottles under £30. Order those and your bill will barely breach three figures. Order a bottle of £420 Pêra-Manca, however…
Tapas runs the gauntlet from £6.50 to £35 – not unreasonable for the area, especially as there's nothing small about several of the plates. Be prepared to spend but no need to remortgage the house.
Anything else to note?
Sandeman's historic cellars can be hired for private events. The Sandeman Room and the Barrel Cellar can seat up to 16 people, offering one of London's most evocative dining experiences. Roll out the barrel indeed!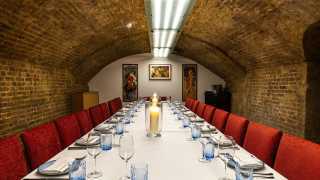 21-23 St Swithin's Ln, London EC4N 8AD; Sandeman Quarter