Fancy attending the best barbeque of your life? Tom Kerridge is bringing his al-fresco fire feast back to Wilderness Reserve on 22-23 April. Mouth-watering meat served by one of the country's finest chefs in a setting straight out of a fairytale? Yeah, you'll want to jump on this one.
Wilderness Reserve is a special place in its own right. The 8000-acre Suffolk estate offers a range of beautiful accommodation, each one totally unique in character. There are romantic thatched cottages to luxury barns to an entire manor house. (Explore the full range of accommodation here.)
Factor in the lakes, woodland, wildlife and spa houses and you can see why Wilderness Reserve has proved one of the most popular destinations in the country. As well as serving the needs of its guests, the Reserve is dedicated to conserving and restoring the natural environment – so unlike most holidays, you're actually improving the planet by gong on it .
Tom Kerridge's fire feast is one of many special events put on by the Reserve across the year. And having attended one ourselves, we can vouch that it's very special indeed.
You will be driven into the forest where, within a clearing beneath the trees, you'll find banqueting tables set around a huge open fire attended by Kerridge and his team. Enjoy cocktails and maybe a spot of axe throwing while the meat is cooked – then sit down to enjoy one of the most memorable meals of your life.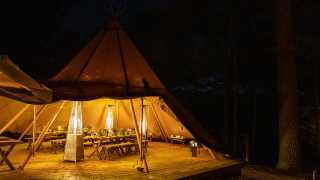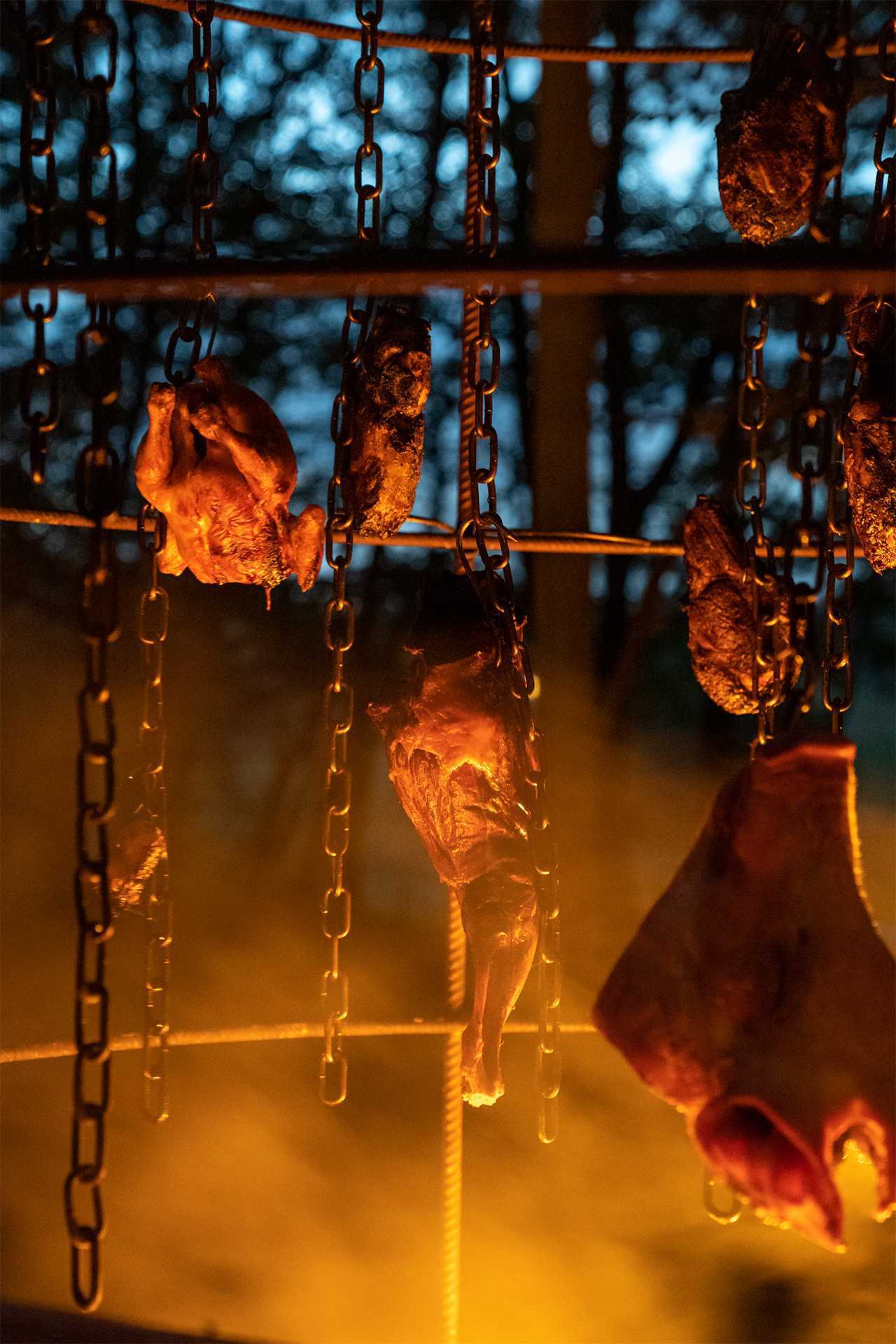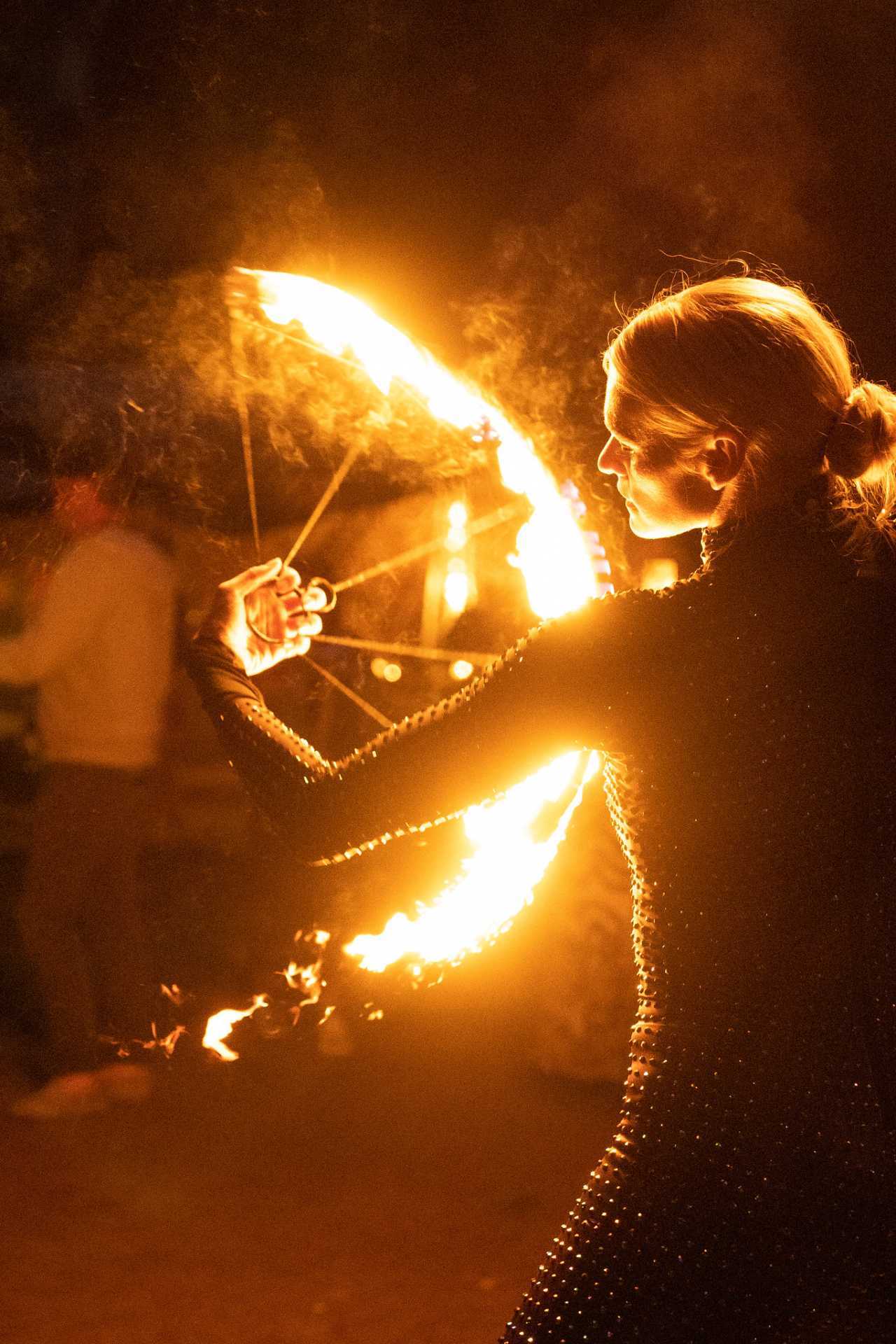 But enough from us – we spoke to Kerridge himself about the fire feast.
What do you love about Wilderness Reserve?
"There isn't anything else out there like this, it's truly unique and a fantastic way to escape and surround yourself in natural beauty and enjoy the simple things in life – from cooking over fire to archery, axe-throwing and a host of water activities like paddleboarding and wild swimming. It can all be tailored to what you want to do and importantly for me, the food is front and centre."
What can guests expect from the Fire Feast?
"Fire Feast is an outdoor culinary adventure that really captures the essence of being in the wild. Expect large pit roasted prime cuts, dishes cooked over embers and pine, fire roasted sides and more. Guests can join me and my team around the fireside for an unforgettable dining experience inspired by nature."
Is there a particular highlight on the menu for people to look out for?
"That's really tricky because it's all so good, but I would look out for the Pit Roasted Lamb Shoulder with Salsa Verde which is incredible, as is the Suckling Pig Asador with Burnt Apple Ketchup and the Fire Roasted Jersey Royals with Crème Fraiche…but it is a feast so my advice is to try a bit of everything!"
There's also a lakeside breakfast and cold water swim to dispel any hangover the following day. (We should stress the swim is optional.) Accommodation needs to be booked separately so you better get moving. We'll see you round the fire. 
Tickets are priced at £250 per person and include a lakeside breakfast and cold water swim the following day. Houses start from £4,450 for eight guests. Click here for more info