Like a lot of people last month, Square Mile was all packed and ready to head off to Switzerland for the highlight of the motoring calendar. We'd already seen some sneaky photos that showed the stands at the Geneva International Motor Show were built, cars were in place and the huge hall was buzzing with staff from the manufacturers getting everything ready for the media to arrive. Monday 3 March 2020 was the first of the media days and we had our passes at the ready.
The only snag was that at around lunchtime on Friday 28 February, the bombshell dropped that the Swiss government had decided to ban all gatherings which exceeded 1,000 people.
The 90th Geneva Motor Show was cancelled for the first time since World War 2.
Coronavirus was beginning its invasion of Europe.
The cars which were due to be launched in a blaze of glory, have now appeared via web conferences, virtual launches, and good ol' fashioned press releases.
Here's the pick of the bunch – our top ten.
Aston Martin Speedster
Aston Martin has a specialist, bespoke division called Q – and this is its latest creation. The Speedster harks back to Aston's 1959 Le Mans-winning DBR1.
There's no windscreen and no roof – but just look at it. Under the bonnet you'll find a V12 twin-turbo 5.2-litre engine developing 690bhp.
Zero-60mph takes 3.5 seconds; and the top speed is limited to 185mph. Aston says that the car comes with "a bespoke exhaust system to give a rousing soundtrack." We like that. Only 88 examples will be built.
It'd be nice to think that most will have fun on a racing circuit near you, but they'll probably end up locked in a collector's garage. Shame.
Deliveries start early next year. Interested? You'll need to find at least £760,000.
BMW Concept i4
BMW was due to unveil the Concept i4 pure-electric Gran Coupe. It may be called a concept, but this is a car that's going into production at the end of next year.
It won't look identical to the photo, but it won't be far off. BMW has released the performance and range figures: full power is 523 bhp; zero-60mph takes around four seconds; top speed will be in the region of 125mph.
The all-important number – the range – is said to be 373 miles. This is a really important car for BMW because it sits in the premium mid-size class, which they dominate thanks to the Series 3 and 4 which, incidentally, will be built on the same assembly line as the i4.
It'll be good to drive – and it'll need to be because its main competitor is the Tesla Model 3.
Bentley Bacalar
Bentley refers to the Bacalar as the most exclusive and bespoke Bentley of the modern era. Well, don't bother to rush for the cheque book because the 12 models that are being built have been sold or, as Bentley calls it, allocated.
The two-seat Bacalar marks a return to bespoke coachbuilding for Bentley Mulliner. Under the bonnet there's the marque's now iconic 6.0-litre W12 engine producing 650bhp. Under the surface you'll find a Continental GT.
But that is where the similarity ends because just about everything else on the car is bespoke and, as Bentley points out, the Bacalar shares no body panel with any other car in the Bentley model line-up – it only shares one exterior component with a Continental GT – the door handle, simply because it contains the keyless entry system.
Zero-60mph is around 3.5 seconds; top speed is 207mph; and the prices for those lucky dozen is £1.5m a head.
McLaren 765 LT
Let's get the figures out of the way first. The 755 bhp, twin-turbocharged McLaren V8 4.0 litre engine enables the 765 LT to hit 60mph in 2.7 seconds; 0-124mph in 7.2 seconds; top speed 205mph, all via a seven-speed twin-clutch transmission.
There will be 765 models built in total (see what they did there).
This is basically a quicker version of the 720S and is aimed at owners who want to head onto their local racing circuit, although McLaren points out that you can go for an optional extra which raises the front end so that you don't scrape speed bumps on the way into a car park.
You can place your orders now; deliveries will start later this year. Price? You'll get no change from £250,000.
Porsche 911 Turbo S
If you desire a high-performance car that you can use every day as a commuter mobile, take the kids to school, pop to get the Sunday papers etc, then the Porsche 911 is the one for you.
As Porsche says in its blurb: "A model for eternity, but equally for every day." It really is effortless to drive slowly or quickly.
And we mean quickly – 641bhp from the 3.7-litre six-cylinder engine means you get from zero-60mph in 2.7 seconds, and you'll keep going to a top speed of 207mph.
Two versions are available – coupé or cabriolet – and both are hugely desirable. Build quality is outstanding and it'll hold onto its value like glue. Prices start with the coupé at £155,970. Add roughly £10k for the drop-top.
Alfa Romeo Giulia GTA
Alfa Romeo is getting its act together. The original GTA was built for racing and road use. It was the sporty Alfa model for the 1960s.
The latest version of the GTA is based on the already impressive Alfa Romeo Giulia Quadifoglio.
GTA stands for Gran Turismo Alleggerita, meaning lightened gran turismo. As well as taking away weight, they also add some power – from a glorious 2.9 V6 bi-turbo engine with 533bhp on tap. The result is a zero-60mph time of just 3.6 seconds via an eight-speed auto 'box.
A GTAm variant will also be available with two racing seats, roll-bar and six-point seat belts. Prices are expected to kick off at around £100,000.
Fiat 500 Electric
By this time next year, you'll be able to buy a funky Fiat 500 which is 100 percent electrically powered. It will rival the new MINI Electric.
It's put on a few inches in terms of size, but don't forget, thanks to the absence of the engine, the interior will be surprisingly roomy.
Fiat reckon it'll do 199 miles on a full charge. The 85kW battery will give you 50 miles of driving on a five-minute charge – and it'll be 85 percent charged after 35 minutes. Impressive.
As with all electric cars, it'll feel quick. Power output equates to 117bhp, with 0 to 30mph taking 3.1 seconds, and 60mph in 9 seconds. When you look at the nippy performance figures, compact dimensions and decent range, this could be the ideal commuter machine for those of you living in a city.
Cheaper models will arrive but there's just a single launch model at the moment. Price is £29,000 including government grant.
Czinger 21 C Hypercar
When a company launches a new model and calls it a hypercar, you know it's special. Czinger (named after founder Kevin Czinger) is based in Los Angeles – but don't let that put you off.
The performance and engine figures are mind-boggling: the 2.9 litre V8 twin-turbo engine will red line at 11,000 rpm.
The petrol engine sends power to the rear wheels, but there are also two electric motors which power the front wheels.
Add it all together and you get – wait for it – 1,233bhp. Zero-60mph is just 1.9 seconds – and it will do zero to 248 mph and back again in 29 seconds. Ha!
Driver and passenger sit in line, one behind the other – like a fighter jet. Track and road versions will be available. Only 80 will be built. Price? At least £1m.
Bugatti Chiron Pur Sport
Mention the word Bugatti and you know that you will be getting a car with shattering performance and exclusivity.
The latest incarnation of the Chiron – the Pur Sport – is limited to just 60 vehicles.
It sounds daft, but this Bugatti is aimed at folk who want to throw it about rather than blitz a straight line.
Suspension and adaptive dampers have been tuned for cornering.
And here we go with the figures: top speed is limited to 218 mph from the 1479bhp 8.0-litre, 16-valve engine. Zero-60mph is around 2.9 seconds.
Oh and it'll do just over 22mpg. (Ahem.) Price is around £2.9m – give or take.
Volkswagen Golf GTi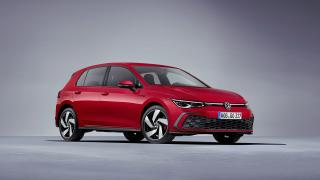 OK, we know that the picture looks incredibly dull, but this is arguably one of the most important cars that failed to be on show at Geneva.
The eighth generation of the VW Golf GTi should pick up from its predecessor's iconic status as one of the best hot hatches around.
Styling is in the eye of the beholder, but we think it's gone backwards. Anyway, as usual it should still be fantastic to drive and painless to own.
Power output is 241 bhp which is actually the same as the hybrid Golf GTE. The engine is a 2.0-litre turbo unit matched to a slick six-speed manual box.
Zero-60mph will be around 6 seconds. The Golf GTi and Honda Civic Type R continue to battle it out for the prize of best family-sized hot batch. Let battle commence.
Prices will start at around £35,000.