Once shrouded in mystery, crypto has been making its move out of the shadows and into the mainstream. Headlines touting crypto highs and lows, and provocative tweets from influential CEOs have become a regular part of everyday life.
Despite the skepticism from some, big brands such as PayPal, AT&T, Starbucks, and Microsoft are just some of the blue-chip companies that have already made the move to embrace crypto as an official means of payment, with Coca Cola even setting up vending machines in Australia and New Zealand that accept crypto.
Some of the most established financial entities in London and Wall Street are also keen to get in on the action with the US Bank launching its crypto custody service, and giants Morgan Stanley, JP Morgan Chase and ING backing crypto-related investments.
The Bitcoin ETF on Wall Street demonstrated that there is an overall hunger for crypto, while recently, Goldman Sachs has said that 'gold is becoming poor man's crypto,' signalling a nod of confidence towards cryptoassets.
Yet, while you can't walk into a room today without hearing mention of crypto, it can be hard to know where to start when it comes to investing in crypto.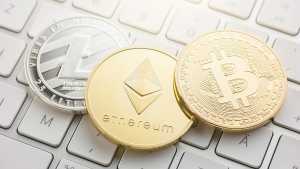 No doubt by now you'll have heard of Bitcoin and Ethereum, but with such a growing selection, such as ADA (Cardano), NEO, and Uniswap, knowing which cryptoassets to invest in can be daunting.
Multi-asset investment platform eToro offers dozens of cryptoassets to choose from, and its secure and easy to use online app has made crypto more accessible to those seeking to diversify their investments.
Like with all investing, diversifying your investments is one of the best ways to help mitigate risk. Within the world of crypto, it's no different - it's arguably even more important due to the volatile nature that accompanies it.
eToro solves the conundrum of not knowing which cryptoassets to choose and does the diversification for you with its eToro CryptoPortfolio. Made up of 100% crypto, this regularly balanced portfolio allows you to invest in a variety of different cryptoassets in a single investment.
It is undeniably obvious that with the revolution of the financial system, the landscape around us is changing to adapt to our modern-day digital existence. If the popularity of crypto continues its trajectory, diversification to include cryptoassets alongside other traditional financial instrument classes might just be how we begin to see investment portfolios evolve. Is crypto part of your portfolio yet, or are you at risk of getting left behind?
Discover crypto investing with eToro, a simple and secure place to build your investment portfolio.
Cryptoassets are unregulated in some EU countries and the UK. No consumer protection. Your capital is at risk.