The global pandemic has provided difficult times for many industries and markets, with consumer sales being greatly impacted in the midst of global uncertainty.
Many industries were forced to close operations for numerous months in order to align with government guidance, which led to reduced production of goods to be sold, reducing the ability to meet supply demands.
With production halted, businesses had to ensure that operations could be continued in the long-term. For some industries, closing their doors meant that little optimism was demonstrated within the industry; however the alcohol market has remained optimistic throughout the pandemic and beyond; especially in the luxury market.
Now that the UK and other worldwide countries have begun to resume a new form of normality, there has been a surge in certain industries which have been able to flourish, even in times of global uncertainty.
The IWSR Drinks Market Analysis has recently suggested that sales of 750ml bottles of luxury premium drinks priced at more than $200 are expected to grow 9.3% annually until 2025, which is set to greatly outpace increased sales of lower-priced drinks. 
In contrast, sales of lower priced bottles which retail at $10 per bottle products are forecast to  grow just  0.8% annually  over the same period. 
With increased worldwide demand of whisky, the value of whisky in casks will only increase
These findings are truly suggestive of how the luxury market is set to see greater enhancement of sales with luxury assets generating a positive uplift on previous years. In saying this, in general growth within the alcoholic drinks market will produce a ripple effect across the industry in order to enhance overall market sales and improve the general trends.
Considering the fact that many industries will see longer term downward impacts which will last longer than a five-year period, these predictions suggest how the whisky market has great prospects for further growth whilst other industries remain in a stagnant position.
As the whisky market grows and expands into new and established markets, it has been predicted that demand will therefore align with this growth and therefore will require supply to also increase.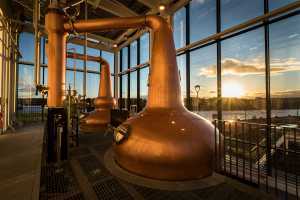 With increased worldwide demand of whisky, the value of whisky in casks will only increase, in particular more aged whisky, along with the value of whisky produced in 2020 and 2021 during the global pandemic due to the closures of distilleries which meant that there was reduced supply. It is therefore no surprise that name brand whiskies distilled in 2020 or 2021 will see an acceleration in growth due to the lack of availability over this time frame and increased demand making it highly investible whisky.
Recent data collated this year has been reflective of the trends which have been witnessed in the whisky market over the past few years, with extremely reassuring outcomes. This is particularly noticeable in the fact that the aforementioned whisky index did not record any negative returns throughout the period of the study. The projected annual capital growth across the distilleries is expected to continue into 2021.
If growth continues at a comparable rate, the data suggests that investments made in to casks from one of the top ten distilleries, which Elite Wine & Whisky has access to, could see their investment double in value over the next five years. In times of great uncertainty, these findings provide great prospects for future days ahead.
For more information, see elitewineandwhisky.com